Cheap Holidays To Florida
Popular Areas Of Florida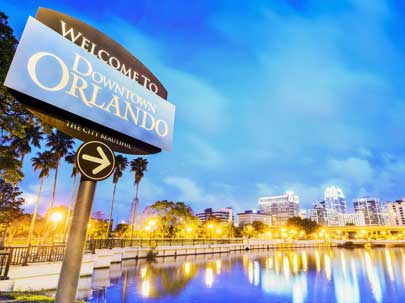 Orlando
Orlando is a family favourite to explore the incredible theme parks and enjoy the warm Florida sunshine
EXPLORE ORLANDO
2023 Florida Holidays Guide
Florida is such a fantastic destination for a holiday. Known as the sunshine state, this part of the US enjoys an average of 8 hours of sunshine a day, perfect for being outside and enjoying it. So if you're looking for a holiday to Florida in 2023 and 2024 we've pulled together our guide below, from enjoying the nightlife of Miami, thrillseeking on the rides in Orlando, or enjoying the beaches of Tampa Bay. Prices start from as little as £799 per person.
Travel advice can change, so you should always check the latest information from the Foreign, Commonwealth and Development Office before booking.
Getting to, from and around Florida
There are two main international airports in Florida that you will likely fly into if coming direct from the UK, Miami and Orlando. There are a couple of airlines flying direct, including British Airways, Virgin Atlantic, American Airlines and TUI, with the later flying from a number of regional airports like Glasgow, Birmingham and Bristol once a week during the summer months. The flight time from London to Orlando is around 9 hours 15 minutes. While it's easy to book your flight separately, it is recommended to book an ABTA or ATOL protected flight and hotel package for your financial protection and to save money. You can often find great deals when booking together.
If you're flying into Miami and plan to just spend time in the city, or a few nights before heading out on a cruise to the Caribbean, you can easily get into the city by bus or taxi, but otherwise a hire car is probably a good choice. You'll no doubt want to explore whichever area you've arrived and you'll definitely want to drive about if you're escaping the city. For reference, a couple of average driving times in Florida are:
Orlando to Tampa - 2 hours
Orlando to Miami - 3 hours 30 minutes
Miami to Fort Lauderdale - 45 minutes
Miami to Fort Myers - 2 hours 30 minutes
Miami to Key West - 4 hours 30 minutes
Top Holiday Destinations
Orlando
Orlando (and Kissimmee) will be on your hit list if you're planning a trip to the exciting parks, from Walt Disney World® Resort to Universal Studios. With most parks located in the south west of the city, the city of Kissimmee is actually closer, so you'll want to take a look at some of the accommodation in and around Kissimmee including hotels and villas. Many hotels are located around International Drive which gives easy access to the Universal parks and plenty of restaurant and shopping options, including the International Drive shopping centre.
Miami
A fantastic mix of city and beach, Miami is one of those uber trendy places you just have to visit. Most people will prefer to head straight out to the beaches to enjoy the nightlife and the seaside lifestyle. South Beach is an absolute must with its cool, art deco style buildings along Ocean Drive. Head further up the coast and you'll find more great coastal resorts to enjoy, including Fort Lauderdale, Boca Raton and Palm Beach, all of which have wonderful sandy beaches. Many cruises to the Caribbean will depart from the cruise terminals on Dodge Island so you many want to book your pre-cruise or post-cruise night closeby or in downtown Miami.
Florida Keys
A great twin-centre style trip is combining a city break in Miami with a drive down to the Florida Keys. The journey between Miami and Key West, the most southern point in Florida and continental United States, is approximately four and a half hours, but you'll definitely want to stop along the way and you'll also probably choose to spend a couple of nights in hotels or motels dotted along the way.
Gulf Coast
Florida's Gulf Coast enjoys the warmer waters of the Gulf of Mexico. It's a bit less accessible for Brits (simply because you have to drive across the state to reach there), but if you've done the usual east coast beaches and Orlando, but love to see more of the state, this is a wonderful option. Many people will start in Tampa, St Petersburg and Clearwater, then head down through Fort Myers and Cape Coral before reaching Naples and Marco Island.
Holiday Types
Theme Parks & Attractions
Most people will think of Walt Disney World®, Universal Orlando Resort and other great theme parks when they think of a Florida holiday and they'd be right. This is the theme park capital of the world! It's perfect for a family holiday with the best theme parks around, as well as other attractions like the Kennedy Space Centre and SeaWorld. You can fit plenty in 7 nights but so much to do means two weeks is much better, giving you time to both enjoy the attractions and spending time relaxing. Villa holidays in Florida are the perfect way to stay if this is the sort of holiday you have planned.
Fly Drives
One of the best ways to see Florida is by hiring a car and hitting the road. Once you've done the main sites, heading out and seeing what else it has to offer is an absolute must. Many travel agents and tour operators can help you organise your road trip, from giving recommendations of where to stop and stay, to booking your fly drive as a package, saving you the job of doing it all yourself.
The drive from Miami down to the Keys is epic and definitely should be on your bucket list, stopping along the way at each of the islands. Meanwhile heading out north from Miami, you'll hit the numerous seaside towns and cities up the Atlantic coast, each one unique and offering something different, like the canals of Fort Lauderdale or West Palm Beach, home to the rich and famous, and very enjoyable for anyone who visits.
City Breaks
If it's a city break you're after, Miami will certainly tick that one off. There is such a huge amount to see and do here, from the museums to the art deco architecture. Don't forget a trip to Bayside Marketplace, close to the American Airlines Arena, where you can enjoy the shops and restaurants surrounding the marina. And of course, you can't visit the city without visiting the beach.
If you want to experience the Miami Beach you've seen on TV, head to South Beach. The cool neighbourhoods and nightlife should be checked out, but it can have quite a party feel and can be packed with tourists, often meaning prices are inflated. North Beach, however, has a more laid back vibe, with the same beautiful beaches, just a little less crowded and certainly a bit more upmarket.
Outdoors & Nature
You might only think of amusement parks and the beach, but Florida is great for those who love the outdoors and nature holidays. The Everglades National Park and Dry Tortugas National Park are just two of the fantastic national parks in the state to discover. The former spans 1.5 million acres of land and offers various exciting excursions including the famous Everglades Airboat tours, where you'll be able to see lots of wildlife ranging from herons and pelicans to alligators and rattlesnakes. Dry Tortugas, however, is a series of islands located far off the Floridian coastline, and is home to Fort Jefferson, a derelict miltary base. The waters here are beautifully clear and perfect for spotting barracuda and even nurse sharks. Families will love exploring more of the wildlife here and many tours and excursions offer discounts for groups and cater really well for children.
When to go
Florida enjoys year round sunshine and it's easy to see why so many people choose it as their home for retirement (along with minimal tax rates), however, there are different climates depending on the area you are going to.
Hurricane Season
Due to the humidity and weather patterns, Florida does experience hurricanes, with hurricane season running from June to November, and the peak being in August and September. The typical hurricane will last up to 24 hours but can be longer and there is usually some sort of warning via news, TV or at your hotel of anything imminent, but don't let this stop you from booking. As flight cancellations and changes can occur, it's important to make sure you book comprehensive travel insurance that will cover natural weather like this.
Spring
Spring is well considered the best time of year to stay in Florida, when the weather is still relatively dry and the weather not too hot. Between March and May, temperatures sit in the mid 20s and is an ideal time to enjoy the outdoor parks and activities on offer.
Winter
From December through to March/April, the weather is relatively warm and dry, making this an ideal winter holiday destination, and that goes for local American's too. Many flock down south to enjoy the dry, warmer weather.
Summer
The summer months of June, July and August can get pretty hot and humid, and that can also mean some crazy weather including monsoon rains and hurricanes, this is particularly true for South Florida. This is actually still a peak time to visit due families taking advantage of the summer school holidays, and prices can vary. Northern Florida like Jacksonville and Tallahassee can still get pretty hot in the summer but don't suffer from the same humidity levels that other parts of the state do.
Holiday Companies To Florida
We recommend booking package holidays with ATOL protection, combining your flights, accommodation and attractions where possible. This is for your financial protection should anything like Covid 19 cause cancellations. It can also save you money.
Virgin Holidays
Virgin Atlantic flies from London and other airports to Florida. Some of its regional services are only available during peak holiday months but that means they also need to fill those seats, so last minute Florida holidays could be an option. They partner with lots of hotels and accommodation types, and their team of agents can also help you book complex itineraries if you're planning to explore.
TUI
TUI are another company who offer package holidays to the sunshine state from regional airports, including Edinburgh, Birmingham and Bristol. While their expertise is around the Orlando area, they too can help you book a more comprehensive twin centre or fly drive style holiday, including Daytona Beach and St Pete Beach.
Hays Travel
Another popular brand to book with is Hays Travel who have stores across the UK, primarily in the north and south west. Their team can help you book anything from a 7 nights family holiday, to a month long road trip around the state, just for adults.
Popular hotels in Florida
Other Popular Destinations