Weekend Breaks Under £100pp
Weekend breaks under £100pp
Latest weekend break offers under £100pp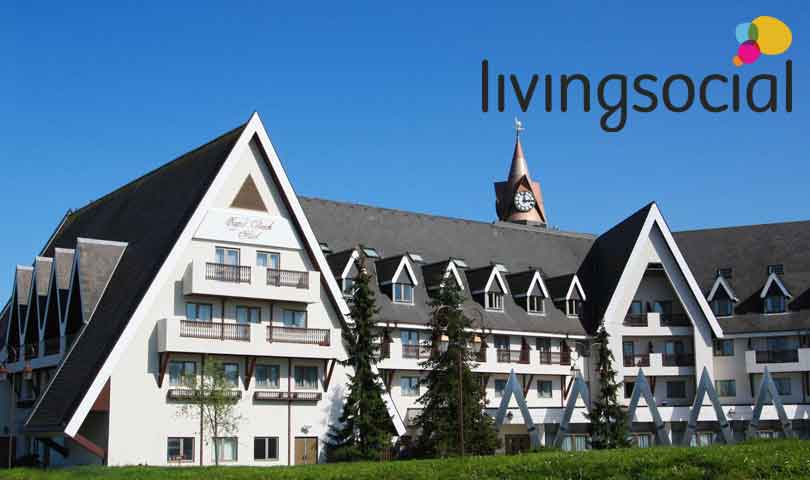 Coppid Beach HotelBerkshire
★★★★
☾ - 1 Night 🗓 - Various dates 🍽 - Breakfast included
From£61per couple
View Deal
A guide to weekend getaways
Friday comes around and before you know it, you're back at work on Monday wishing you had done something awesome with it. Problem is, everything costs money, right? So we've pulled together some of our favourite weekend breaks for under £100 per person, both in the UK and abroad so that you can maximise your weekends and head back to work have seen somewhere new.

A Guide To Finding A Cheap Weekend Break
When it comes to taking a break or holiday, we all try to maximise our holidays and weekends throughout the year. On the one hand, airlines, hotels and holiday companies recognise this and can often increase fares and rates because they know that people will still book during these peak periods.
On the other hand, there are still plenty of great deals out there that can help maximise your time and budget, allowing you to get great deals on cheap weekend breaks under £100.
Being smart with your trip can really help, such as booking far in advance, taking advantage of discount codes, and being flexible with dates and times of flights. Low cost flights and budget hotels can also help bring the cost of a weekend break down to less than £100 per person.

Top Tips To Finding A Weekend Break For Less Than £100pp
More often than not, the first seats for sale on a flight are the cheapest. Booking in advance can help bring the cost of a weekend break down and allow you to be more selective in your flight times.
Choose quieter times of the year to travel. Breaks during school term time will often mean cheaper flights as families wait for the school holidays to enjoy their holidays. If you can, staying midweek or a Sunday night can increase your chances of finding some great deals. It's the perfect time for couples enjoy a bargain break away if your work schedule allows it.
Choose a hotel that offers easy access to public transport and don't be afraid to select more of a budget hotel than normal. After all, you'll probably spending more time exploring the destination rather than in your hotel room.

Top Weekend Break Destinations In Europe
There are some great destinations, both in the UK and in Europe that can be enjoyed for less than 100 pounds on a weekend away. Departing on a Thursday, Friday or Saturday doesn't have to cost a fortune. Some destinations in Europe in particular are great for enjoying breaks on a budget. Here are just a few of our favourites:
The Algarve is ideal for a weekend break in the sun under £100. There are a number of airlines that fly to Faro in the Algarve which means when booked early enough, flights don't have to cost a fortune. Hotels in the Algarve can also be very cheap. Find one near a beach and you won't have to worry about one with a pool as much. In the Algarve, however, take note of where your hotel is compared to Faro Airport. The transfer between airport and hotel will add to the cost of your holiday, so try a resort that's closer to the airport, like Vilamoura, or a hotel with pool in Faro town.
A weekend break in Budapest can also come in well under £100. Low cost airlines to Hungary and affordable hotels in Budapest make for a great holiday full of culture in Eastern Europe when you're on a budget. Try Ryanair flights from London, and with trams and metro services across the city, most areas are very accessible from your hotel location.
While Ryanair is often seen as a naughty swearword, its cheap flights to Dublin mean a weekend break in Ireland can be far less than £100pp. Ideal for those in need of a break on a budget. Take note of the higher Euro prices, particularly in the popular tourist areas such as Temple Bar where prices for food and drinks can be higher than other areas of the city.
Amsterdam is another great weekend break option. Just a short hop across the channel, it's a fun and vibrant city to explore, rich in culture, design and nightlife. Keep it cheap and live like a local by booking an AirBnb in Amsterdam and hiring a bike for the weekend to get around. It's the perfect way to get yourself lost amongst the canals and stumble upon some hidden gems in the city.

Cheap Weekend Breaks In The UK
Of course, you don't need to head abroad to enjoy a getaway. There are plenty of options for weekend breaks in the UK under £100pp. Enjoy a relaxing spa weekend in an English country manor, a city break taking in the sights of London, or perhaps you'd rather take on a ghost hunting experience in Oxford Castle.
Don't forget popular beach towns in areas like Cornwall and Devon, which are perfect for exploring over a long weekend. There are some budget friendly options too. Cheap hotels like Premier Inn when booked in advance can have some great deals, while holiday parks are also a fun option, especially with kids that need entertaining.
Whatever you enjoy doing on a short break, you can do it on a budget. Book early to enjoy discount train fares with somw of the main trainline services who stop at cities like Manchester, Edinburgh or Penrith in the Lake District. Or take advantage of low cost airlines like Ryanair and easyJet who also fly domestically in the UK which can sometimes be cheaper than travelling by train from London.
To help you save even more money, search for your hotel on Trivago, which searches all the popular hotel brands for the best rates. What might be £100 a night on one site may have a 50% discount offer on another. Trivago will help you find these deals.
England
You can easily grab a bargain weekend break in England if you look hard and, as always, can be a little flexible. In most towns and cities there is a range of accommodation, ranging from budget friendly hotel chains like Travelodge or B&Bs to hotels on the higher end of the scale. And if you've got a car, you've also got the opportunity to stay a little further out of cities or in the countryside where room prices can be a bit lower too.
Find more weekend breaks in the UK right here.

Weekend Spa Breaks Under £100
When the weekend comes round, a try to a spa can be the perfect way to forget the week and recover. There are plenty of deals on cheap weekend spa breaks in the UK for under £100 per person, usually involving a one night stay. If you're lucky, you may also find a deal that includes a spa treatment as part of the weekend package.
Popular Breaks