Find Your Ideal Holiday With
A Guide To TUI Holidays

TUI Holidays (previously Thomson Holidays) is synonymous with the package holiday across Europe. Whether you've booked previously through your local store or it's your first time trying a TUI holiday in 2023/2024, you'll find that the wide ranging options from budget to luxury will be sure to keep you and the family happy. From SkyTours on the budget end to Platinum and A La Carte Holidays on the luxury end, there's a holiday for everyone. They even offer free child places.

TUI Brands
Previously Thomson, the TUI Group owns a number of holiday brands that you may be familiar with including:
TUI
TUI is the main holiday brand, offering package holidays to some of the world's most popular destinations including brands like TUI Family Life and the all inclusive TUI MAGIC LIFE. Over the year's it has become synonymous with the package holiday with flights from regional airports around the UK to popular holiday locations such as Majorca and the Algarve.
First Choice
Branded as the "Home of All Inclusive", First Choice is the all-inclusive brand of TUI. So if you want everything included in the cost of your holiday, it's worth checking them first. Holiday Villages and SplashWorld hotels also fall under First Choice brands.
Marella Cruises
Marella is TUIs cruise brand with five ships helping holidaymakers explore the world via the ocean. Many cruises start from ports outside of the UK.
Sensatori Resorts
At the top end of the budget, the TUI Sensatori brand offers a more luxurious style of holiday with 5-star accommodation in some of Europe's top holiday destinations including Ibiza, Tenerife and Turkey.
Small & Friendly
If you prefer a quieter holiday with more of a local feel, TUI's Small & Friendly holidays are perfect. Enjoy family run hotels in destinations like Sorrento and Skiathos for a great holiday.
Lakes & Mountains
When the great outdoors beckons, TUI Lakes & Mountains provide the best way to discover a fantastic adventure holiday in Europe, with hotels set in beautiful scenery amongst the likes of Lake Como and the Dolomites.

TUI hotel only
If there is a particular hotel you'd like to stay at but want separate flights, you may be able to book a hotel only by calling TUI directly. It's worth checking the cost of a package holiday at the same time as booking your flights and hotel together may save you money.
Alternatively, and depending on the hotel, you may be able to book the hotel separately via another provider such as an online travel agent like Booking.com or Hotels.com. By doing this, if you're booking your flights separately, your holiday won't be ATOL protected, and will therefore be at risk of financial protection should your flights get cancelled and you need to cancel your hotel as a result. As a result, we always recommend booking a flight inclusive package holiday with ABTA and/or ATOL protection, with the likes of TUI where possible.

TUI Reviews & Contact
Especially since Coronavirus has affected holidays and travel, it's never been more important to understand the holiday company you are booking with. As a result, you should check the latest customer reviews, and there are a range of customer reviews online, from Trust Pilot to Trip Advisor for most holiday companies, including TUI. TUI are a good value holiday brand with years of experience in providing a range of holiday options, offering ATOL protection on packages.
If you are thinking of booking, or have already booked and need to speak to someone, you can get in touch with the TUI team on 0203 636 1931.

TUI Late Deals
If you're after some affordable holiday offers and can be a bit flexible, last minute holidays could be the right option for you. Perfect for couples or adult groups who can get away with minimal disruption, booking at the last minute can mean savings because flight seats and hotel rooms will otherwise go empty.
Flexibility really is key with getting the best offers, as flights to Turkey may be full, but one of the Greek islands may happen to have a lot of availability. Likewise booking with First Choice or even Crystal Ski (both part of TUI), you could nab yourself a cheap break.
Now's the time to getaway so whether you're after a bargain or just want to get away at the last minute, be sure to check out the latest late deals with TUI here.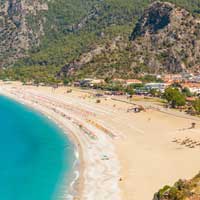 Popular Destinations
With a number of brands, there are so many popular destinations to discover. From the slopes of Switzerland to the beaches of Barbados, the choice is (almost) endless! Here are some of our favourite places to visit with TUI:
Cape Verde
Often considered a bit of a hidden gem, Cape Verde, located off the coast of West Africa, enjoys soft sandy beaches and a gorgeously warm climate, perfect for escaping to the winter sun. You'll often find many holidaymakers who have been here return time and time again due to the facilities on offer, the beautiful scenery and the value for money on offer.
Thailand
Thailand is an incredible destination to visit and if you can't spare months to travel around the country, a week or two is well worth the visit, particularly as you're able to add on a few day trips and excursions to help you see more outside your hotel pool.
Lapland
That's right, TUI even visits Lapland, giving you the chance to take your loved ones away and enjoy the stunning scenery of northern Finland, to discover once-in-a-lifetime experiences such gazing at the Northern Lights, or cosying up on a husky sleigh ride.
Check out these great hotels with TUI
Popular Holidays