2 Night Breaks In Scotland
2 Night Breaks In Scotland
Latest 2 night break deals in Scotland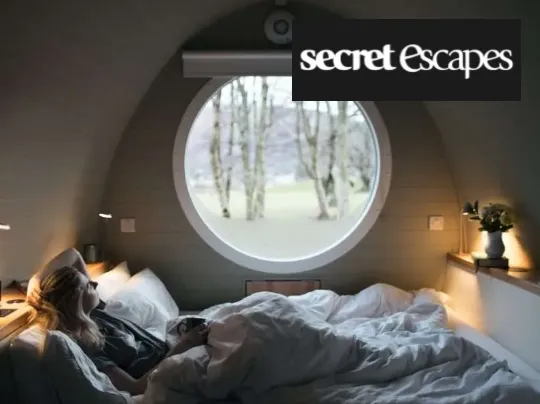 Woodland Cabin With Hot TubGlencoe
🛏 - 2 night break 🍽 - Room only ✔ - Outdoor hot tub
From£199per person
View Deal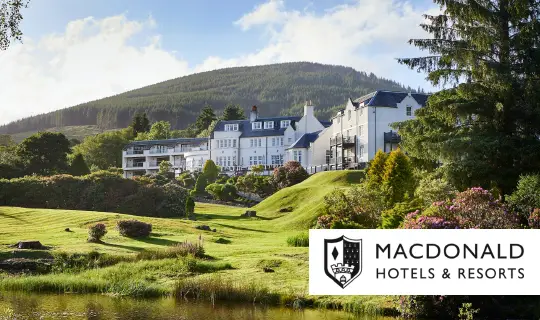 Macdonald Forest HillsAberfoyle
★★★★
🛏 - 2 nights 🍽 - Breakfast included ✔ - Indoor pool and spa
From£216per person
View Deal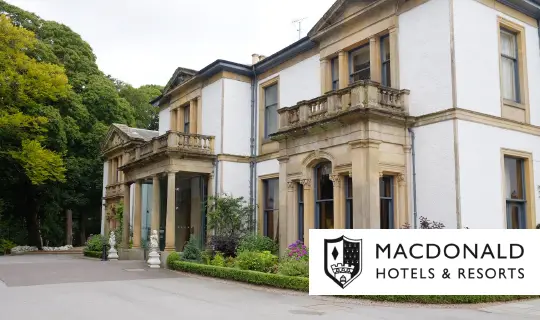 Macdonald Norwood HallAberdeen
★★★★
🛏 - 2 nights 🍽 - Breakfast included ✔ - Award winning restaurant
From£159per person
View Deal
Two Night Breaks In Scotland
Two night breaks in Scotland are never enough time to explore this beautiful part of the UK, but for a short break, it can be the perfect amount of time to getaway and enjoy a little piece of what Scotland has to offer. Whether you fancy enjoying a city break in Edinburgh or Glasgow, exploring one of Scotland's lesser known cities like Ayr or Falkirk, rejuvenating in one of Scotland's top spa hotels, or or getting back to basics and exploring Scotland's stunning wilderness, two nights can be just enough time to reenergise yourself.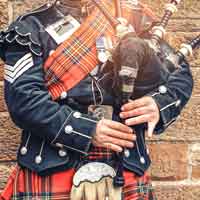 2 Night Itineraries In Scotland
Still need a little help deciding what to do for two days? Fear not! We've got some great itineraries below which highlight some of the things you can get up to in just a few days. Ready?
Two nights in Edinburgh
If it's your first time to Scotland, you've got to visit Edinburgh. Despite being quite touristy at times, Edinburgh has a truly Scottish, yet unique feel about it, and will certainly give you a taste of Scotland. Take a wonder around the shops, head to the castle to discover some of its history and discover Mary King's Close, Edinburgh's hidden underground city.
Two nights in Loch Lomond
If you fancy a little break exploring the Scottish landscape, a two night trip to Loch Lomond is a great option. Try a cute country B&B or maybe pub with rooms, perfect for enjoying a nice drink in front of the fire after a long day hiking in the hills. This probably isn't one if you're travelling by public transport. Scotland's countryside is best visited by car if you can and most country hotels have free parking.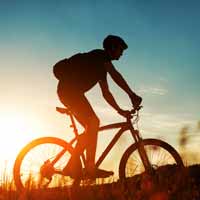 Types Of Break
Hiking & Biking
If you love the outdoors, an adventurous 2 night break in Scotland, hiking and biking could be just for you. There are plenty of lakes and mountains to explore in Scotland, so for a quick weekend away, it could be perfect. Try a castle hotel in the Scottish Highlands or keep it cheap and try a campsite or caravan park.
City Breaks
Of course, you might be wanting to explore the city, which is why a 2 night city break in Scotland could be best. If you've never been, Edinburgh is a great place to start (you'll know you're in Scotland when you arrive). For somewhere a little different, you could try one of Scotland's other cities, like Dundee or Aberdeen. There are plenty of hotel and accommodation options from youth hostels and cheap chain hotels like Travelodge and Premier Inn, to five-star luxury hotels like the Waldorf Astoria in Edinburgh or the Kimpton Blythswood Square in Glasgow.
Spa Breaks
Whether it's a romantic getaway, or you simply want to treat yourself and enjoy a little pampering, there are many hotels which offer 2 night spa breaks in Scotland. The experiences and inclusions vary from a quick dip in the pool, to a free bottle of Champagne and a range of beauty treatments included. Alternatively, you could enjoy a woodland cabin with a hot tub on the terrace, a truly tranquil experience.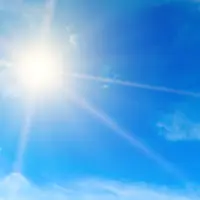 When To Go
Spring
Spring is a beautiful time to explore Scotland. The lush green landscape starts to come alive with vivid colours of wildflowers. As the weather starts getting warmer, it's still worth taking an umbrella (this is the UK after all), but you may find afternoon walks in the countryside a met with clear blue skies. For 2 night breaks, Scotland offers plenty of great hotels to enjoy this.
Summer
Summer is the most popular time to visit Scotland, especially the highlands and islands, especially during July and August. This usually means higher prices and busier hotels and attractions. Don't expect the empty landscapes and quiet trails up to Ben Nevis from Fort William you might have seen in the photos. It is still a gorgeous time of year to visit Scotland, just expect the crowds too.
Autumn
There's something quite special about Autumn here. As the leaves turn beautiful colours of red, orange and brown, the scenery is breathtaking, and well worth enjoying the woodland walking trails, whether you're on the outskirts of Inverness, or you're exploring the relaxing grounds of the Loch Fyne Hotel & Spa.
Winter
Winter is magical time in Scotland. Whether it's a quick weekend break to wander the stalls of the Edinburgh Christmas markets, or evening heading up to try out some of Scotland's best skiing, you'll never forget your time here (although you'll also never forget the winter cold either!) New Year, known as Hogmanay, is a feast for the eyes, and the tummy. Delicious food, a few of your favourite tipples and spectacular fireworks displays make for a memorable visit.
Other Popular Escapes