Latest Hotel Offers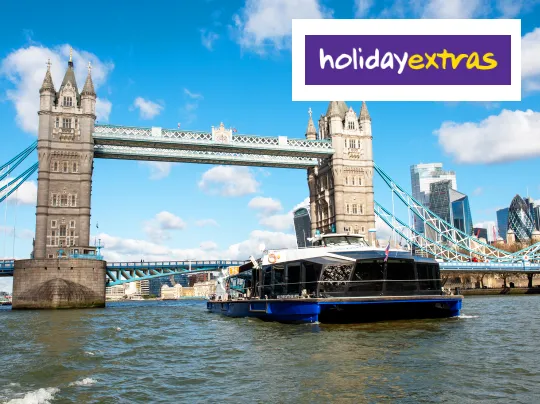 HI Express Royal DocksDocklands
★★★
☾ - 1 Night Break ✔ - Hop On/Hop Off River Cruise Pass 🗓 - Various Dates 🍽 - Bed & Breakfast
From£63per family
View Offers
A London City Break Guide
Staying in the UK and enjoying the sights and sounds of our own capital city is a great way to take a break and see more of what is on our doorstep.
You certainly won't be bored on a London city break with so much on offer. From theatre shows and concerts, to shopping and museums, it is easy to see why so many people consider it one of the best cities in the world.
If you're heading in by train, car or coach and just need a hotel, check out the deals on our London hotels page.
Getting to, from and around London
London has 8 main train stations which serve most areas of the UK and 3 main airports with 3 further airports with rail links to London.
Transport for London (TfL) run much of the transport network within the city. You can get around by bus, taxi, underground, bike, or our favourite way, walking.
Buses no longer take cash payments so be sure to buy an Oyster Card to top up or pay by contactless debit or credit card when travelling on most forms of transport.
Things to do in London
There is so much on offer in London that it's often difficult to know where to start but more importantly, it all depends on what you are in the city for.
London for culture vultures
If it's a culture weekend, London's numerous art galleries and museums will certainly keep you busy. The Tate Modern on Southbank is a great option if you are on a budget and from there, you can easily walk over the Millennium Bridge to gawp at the stunning architecture of St. Paul's Cathedral.
London for shopaholics
The impressive Westfield shopping centres in Stratford and White City will certainly cater for most needs, and even in the city centre around the West End, you'll be in awe of the sheer number of high-street and designer shops on offer. For something on the quirkier side, however, you'll need to visit one of the numerous markets in London. From the antiques on Portobello Road to the crafts and knick-knacks in Greenwich, there are plenty of markets to explore.
London for foodies
London has become an icon for some of the world's top Michelin star restaurants. Enjoy top notch cuisine from the likes of Heston Blumenthal and Gordon Ramsay, many of which offer tasting menus and experiences to savour each and every course. For those with more of a budget to stick to, there are some great eats in central London, including Flat Iron, offering amazing steaks, and Spuntino, a Brooklyn diner inspired eatery.
London for theatre lovers
If you're enjoying a London city break for the theatre life, then you are in for a treat. With practically a theatre on every street corner in the West End, there will certainly be a show to suit you. From comedies like Dirty Rotten Scoundrels, to classics like Phantom of the Opera, to the incredible musicals such as Wicked that have taken the London theatre scene by storm, you really won't be disappointed, and there are always plenty of offers and last minute deals on shows too.
Where to stay in London
There are countless hotels to choose from when you are booking your city break in London but ultimately the closer you are to the West End, the higher the price you are likely to pay.
At weekends, hotels in the business districts of Canary Wharf and around Liverpool Street often offer great discounts as they target business travellers during the week making a weekend break very affordable.
That said, you can still get some great break offers on hotels closer to the main attractions so it's good to be flexible on where you want to stay. Most places are a short underground journey away anyway.
Popular City Break Destinations