Latest holiday deals to Italy
Popular Italian Holiday Destinations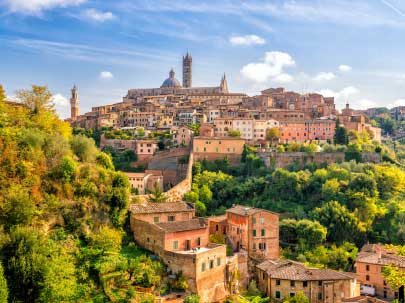 Tuscany
Enjoy long drives through winding scenery amid the hills and vineyards of this incredible area of Italy.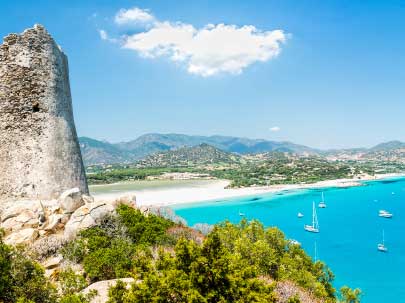 Sardinia
A fantastic island offering stunning beaches, rugged mountains and exquisite Italian cuisine.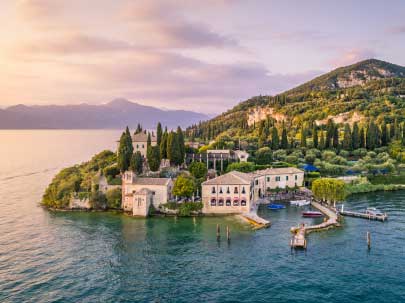 Northern Lakes
Gawp at the scenic views from the lakes to the mountains dotted with beautiful towns and villages.
Our Complete Guide To Holidays In Italy In 2023/2024
Often considered one of the most beautiful countries in the world, it's quite easy to see why holidays to Italy are so popular with Brits. Discover the ancient roads and monuments of Rome on a romantic city break, or head up into the Alps to enjoy the spectacular views from the peaks before skiing back to the resort. Italy offers pretty much something for everyone, whatever you like to do on holiday, so make sure to check out the latest city breaks and holidays in Italy for 2023 & 2024.
Italian Destination Guide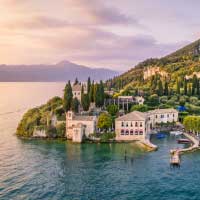 Popular Destinations In Italy
Italy has such an incredible range of very different destinations, from the immaculate beaches in Sardinia to the iconic canals in Venice and everything inbetween. Here are some of our popular destinations in Italy:
Tuscany
The rolling hills of Tuscany have long been the scene of romantic films shoots and gastronomic dreams, the ideal holiday destination for enjoying the countryside, cuisine and culture of Italy. As a region, Tuscany (or Toscana as it's known locally) runs from Pontremoli, through Pisa and Florence and down towards Montepulciano and Grosseto, which makes it ideal for a multi-centre vacation, taking in the bustle of ancient cities, while enjoying the slower pace of life of the countryside.
Italian Lakes
The lakes border the Italian Alps offering incredibly dramatic landscapes, and actually run through three regions, Piedmont, Lombardy and Veneto. During the hot, summer months, if you don't find the Italian's on the southern beaches, you'll find them enjoying the lakeside views of the north. The likes of Lake Como and Lake Garda are the most famous, but head a bit further away and you'll escape many of the typical tourist traps to discover your own piece of Italy.
The Islands
Italy's islands are certainly worth a visit, particularly if you love Italy and you've done many places on the mainland.
Sicily
The largest island in Italy and in the Mediterranean, Sicily is full of history, culture and delicious Sicilian cuisine. Thousands of years old, its capital, Palermo is the perfect place to stop and take in the sights before heading on to explore more of the island, including Taormina and Mount Etna.
Sardinia
One thing you may have seen when researching Sardinia are the crystal clear waters that trick you into thinking you're somewhere in the Caribbean. Many flock here simply to get those Insta-worthy snaps, but there's much more to see and do on the island during your trip. From historic chapels to hiking the hills, one of the best things to do is hire a car and find the little hidden gems which are dotted about the island.
Cities
The cities of Italy are simply awe-inspiring. With Rome at its heart, a city full of incredible ancient ruins, monuments and statues, and the magnificient Milan, once Italy's industrial pedestal, these are just two of the cities just waiting to be explored.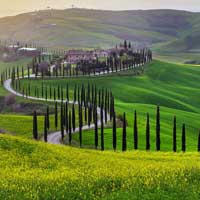 When To Go
Summer
A summer holiday to Italy might be automatically what you think about, but the summer can actually be pretty hot and uncomfortable, particularly in many of the cities, which is while you'll find many shops and restaurants can close, particularly for the month of August, allowing the owners to escape the heat and enjoy a much needed break. This can mean many of the popular seaside towns of the south can be much busier with domestic tourists. On the other hand, head north and you could be walking through the mesmerising Alps, which, during the summer months are lush with green grass and flowers. A complete contrast to the Alps in winter.
Winter
The more south you go, the warmer it will be, and that also is the case for winter. While it can still get fairly chilly, places like Sicily and Calabria can be a welcome relief from the colder climes of northern Europe, including the UK. This can often mean tourist hotspots like Rome, Florence and Venice can be much quieter, and may make for a more enjoyable break. And, of course, there are the snow fields of the Alps, ideal for skiing, snowboarding or simply enjoying the cosy atmosphere of a mountain retreat.

Types Of Holiday In Italy
There are so many different types of holiday you can enjoy in Italy, from a quick city break amongst the canals of Venice, to a three week multi-centre trip, taking in the sights on a road trip from north to south.
City Breaks
Cities like Milan, Rome and Venice are well known for their food, history and stunning sights, but there are also some lesser known gems just waiting to be explored. Try out cities like Verona, Catania or Ancona for something a little different that many holidaymakers won't have even thought about. Discover the latest city breaks to Italy here.
All Inclusive
Although you might not have expected it, there are actually some great all inclusive resorts in the south of the country, ideal for beach holidays. Many Italian's head south for the summer to spend time by the coast on their holidays, so there are a number of places that offer this type of break. Take a look at resorts like the TUI Magic Life.
Self Catering
Self catering holidays in Italy are a great option for you if you like to head out and try out all the nearby eateries, making friends with the locals and enjoying the regional cuisine. This can also help keep the cost of your accommodation down too.
Villas
Stunning villas set amongst the green hills of Tuscany may be one of the first things you think about when you're considering a trip here. Villas can come in all shapes and sizes and work well for just a couple, or a large group of people. This is also why destination weddings in Italy are so popular and saught after, the setting is just idyllic for a romantic celebration.
For Couples
Italy is synonymous with romance and is an ideal escape for couples. You've probably seen the gorgeous vistas of the Amalfi Coast, with cliff top hotels and dramatic boat trips, and this is certainly one of those destinations worth considering for something special for just the two of you.
For Families
Families are very welcome in Italy, and you'll find everywhere from the city museums to the beachside resorts cater well for the little ones. City breaks can involve a lot of walking but grab yourself a travel pass for a day or two and you're laughing.
Twin Centre
There are so many incredible sights to see that it's almost impossible to pick a favourite, and you shouldn't have to. Twin centre and multi centre holidays allow you to visit several places in Italy, suited to you. So if you love the cities, fly over to Milan, then jump on a train and head to Florence. Or you could pick up a car in Rome and drive through the countryside over to Bari in Puglia.

Travelling To And Around Italy
Although you might be tempted to plan your own trip to Italy, taking in multiple destinations, booking Airbnbs, hotels, flights and trains along the way, there are a number of great travel companies who can do this for you, and who can offer you financial protection through the ABTA and ATOL schemes. These brands include Kuoni, Citalia and TUI, and depending on the type of trip you're after, you could booking a twin centre break too.
There are flights to Italy from across the UK, including regional airports like Glasgow, Birmingham and Belfast to Italy. The larger cities like Rome, Milan and Venice will naturally have the most flights, but with low cost airlines like Ryanair, you can now snap up a bargain to hidden gems throughout the country.
Depending on where you're visiting and your itinerary, a hire car can be one of the best ways to get around, driving through quaint little towns and villages that you wouldn't have otherwise discovered. No car? No problem. The rail network in Italy is very comprehensive with a high speed rail network between key cities.
Before you book and travel, we always recommend checking the latest travel advice with the Foreign Commonwealth & Development Office.
Italy Holidays & Coronavirus
Many countries, including Italy were affected by Coronavirus and before you book and travel, we always recommend checking the latest travel advice with the Foreign Commonwealth & Development Office, to understand any travel restrictions in place. This is also the place to find out about any visas, passport requirements and other travel details needed before you visit. For flight inclusive holidays, be sure to book your trip through an ATOL protected provider to ensure it is financially protected.
Frequently Asked Questions
Some of the lesser visited cities such as Verona or Bari can have cheaper flights and affordable accommodation.
This can really vary and can be anything from under £100 per person for a one night city break to thousands of pounds for several weeks travelling around.
Luxury Italian Holidays
While we are all about affordable holidays, if you can splash the cash a little, perhaps it's a special occasion, Italy has some absolutely incredible hotels, resorts and options on the luxury side of things. Take the five-star Rome Cavalieri in Rome. Although not in the heart of the city, this is a beautiful hotel with room views to die for.
Popular Holidays