Holidays To Greece 2023/2024
Find Your Ideal Holiday With
Latest holiday deals in Greece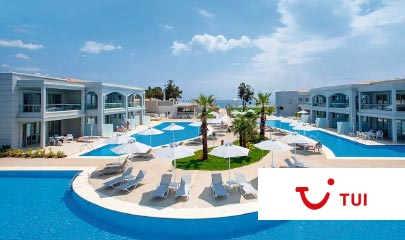 TUI BLUE Lagoon PrincessHalkidiki
★★★★★
🛏 - 7 nights - 2 adults ✈ - Departs London Gatwick 🗓 - Thur 28th September 2023 🍽 - All Inclusive
From£674per person
View Deal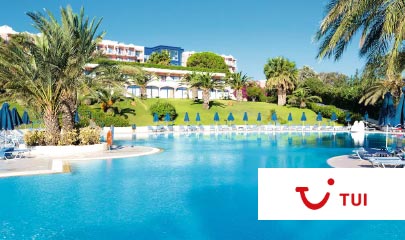 Kresten PalaceRhodes
★★★
🛏 - 7 nights - 2 adults ✈ - Departs London Luton 🗓 - Wed 19th April 2023 🍽 - Bed & Breakfast
From£479per person
View Deal
Our Complete Guide To Greece Holidays In 2023/2024
As one of the most beautiful places in the Mediterranean, it's easy to see why so many Brits enjoy their holidays in Greece.
From the rich history and culture, ideal for city breaks, to the beautiful beaches and turquoise waters, perfect for relaxing holidays, Greece seems to have everything you could want and need from sunny holiday.
Explore the dramatic scenery and stunning islands by car, boat or plane and you'll see what all the fuss is about and why it has become such a popular holiday destination.
Popular Resorts In Greece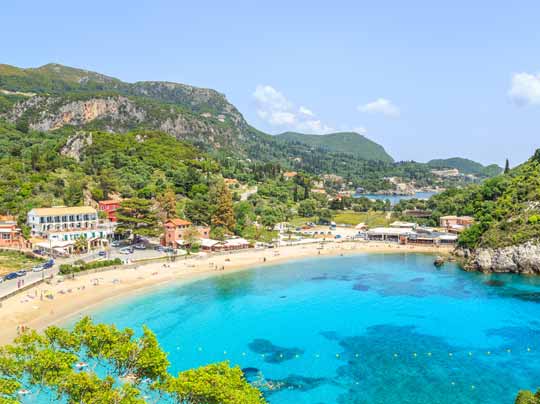 Corfu
While Corfu's often known for it's party places, there are some stunning hidden gems and secret beaches to discover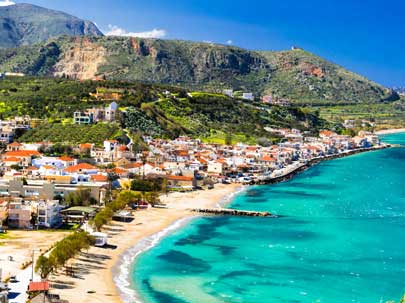 Crete
A fantastic island with plenty of hotels and resorts, holidays to Crete are perfect for all types of getaway
EXPLORE CRETE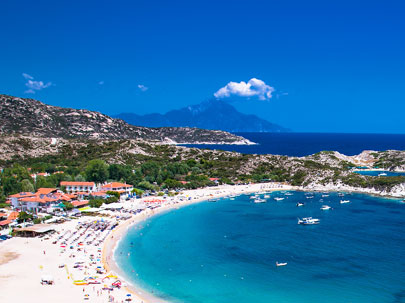 Halkidiki
Part of the mainland, the scenery in Halkidiki's peninsulas is stunning with plenty of beaches to enjoy
EXPLORE HALKIDIKI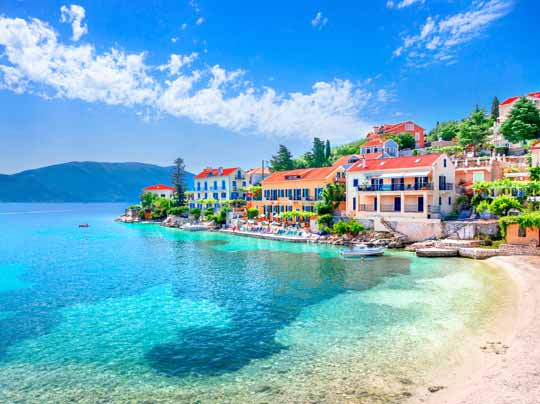 Kefalonia
A great family-friendly island, Kefalonia is home to rugged rocks and beautiful beaches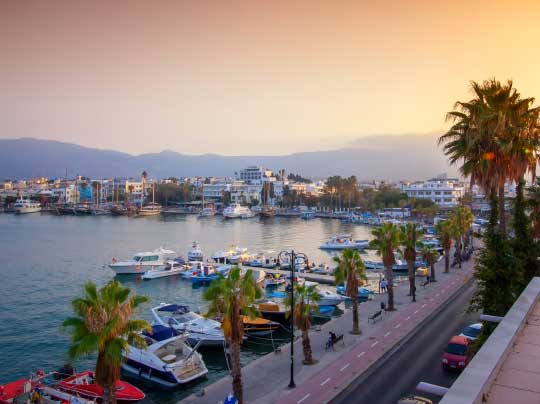 Kos
Kos is a popular island for everyone, from lively nightlife to quaint little fishing villages
EXPLORE KOS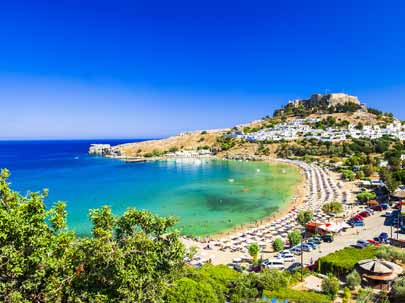 Rhodes
As one of the most developed Greek islands, Rhodes offers an ideal mix of quiet cove beaches and wilder nightlife
EXPLORE RHODES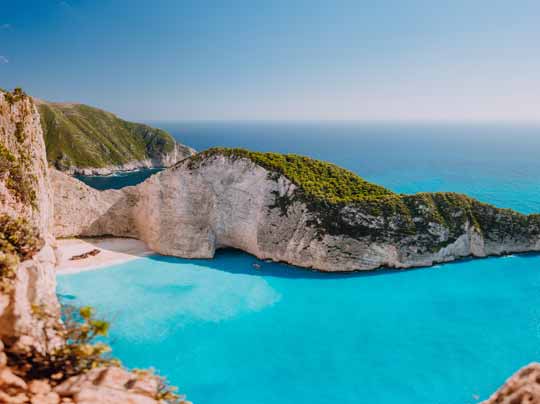 Zante
One of Greece's most iconic islands, perfect for parties in Laganas or relaxing in Alkyanas village
Greece Destination Guide
Getting to, from and around Greece
Direct flights to Greece from the UK vary from 3 and a half to 4 hours, depending on your destination. Charter, scheduled and low-cost airlines offer direct flights so it's worth shopping around. With flights from a number of regional airports in the UK, it's also easy to book a Jet2 holiday to Greece from a number of regional airports in the UK.
You can also explore the Greek Islands by boat, either by ferry, driving yourself around or why not enjoy a cruise that takes you into the ports and offers various excursions for passengers.
Once on land, getting around the mainland or islands is easiest done by car, although if it's a beach holiday you are after, shuttle coaches can be organised in advance to take you between the island's airport and your hotel.
Holiday Types
If you love sunshine, Greece is for you, and it's such a versatile country that it's great for all types of holidaymakers.
All Inclusive
All inclusive holidays are a fantastic way to ensure you don't spend any more of your budget than you need to, especially for families. With top resorts offering a range of entertainment and facilities, as well as buffet restaurants catering to families and kids, you've got plenty to choose from.
Half Board
Having that little bit of flexibility can make all the difference on holiday, allowing you to take advantage of the buffet meals and still giving you the option to head out and explore the restaurants.
Bed & Breakfast
Plenty of Greece's hotels offer a B&B board basis.
Self Catering
There is plenty of cheap accommodation ranging from Airbnb apartments to self catering villas. Going self catering in Greece gives you the opportunity to try all the fantastic tavernas.
Last Minute
With so much choice, last minute holidays to Greece are a great way to save money and get away to enjoy the sunshine. Flights from across the UK with Ryanair, Jet2 and easyJet make it so easy to grab a late deal to the stunning Greek Islands.
Greek Villa Holidays
One of the most fabulous ways to experience life in Greece is on a Greek villa holiday. There really is nothing quite like enjoying your own place and space, dipping your toes into your own private pool, and hiring a car to discover the islands in your own way.
When To Go
The typical holiday season for Greece runs from April through to October, when you'll find most hotels open for business. The summer months of July and August are busiest, particularly with families on school holidays. This is also the hottest time of year when temperatures reach 30C and there's around 12 hours of sunshine a day.
While the winter months are cooler, they are still warmer than the UK and most of the Greek Islands enjoy an average of 5 hours of sunshine a day.
Things to do in Greece
For a sunny destination, there really is something for everyone and each area of Greece has it's own little quirks.
For a short city break or if you're in need of some culture, Athens makes for a fantastic cheap weekend break, offering sunshine, history and plenty of activities. If it's a relaxing beach holiday, then there's plenty to choose from. From the steep hills and stunning views on Santorini, to the gorgeous beaches of Zante, be sure to pick your beach holiday destination wisely. If on the other hand you are here to party, Mykonos has become the self-proclaimed party island in Greece, with a vibrant atmosphere, ideal for a clubbing beach holiday with your mates.
Where to stay in Greece
From budget 2-star apartments to luxury 5-star hotels, the range of accommodation in Greece is more than enough. It's worth taking into consideration why you are visiting Greece before you pick the island you want to stay at and book a holiday or hotel.
Athens is great for a city break, while Mykonos is more of a party island, or if you're after something much more chilled and quiet, the island of Santorini is probably the ideal holiday location for you.
Frequently Asked Questions
Although nothing is confirmed, Greece hopes to welcome tourists for Summer, who have been vaccinated against Covid-19 and have tested negative to coronavirus prior to travel. Please check the latest travel advice and restrictions with the Foreign and Commonwealth Office before booking at this could change at any time.
Crete is often seen as one of the cheapest Greek islands for a holiday, with lots of self catering accommodation options, however all islands can be budget-friendly. Other islands to take a look at are Corfu and Rhodes.
Book your next getaway with TUI Holidays
In partnership with

Popular hotels in Greece
Similar Destinations