Popular Italian City Breaks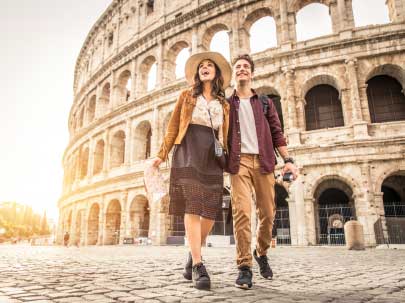 Rome
Rome is a classic city break destination with plenty of hidden gems to discover, and delicious gelato
EXPLORE ROME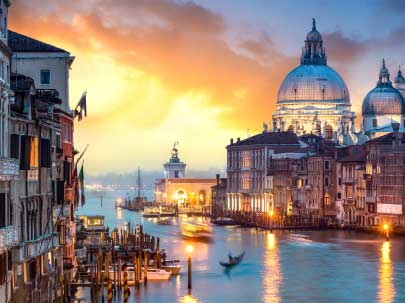 Venice
The canals and alleys of Venice are the perfect place to lose yourself and stumble upon stunning architecture
EXPLORE VENICE
An Italian City Break Guide
If you love a city break, Italy should definitely be on your list, even if you've experience some of them already. Rome is often at the top of most people's lists and rightly so. The city is alive with history, culture, cuisine and so much more. But there are plenty of other places you should be taking a look at too. Verona, home of Romeo and Juliet is romantically Italian and very affordable too with low cost flights from a number of regional UK airports.
Travelling to Italy
One of the great things about travelling to Italy is the sheer number of flights from across the UK making it cheap and easy to get to. Ryanair has paved the way in ultra low cost flying, as well as opening up lesser known cities and regions of Italy like Perugia in Umbria or Bari in Puglia. Despite the love-hate relationship with many customers, this can make a city break in Italy very affordable.
Booking Protection
Especially in light of Coronavirus, we always recommend booking your flight and hotel together as a financially protected package through the ABTA and ATOL schemes. This is possible with top travel agents and tour operators like Jet2holidays, Expedia, lastminute.com and Citalia.
Top 8 City Breaks In Italy
1. Rome
The classic city break destination, Rome's popular tourist traps are definitely worth visiting at least once, although there are so many incredible places away from the main sights to discover.
2. Venice
Venice is a wonderful city, although a little costlier. Spending time on the water is a great way to see the city, but taking to the narrow alleys and bridges by foot is the most incredible way to get lost and find quaint little eateries.
3. Verona
Famous as the home of the Romeo & Juliet story, Verona is one of Italy's best kept secrets
4. Florence
One of the most stunning cities in "bella Italia", Florence features a wealth of architectural and artistic delights. This is definitely a city to enjoy if you love the Renaissance period.
5. Milan
Once known as the industrial capital of Italy, Milan's cool and exciting fashion and nightlife scenes make this city one of the hippest places to visit in Italy.
6. Naples
You can't skip Naples without trying some of its epic pizza. Beautiful landmarks, insightful museums and all in the shadow of the incredible Mount Vesuvius.
7. Turin
Located in the north of the country, Turin is the perfect escape if you've done the main tourist hotspots and want to enjoy somewhere a little less travelled in Italy, but still want to enjoy all that an Italian city has to offer.
8. Bologna
Bologna is another one of those Italian treats just waiting to be discovered. From the Piazza Grande to the impressive Duomo, Bologna is an excellent way to spend a weekend break.
Best Italian Cities
The classic question of "where should I visit in Italy" can only truly be answered by understanding what sort of thing you want to do or see on your trip. Here are a few top suggestions:
Best City For The Beach
Down in the south of Italy in the stunning Puglia region, Bari was opened up to the rest of Europe by Ryanair and offers a number of wonderful beaches on the outskirts of the city. Head out of town and you'll discover some of Italy's most incredible beaches.
Best City For Nightlife
If you love the club and bar scene, Milan should certainly be one to check out. It's cool and quirky bars set amidst the areas of Navigli, Colonne di San Lorenzo and Isola make for an excellent night out. No wonder the city attracts youngsters.
Best City For Students
Whether you're on a budget or want to be around other students, Rome is an outstanding place to visit for students. There are plenty of affordable accommodation options, and loads of free attractions too.
Best City For Families
Being close to the mountains, Turin can easily combine the outdoors with the vibrant city. There's so much to do and plenty to keep the kids entertained from the Egyptian Museum to Juventus football stadium.
Best City For Food
This is always a tough one. Food is what this country is known for and there's no mistaking the incredible and unique cuisine available in each and every place in Italy. From the pasta to the pesto, food lovers are in for an absolute treat.
Best City For Architecture
Italy is famous for its architecture but places like Florence and Venice are ideal if you love gawping up at the facades and designs that Italian history has to offer.
When To Go
Two of the best times to go to Italy are in the Spring and Autumn. Summer, especially in the likes of Rome can be stiflingly hot with many shops and restaurants closing for the holidays in August. Depending on where you go, winter can be tough, although the south and the islands of Sicily and Sardinia enjoy a much warmer climate. This leaves the Spring and Autumn, allowing for mild weather and quieter streets. Don't forget to check out out the latest events too. For example, Venice is alive in February for the Carnival festival, a sight not to be missed.
Frequently Asked Questions
Top Destination Hotels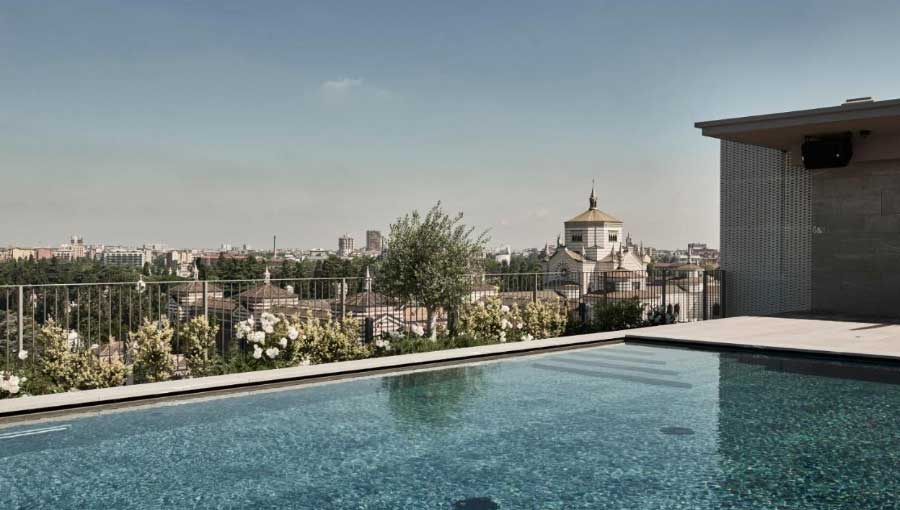 Tere are some absolutely stunning destination hotels in Italy many of which are located in the city centres. Hotel Viu Milan is one such example of a hotel you might want to stay at, simply because of the hotel. It's mesmerising rooftop pool is a terrific spot to while away the day, or cool off in the summer sun. Alternatively, the Romeo Hotel in Napoli offers impressive reviews to Vesuvius from many of its rooms.
How To Book An Italian Short Break
The best way to book a short break is with a trusted travel agent or tour operator. It's easy to book your accommodation and flight separately but you won't have the same financial protection as you would have when booking with an ABTA or ATOL protected company.
Compare city breaks to Italy
In partnership with
More Popular Short Breaks