A Rome City Break Guide
Rome is undoubtedly one of the most stunning cities in Europe, if not the world. From its ancient history, dating back more than 2,500 years and stunning architecture, to its modern fashion scene and trendy shopping, there's plenty to enjoy and explore in this gorgeous part of Italy. A cheap city break in Rome should definitely be on your bucket list for 2023 or 2024.
One of the great things about a Rome city break is that it doesn't have to cost a fortune, and you can do as little or as much as you like. If the thought of wandering around the numerous museums and monuments that Rome has to offer doesn't appeal, the relaxed cafe culture certainly will, especially with the rooftop bars and endless bars and restaurants on offer.
Hotels In Rome You Don't Want To Miss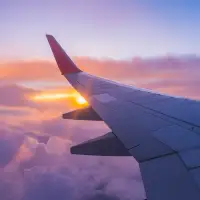 Getting to, from and around Rome
Flights to Rome can be incredibly affordable, particularly during off-peak seasons. Both the main scheduled and low-cost airlines, like Ryanair and easyJet fly direct from the UK to Rome and is ideal for a weekend break, although you should expect cheaper prices during the week. It might also be worth looking at flight and hotel packages with tour operators like Jet2CityBreaks, TUI and easyJet Holidays, all of whom are ABTA and ATOL protected.
Getting Into The City
When flying into Rome's Fiumicino Airport, the easiest way to get into the city is by train. Regular services run into Termini, Rome's main train station where you can then get access to the Metro. There is also a coach service that's slightly cheaper.
Getting Around
Once you've arrived the main three Metro lines in Rome serve the majority of the tourist sites and travel cards can be purchased to save money and time, which include both the buses and the Metro. Being a tourist city, beware of pickpockets travelling on public transport and visiting busy tourist attractions. Hiring a car is only really feasible if you're going to spend a lot of time outside of the city.
Walking
Without a doubt, one of the best ways of seeing the city is by foot. Walking is a great way to explore, however, there are a lot of cobbled streets which may not be suitable for everyone. There are also walking tours you can book onto to make sure you don't miss out on any of the big sights. And be sure to take a long, leisurely walk through Villa Borghese.
When To Go
Holidays to Rome can be fun and exciting, and it's a great city to visit throughout the year, but there are probably some months that are better than others. The summer months of July and August can get pretty hot and busy with tourists, so you might want to avoid this time. The spring and autumn can be perfect times to visit when the weather isn't too hot, nor too cold.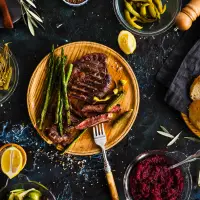 Things to do in Rome
As one of the best city breaks to Italy, Rome is a city like no other, and there are plenty of things to do in this incredibly capital city, ranging from the free and budget-friendly, to the more pricier activities. Visiting many of the attractions like the Spanish Steps, Basilica of Santa Maria in Trastevere, Trevi Fountain, Piazza di Spagna and Piazza Navona are all free, so grab your phone and capture those must-see photos for Instagram. Of course, for kids studying ancient Rome and the Roman Empire at school, this is the place to bring them.
The Colosseum
If you are visiting Rome, even on a quick trip, one thing you should definitely do is visit the Colosseum, one of the city's most iconic landmarks which was built nearly 2,000 years ago, hosting the likes of gladiator battles and the recreating of naval battles. An audio tour of the impressive amphitheatre is the best way to learn about its amazing past. Just be mindful that it can get very busy so it might be worth booking tickets in advance, especially in July.
Vatican City
Another must-see is the Vatican City and St. Peter's Basilica. This tiny state in the centre of Rome remains the home of the Catholic Pope and even has it's own television channel, but it's the Vatican Museums that everyone comes here for, and to see The Creation of Adam, Michelangelo's beautiful painting on the ceiling of the Sistine Chapel. If you're in town on a Sunday and the Pope is in residence, you may also get the chance to see him as he preaches to the crowds in St. Peter's Square.
Shopping
There are some fabulous shops in Rome, although many more expensive than others. Via Dei Condotti is certainly worth strolling down, even if just to gawp at the incredible outfits in the expensive shop windows (think Bulgari, Jimmy Choo and Prada). Shopping that might be a bit more in everyone's price range (including ours) is Via del Corso which runs all the way from Piazza del Popolo to the impressive Victor Emmanuell II monument next to the Roman Forum.
Eating
Rome truly is a city of food. Whether enjoying a gelato in the beautiful grounds of Villa Borghese park, or tucking into some delicious Italian cuisine in Trastevere, there are so many cafes and restaurants to try out here.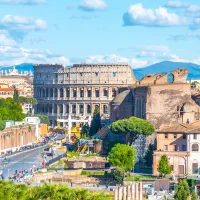 Where to stay in Rome
Staying in Rome can be cheap, however, staying central can come with a premium price. Be careful about hotels that say they are in Rome but are actually much further out to the coast. Always do your research. A cheap city break in Rome may actually cost you a lot in bus and metro fares, because your accommodation is out of the way.
If you are on a budget, hostels are a great option on a Rome city break, and some even offer private rooms at a fraction of the price of a hotel. If on the other hand you fancy something a little better, companies like lastminute.com and Booking.com have a great range of hotels for all budgets both within Rome city centre and on the outskirts.
Hotels With Rooftop Terraces
Many hotels in Rome have rooftop terraces and bars, which can be an amazing way to enjoy a spot of lunch or sunset drink as you enjoy the views across the Roman skyline. Hotels like the Atlante Hotel and the luxury five-star First Roma hotel have truly incredible vistas, but there are some budget friendly ones too.
More Popular Escapes