Jamaica Holidays In 2023 & 2024
Find Your Ideal Holiday With
Popular Hotels In Jamaica
Our Guide To Holidays To Jamaica In 2023/2024
Jamaica is such a fantastic destination for a tropical holiday, but with so many resorts and hotels to choose from, you might need a bit of help and inspiration on where to go and stay. Here's our guide to Jamaica holidays, whether you're taking the kids away for an adventure filled, family friendly holiday, or celebrating a special occasion like a big birthday or honeymoon.
Popular Areas In Jamaica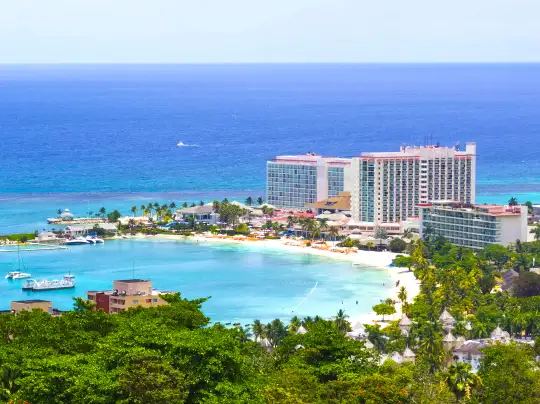 Ocho Rios
The resort of Ocho Rios has something for everyone, from chilling out by the pool, to exploring Dunn's River Falls.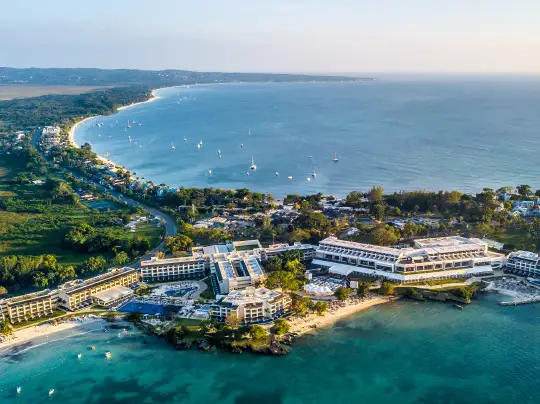 Negril
A popular resort on the very west of the island with a gorgeous stretch of tropical, sandy beach.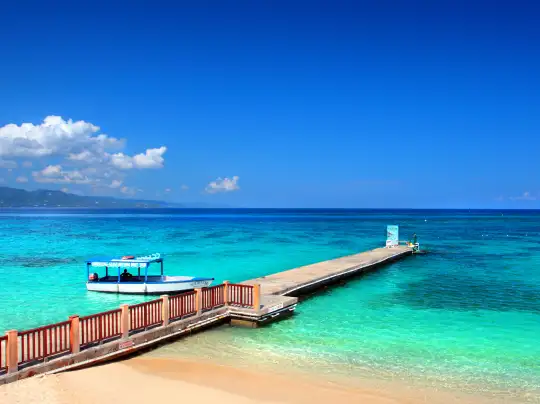 Montego Bay
With plenty to see and do outside of your hotel, Montego Bay is a great option if you prefer to explore.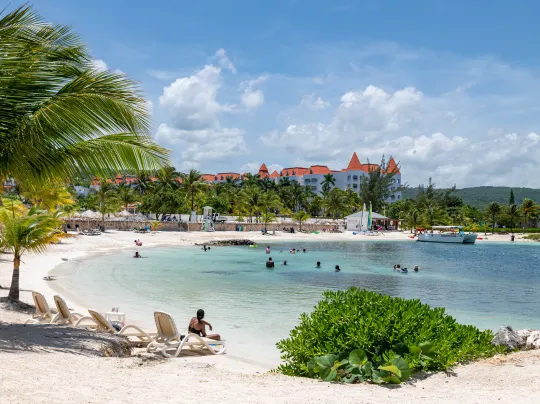 Runaway Bay
Quiet beaches are the name of the game in Runaway Bay. This is a much more chilled part of the island.
Jamaica Destination Guide
Getting to, from and around Jamaica
There are direct flights from the UK to Jamaica, including both scheduled services with Virgin Atlantic and BA, and charter flights from regional airports with TUI, including London Gatwick, Birmingham, Manchester, Newcastle and Glasgow. Most holiday flights go to Montego Bay Airport (Also known as Sangster International Airport / Airport Code: MBJ) and it's easiest to have an airport transfer waiting for you to take you to your hotel, but hiring a car is also possible here and a great way to get out and explore if you can't spend every day by the pool. Taxis can be a good way to get around the island if you don't fancy driving, but there are also plenty of organised tours and excursions on offer which can be booked in advance, saving you the hassle of knowing where to go.
Tour Operators
When booking a beach holiday through the likes of Virgin Holidays, TUI or British Airways Holidays, you'll be protected by the ABTA and ATOL scheme. Other tour operators like Kuoni, loveholidays and On The Beach also have package holidays to Jamaica but what's included will vary. You may need to add on things like airport transfers when you book, or they may already be included, so double check.
To help you save money, you might be able to find things like discount codes online, or with certain travel companies, a discount is automatically applied on check-out. Free child places generally aren't available on long haul holidays to the Caribbean but sometimes you might be able to find promotions that allow kids to stay free.
Holiday Types
Family Holidays
Jamaica is a great island for families. There are a bunch of family friendly hotels with kids clubs and activities. Take a look at places like Beaches Ocho Rios and the Royalton White Sands Resort for some kid friendly inspiration. Usually, free kids place holidays are available to Jamaica, but if booking your flight and hotel separately, certain resorts may have a child stays free offer. The main thing to check is if the hotel has a kids' club or water park.
Villa Holidays
Self catering villas are another awesome way to enjoy the island. There's something special about hiring out your own home for a week or two, buying groceries from the local supermarket and eating out at some of the local bars and restaurants.
Weddings
Ever considered exchanging vows with the soft Caribbean sand between your toes? Jamaica is a popular wedding destination with most hotels and resorts having packages and dedicated staff to help organise your special day. Whether it's standing in front of your loved ones on the terrace at sunset, or a romantic beach wedding with the waves crashing the background, there really is something amazing about getting married in Jamaica.
Honeymoons
It's so easy to see why people choose Jamaica for their honeymoon. If you really do want to escape the kids, there are plenty of adult only hotels here like the Ocean Eden Bay and the Sandals Negril.
When To Go
Being in the Caribbean, Jamaica enjoys year round warm weather, with temperatures staying around the 30° mark, but being a tropical destination means it also rains, so it's important to visit Jamaica at the right time.
Summer
Summer in Jamaica is typically more rainy, although as with most tropical climates, these are often shorter sharp downpours of rain during the hurricane season. Prices can vary as school summer holidays increase demand but the rain in July and August might put many visitors off, so often there are some great holiday discounts to be found.
Winter
Winter is typically the high season when tourist flock to the warmer climate. You'll find plenty of sun, high temperatures, but also high prices. However, late winter to early Spring is the sunniest time of year in Jamaica and can be a good time to visit as the peak season winds down. Prices can dip a little from their highs of January and December.
Things to do in Jamaica
There's more to Jamaica than just all inclusive resorts and beautiful beaches. If you fancy exploring or a bit of an adventure, there's loads to do in Jamaica outside of all the activities of your hotel. From discovering some of the quieter beaches, to venturing into the Blue Mountains, here are a few of our favourites.
Dunn's River Falls & Park
Famous for being in various films, Dunn's River Falls & Park is one of Jamaica's most visited attractions. Climb up the falls and make sure you get that vital Instagram photo!
Bob Marley Museum
No visit to Jamaica is complete without learning about one of the island's most iconic musicians. The Bob Marley Museum is a National Heritage Site and was his final residence on the island.
Blue Hole
The Blue Hole is another of the island's waterfall attractions, with the mesmerising turquoise water drawing tourists here over the years.
Water Sports
With warm turquoise water and sandy beaches, how about trying your hand at one of many water sports on offer here. Your hotel may have its own private beach, otherwise public beaches also have plenty on offer, ranging from snorkelling and kayaking, to motorised watersports like jetskiing.
Where to stay in Jamaica
Lucea
Lucea has a real local feel to it and the resorts around here are mainly out of town, but you'll find some fab all inclusive hotels here like the Grand Palladium Jamaica Resort & Spa, making it great for luxury holidays. It's a much quieter place and you'll often either come here to fly and flop, spending all your time within the walls of your resort, or stepping out to enjoy a bit of local life.
Runaway Bay
Runaway Bay has a number of beachfront hotels like the Bahia Principe Luxury Runaway Bay and Grand Jamaica. You'll also find plenty of villas inland here too. It's a popular place to stay, and you're not far from local shops and restaurants, as well as Discovery Bay and the Green Grotto Caves, famous for its algae covered walls.
Montego Bay
Montego Bay is the largest town on this part of the island, so if you like the hustle and bustle, or at least have it within easy reach, this might be for you. A variety of shops, bars and restaurants are on hand to immerse yourself in island life, while Hip Strip comes alive in the evening as one of the most popular places on the island for nightlife and enjoying live reggae music.
Negril
Home to the famous Seven Mile Beach, Negril has lots of great hotels on the beachfront, including the Couples Swept Away and Margaritaville Nergril. This part of the island is the epitome of what any holidaymaker would assume Jamaica is like, with beach bars, soft golden sand and rustling palm trees.
Ochos Rios
Ocho Rios is a great part of the island to visit if you like to explore a little and don't mind the crowds, as it's also home to a cruise terminal. From Ocho Rios Market to Island Village, you can easily spend a few hours wandering around the shops and stalls picking up a few bargains and holiday souvenirs. It's main beach, Turtle Beach (also known as Ocho Rios Ba Beach), is the ideal spot for grabbing some food from town and chilling out in the sunshine while you enjoy some typical Jamaican cuisine. Meanwhile, its marina is home to a number of companies offering boat trips to go snorkelling in the warm Caribbean Sea, scuba diving around the colourful coral reefs, or simply enjoying the sunshine on the water.
More Great Hotels In Jamaica
Free Child Places To Jamaica
If you're taking the family, there are several ways to save, including free child place holidays to Jamaica. With certain tour operators like Virgin Atlantic or British Airways Holidays, this may only be for the accommodation element, however, with companies like TUI, the flights and airport transfers may be included as well.
Frequently Asked Questions
Jamaica is currently open for UK tourists to visit. Please check the latest advice and guidelines or the Foreign, Commonwealth and Development Office (FCDO) website.
All Inclusive Holidays
With big, beachfront resorts, an all inclusive holiday to Jamaica may be just what the doctor ordered. Drift between the pool, beach and restaurants for a whole week with endless sea views, palm trees and rum punch.
Book your next getaway with TUI Holidays
In partnership with

Similar Destinations