Find Your Ideal Holiday With
Our Complete Guide To Low Deposit Holidays In 2023/2024
Your dream holiday isn't always a cheap holiday, so it's nice to be able to secure it and then pay over time. Now more than ever low deposit holidays are important. We love to have something to look forward to and still want a bit of flexibility, but we want to make sure we get the best holiday deals. Many respected ATOL and ABTA protected tour operators now offer holidays with a low deposit from as little as £40 per person depending on your destination, when you travel and who you fly with. This can not only help you secure a fantastic offer to a top holiday resort, it can also allow you to pay off the balance of your holiday over time.
Top Low Deposit Destinations

Destinations
You might associate low deposits with a getaway abroad, but you can get some cracking deals on UK holidays and pay over time.
UK
In the UK, companies like Sykes Cottages and Forest Holidays are often able to offer special rates allowing you to pay for your holiday in the UK over time, both of which offer holidays across the UK. Similarly, if you're after a caravan holiday in places like Cornwall, Norfolk or Wales, Breakfree Holidays offers hundreds of family holidays with a deposit from as little as £10 per person.
Travelling Abroad
There are so many incredible destinations across Europe and the rest of the world to discover. From the sandy beaches and sunshine of the Canary Islands, to the theme parks of Florida and everywhere inbetween. So whether you want take the kids away in the school holidays (when prices are famously higher than other times of the year), or you're planning a once in a lifetime trip, paying the full balance over time can be a saviour. Don't forget ski holidays too!
Cruises
Cruise companies are usually planning their sailings years ahead, with many offering cruise deals up to two years ahead of time. Being so far in advance, it's nice to not have to fork out the whole lump sum, paying the total balance over time. Cruise companies like P&O, Royal Caribbean and NCL understand this, and almost always have a deposit scheme for customers when booking that far out.

Top Holiday Brands With Low Deposits
Many of the big tour operators and travel agents can offer holidays with a deposit on selected holidays, which can be particularly great for families. There are usually terms and conditions involved, especially when flights are being booked with a third-party airline, so always check if it's possible and when the full balance needs to be paid to ensure your booking is safe. Flight prices can change quite quickly so this is great opportunity to book and secure your price.
Companies which offer pay monthly holidays include:
Jet2holidays
TUI
loveholidays
On The Beach
British Airways Holidays
Blue Sea Holidays
Carnival Cruises
Haven Holiday Parks
No Deposit Holidays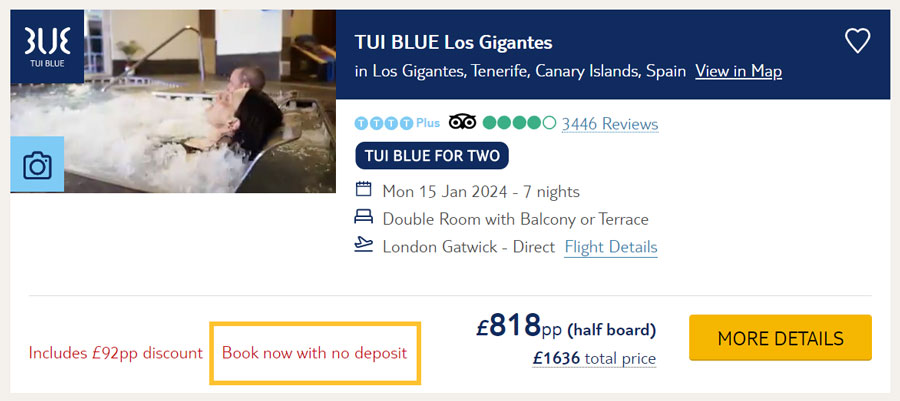 No deposit holidays are available with TUI and First Choice Holidays. They are on selected holidays when booking at least 26 weeks in advance. All you need to do is search for your holiday as usual and you'll see in the search results (example above) how much the deposit is. You then pay monthly instalments as part of the scheme. No deposit holidays include destinations like Tenerife, Turkey and Greece, as well as long haul destinations like Jamaica, Mexico and Disney hotels in Florida.
Book your next no deposit holiday with TUI
In partnership with

Why Book A Low Deposit Holiday?
There are loads of great reasons why booking a low deposit holiday is a good idea.
- Booking far in advance can help you save money, even if you don't have the money right now.
- A deposit can be a good way to secure the price of your holiday.
- Paying a deposit means you can pay off the cost of your package over monthly instalments.
- Depending on who you book with, a deposit can be as low as £25 per person.
- If it's only you organising it but a group of people travelling it can give you time to collect everyone's money.
- All inclusive and luxury holidays can be higher costs. It's nice to pay this over time.
Frequently Asked Questions
The lowest deposit holidays can start from as little as £40 per person, however many travel agents and tour operators start from around £50pp.
This can vary from company to company and can be accommodation only (in the UK), or flight inclusive holidays (if travelling abroad).
Usually you cannot get a deposit back. That is the point in a deposit, to secure a price ahead of time. You should check with your tour operator or travel agent and your travel insurance company for any exceptions.
Check out these great hotels
Popular Holiday Destinations