Our Guide To Free Child Place Holidays To Mexico In 2023/2024
Despite many tour operators offering trips there, sadly there aren't any free child place holidays to Mexico right now. This is mainly due to the cost involved with the flight. It's a long old way from the UK to Mexico and that free airline seat is worth hundreds of pounds. Despite this, you can still get some fantastic discounts and deals on family holidays to Mexico. And if you decide to book your flight and hotel separately, certain hotels in places like Cancun and the Riviera Maya offer free child places for just the hotel part. Here's our guide to what free child places Mexico has to offer.
Popular Family Friendly Hotels In Mexico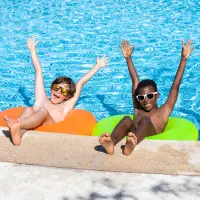 All Inclusive Holidays
With so many fantastic resorts, family friendly all inclusive holidays to Mexico are ideal for that tropical getaway where the only worries you'll have is whether to spend the day by the pool or on the beach, and what to eat for dinner.
Many of the resorts in places like Cancun are absolutely huge with multiple restaurants each serving up a different cuisine. Of course there'll be at least one buffet restaurant, usually with a dedicated kids section, so that you can keep the whole family happy!
That also means that poolside drinks are usually included, and of course, the compulsory day time snacks, including ice cream. Going all inclusive can be such a great way to both save money and not have to worry about money when you get there. Just the tip or service charge. And if you've got fussy eaters in the family, different restaurants and dining options make mealtime a breeze.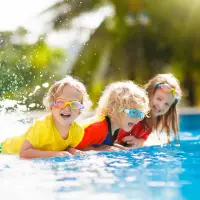 Free Child Place Finder
Even though tour operators to Mexico like Virgin Holidays, BA Holidays and TUI don't offer flight and hotel packages with free places, if you're looking to save on your next family holiday, you can use TUI's Free Child Place Finder. Start with when you want to travel and who's travelling, and they will provide all the offers they have which include the places.
Normally, two full paying adults will need to be travelling for the child to go free. Fear not if your favourite hotels and destinations aren't included within the offers though. There may be other holiday deals and discounts available such as promo codes or early booking discounts. And don't forget that TUI also has a low deposit offer.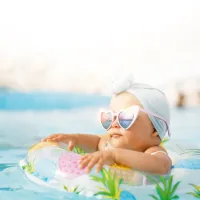 Holidays To Mexico With Infants
Flying long-haul with kids can be challenge. You'll want to keep them entertained. Any hint of boredom or upset can render the journey an nightmare. So if you're travelling to Mexico with an infant it's important to remember that children under 2 years of age should sit on an adults lap. Now if the flight is full and there are no spare seats next to you, that's a long time for an infant to be sat on you. Over 10 hours in fact. Children over the age of 2 need to have their own seat which will usually cost the same as an adult. These are all things worth bearing in mind before you book.
Once you arrive in Mexico, the child will need to share a double room with the parents. Family rooms are often available at some of the larger resort hotels, so an upgrade might be worth it. Alternatively, if you've booked a really good family-friendly resort, they will have lots of parent friendly things on offer. A crib in the room, milk bottle warmer and maybe even a babies club or nursing room.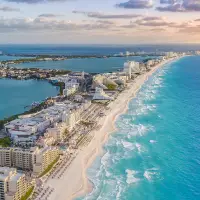 Free Child Place Destinations In Mexico
Cancun
Cancun is by far the most popular destination for Brits to go in Mexico. Direct flights with TUI and British Airways make getting here much easier, although other options include going via certain US cities with other airlines like Virgin Atlantic and United Airlines. The main stretch of hotels is off the coast in the Hotel Zone, with top brands like the Hard Rock Hotel, Dreams Sands and Iberostar Selection.
Playa Del Carmen & Playacar
Further down the coast (about an hours drive from Cancun International Airport) are Playa Del Carmen and its neighbour Playacar. Both have bits and pieces going on outside the main hotels, like bars and restaurants, and Hard Rock Campo de Golf, but the main draw for holidaymakers here is that it's far less commercialised than Cancun.
Riviera Maya
The Riviera Maya is the area around Cancun. All along this enormous stretch of coast, you'll find hotels and resorts dotted about. Being outside of the main areas, there won't be anywhere near as much going on, but that can often be a draw for many people. A lot of people prefer to avoid the big, busy areas and hit the quiet coastal towns.
Cozumel
Cozumel is the island just off the eastern coast of the Riviera Maya. It's not as popular due to needing to take a ferry or a domestic flight over to the island. What you'll find is that many of the western Caribbean cruises will berth here (which is another great way of seeing some of the sights in this part of the Caribbean).
Los Cabos & Cabo San Lucas
Los Cabos and Cabo San Lucas are on the Pacific Coast and are actually on the peninsula of Baja California (don't be confused by its name, it's still in Mexico). This resort is much more focused on US vacationers, often heading down just an hour or two from the USA. You've still got some big resorts, but you'll also find a few smaller ones here too. It's also more difficult to get to.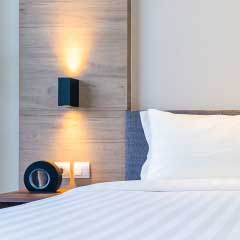 Frequently Asked Questions
Do TUI do free child places to Mexico?
TUI don't have free child places to Mexico at the moment, but there may be other offers and discounts available to save on your next holiday, which you can find here.
When are free child places to Mexico released?
As there aren't usually free kids places available to Mexico, we aren't sure if anymore will be released.
Which hotels in Mexico offer free places?
There are lots of hotels where free places are available, including Moon Palace Cancun and the Crown Paradise Club Cancun.
What's included in a free child place hotel stay?
If you're booking hotel only in Mexico, what is included will vary and depend on the package booked with two adults. For example, meals and drinks may be included, but certain activities may not.
Top Family Friendly Destinations In Mexico
More Great Holidays