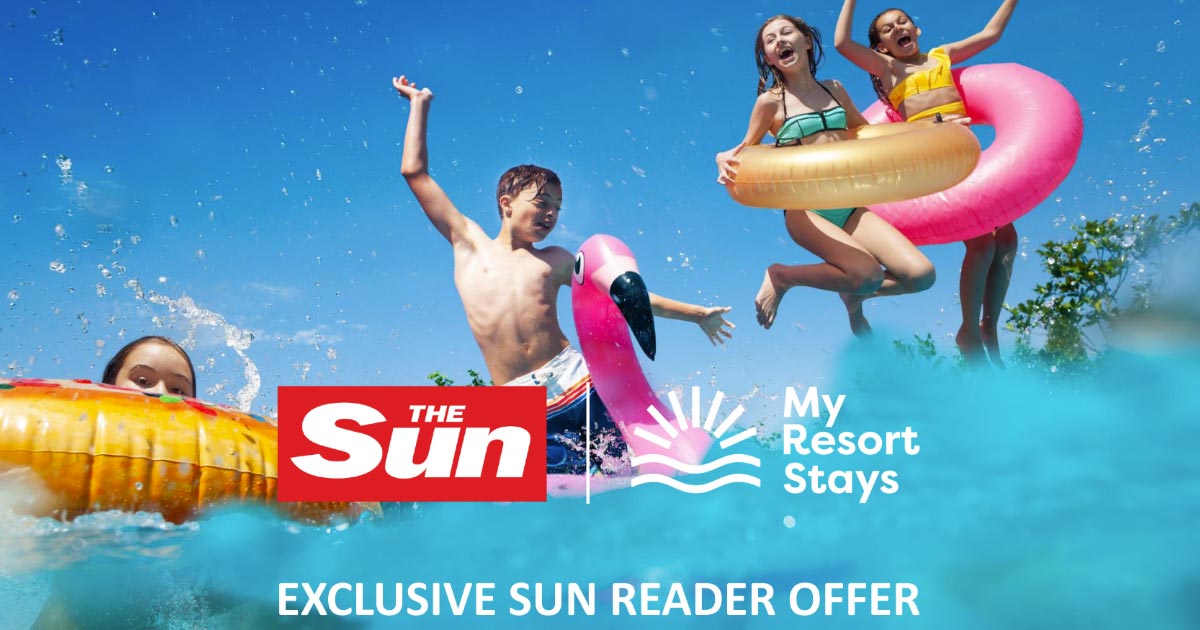 The Sun Newspaper Holidays Abroad Codes & Promotion with My Resort Stays
The Sun holidays abroad codes promotion with My Resort Stays is a fantastic opportunity to grab a budget friendly 7 nights stay abroad by collecting Sun codes in the newspaper and heading online to book, from as little as £70 per person.
There are HUGE savings to be had in this offer, and similar to the usual Sun Holiday Codes promotion with holiday parks across the UK and Europe, all you need to do is collect the codes from the newspaper. Only 7 night accommodation is included, not the travel arrangements like flights or ferries, so make sure to have comprehensive travel insurance as these bookings are not packages and are not ABTA not ATOL protected. Hurry though, booking closes Thursday 30th November 2023. *Terms & Conditions Apply
Collect The Sun Holidays Abroad Codes in October 2023
To collect the Sun Holidays abroad codes, simply collect 5 individual codes from the Sun newspaper from Saturday 14th October 2023 and add them into the Sun Savers app. Once you have them all, you'll be directed to the MyResortStays.com website to book.
FIND OUT MORE ABOUT THE OFFER
CHECK OUT THE ACCOMMODATION INCLUDED
Don't worry if you're too late! There are loads of fantastic holiday offers on our website here.
HOW TO BOOK & NEXT STEPS:
1. Download the Sun Savers app and join the programme.
2. Jump into the 'Offers' section and the MyResortStays page, and click 'Start Collecting'.
3. Collect 5 of the 11 Sun Savers codes, available in the Sun newspaper between Saturday 14th October and Tuesday 24th October 2023, and enter them into the Sun Savers app.
4. From Wednesday 18th October, click on the link in the app, which will take you to the My Resort Stays website to book your stay.