Eurocamp Holidays 2023/2024
Our Complete Guide To Eurocamp Holidays
With loads of locations to choose from across 10 countries in Europe, you'll be spoilt for choice of where to go. If you're driving, naturally holiday spots in Holland and France like Normandy and Brittany are ideal for those arriving by ferry. If you fancy heading a little further afield, the parcs in Croatia, Italy and Spain are in some great locations and often close to the beach too, prefect for that ideal sunny holiday.
Take a look at some of the best Eurocamp parcs like Cambrils Park or El Delfin Verde in Spain, Domaine des Ormes in Brittany or Le Bois de Valmarie in Argeles-sur-Mer in the south of France. Many parks have splash parcs with water slides, popular with the kids, while for the grown-ups try a holiday park which has a spa, to help you relax and unwind on holiday. Don't forget to check out the eurocamps near the beach too!
Popular Eurocamp Locations
Eurocamp Holidays Guide
Eurocamp holidays are a great way to enjoy a cheap holiday in Europe, especially if you need to keep all the family happy. Search from hundreds of holiday destinations across 10 countries and discover some fantastic package deals available for your next holiday.
Many parks in Europe offer a huge range of facilities and activities for all the family including waterparks and slides, kids' clubs, spa facilities and much more. If you've got toddlers, check out the range Eurocamp parks which offer Mini Paradise Parks. The baby and toddler friendly parcs enjoy things like free cots and high chairs, paddling pools and much more.
Cancellation Holidays Guide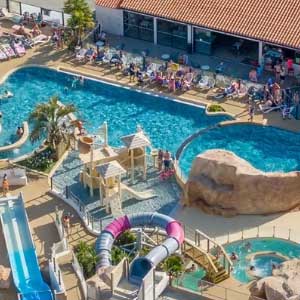 What Are Eurocamp Holidays Like?
Eurocamp holidays are fun, friendly and affordable breaks in Europe. Accommodation varies from park to park but options often include caravans, camping, glamping and lodges.
Each resort usually has a swimming pool complex, helping you take advantage of the summer sunshine. Many will also include an indoor pool for colder days, kids club, splash park or water parks, and some even have direct access to the beach, making it perfect for a family holiday.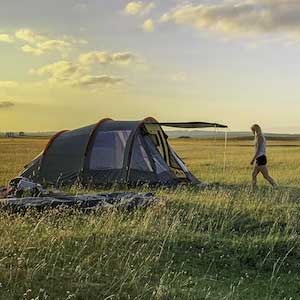 Camping
To help ensure you take a budget break and keep the cost of your holiday down, camping can be a fun and unique option, especially if you're going abroad and discovering beautiful scenery, a sandy beach or a nearby historic town.
Many of the Eurocamp parcs cater for a camping holiday, both if you bring your own tents or if you hire an on-site glamping or safari tents. They aren't usually just a simple campsite either. They often have fun pool and entertainment complexes.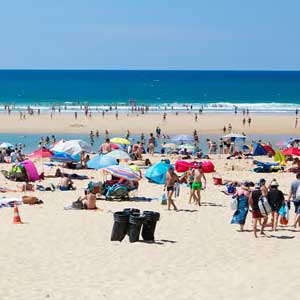 On Site Facilities
Whether you stay for 7 nights or just a few, you'll have plenty to keep you busy. Many sites have pool complexes with indoor and outdoor swimming pools, evening entertainment, restaurants and bars, as well as fun (usually paid for) activities nearby, such as theme parks, waterslides, a wave pool or sports facilities like horse riding, table tennis or a golf course. And with campsites, you can also expect a shower and toilet block close to the pitches for your convenience.
Often, the location of the venues are the biggest draw, with many featuring a lake or two on site, or being within walking distance to the beach. You'll also find a few in the mountains, in places like Germany and the Alps in Switzerland or Austria, where you'll sleep amongst some of the most dramatic scenery in Europe. Perfect for those who love to hike, bike and climb.
Cycling is also an awesome way to enjoy a Eurocamp holiday. Many holidaymakers choose to take bikes with them, but certain venues may also have bike hire so that you can discover more of the destination and local villages.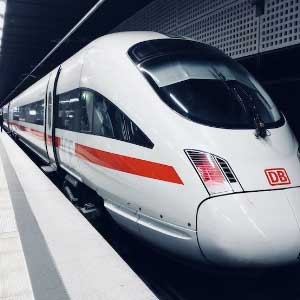 Eurocamp Holidays Without A Car
All parcs are best reached by car, especially if you're a family and bringing lots of things with you, but there are one or two parcs that are easy to get to without a car. Flying is often a good option with airports like Biarritz, Barcelona or Venice within a 20km range of certain holiday parks.
From there, you'll need to jump in a taxi, book an airport transfer (like you often would do abroad), or jump on a local bus, with several going straight from the airport to the resort. Take a look a popular places like Le Ruisseau in Gascony, France, which is a 15 minute taxi ride from Biarritz Airport, or Internacional de Calonge on the Costa Brava in Spain, which has a direct bus link between Barcelona Airport and the campsite.
Hiring a car can be a great option if you want to explore the area. It's best to book this in advance for the best deals, and pick up the hire car at the airport. This means you can then head up or down the coast to find a quieter beach in the local area, or venture into nearby towns and cities to practice your language skills and try out some of the local cuisine.
Eurocamp Holidays With Dogs
Many Eurocamp parks provide dog friendly accommodation or allow you to bring your dog for an extra fee, starting from just £3 per night. You'll need to add a dog to your booking over the phone, as they can't be added during the online booking process. Don't forget you will also need a pet passport too, so make sure you organise that with plenty of time to spare to avoid any problems at any ports. Family holidays aren't complete without the dog right?!
Eurocamp Accommodation Types
There are a number of accommodation types at Eurocamp parcs including the Aspect, Azure and Comfort mobile homes, depending on your budget. Classic caravans are usually the cheapest, offering clean, comfortable and affordable accommodation for up to 7 people with the ability to upgrade to a Classic XL for a little more space. The Aspect homes offer modern living spaces with state-of-the-art kitchens and a part-covered outdoor deck to enjoy time outside taking in the fresh air. Other accommodation options include camping facilities.
What To Bring
If you've never stayed at a Eurocamp park before, then you might be wondering what to bring. A search online will provide you with a number of experienced Eurocampers who have been before. From the essentials like toiletries and medicines to a few bits you may not have thought of, like sun cream or a first aid kit, take a look at a few of the checklists available. Eurocamp also offers Welcome Packs and Essentials Packs which starts at just a few pounds and can be pre-booked in advance, and ready for your arrival, so you don't have to bring tea towels, washing up liquid, etc. and have a couple of food essentials there when you arrive. If you're visiting with the family, it's important to have a few extra activities for children so things like bat and ball and other outdoor activities are ideal.
Book your next getaway with Eurocamp
In partnership with

More Great Holidays