Find Your Ideal Holiday With
Latest Christmas Market Offers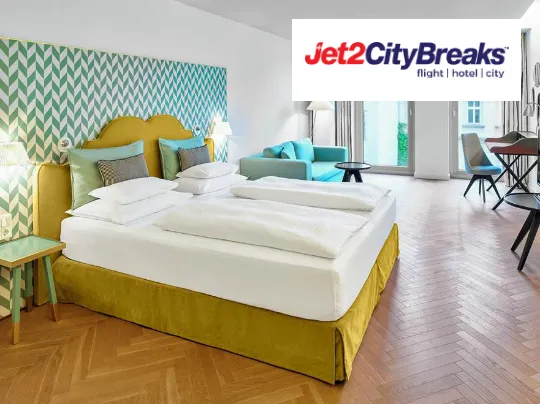 MAXX By SteigenbergerVienna
★★★
🛏 - 3 nights - 2 adults ✈ - Departs London Stansted 🗓 - Thur 14th Dec 2023 🍽 - Room Only
From£494per person
View Hotel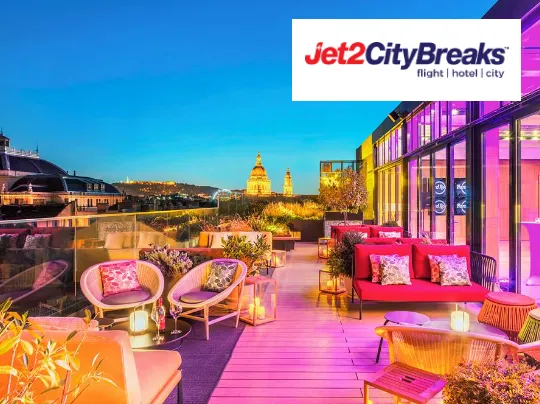 Hard Rock HotelBudapest
★★★★
🛏 - 3 nights - 2 adults ✈ - Departs London Birmingham 🗓 - Mon 18th Dec 2023 🍽 - Room Only
From£530per person
View Hotel
Christmas Market City Breaks
There's something quite special about heading to a foreign city for a weekend in winter. Wrapping up warm and wandering around the Christmas markets with a cup of Gluhwein to warm you up and a chance to buy a few presents or handmade decorations is magical. So if you're already thinking about getting in the festive spirit and looking at Christmas market breaks in 2023, here's our useful guide to help you choose.
Best Christmas Market Destinations

Top Cities For Christmas Markets
Come December, loads of European cities have that traditional festive vibe, from the classic markets of Old Town Square and Wenceslas Square in Prague, to the alpine backdrops in Salzburg and Merano. Here are some of the best Christmas markets to take a look at:
Bruges Christmas Markets
Bruges is quite a romantic city break at any time of the year but as December comes round, a break in Bruges to experience the Christmas markets is extra special. Hop over in the Eurostar and explore the markets and delicious chocolatiers for some Christmas gifts with a difference.
Copenhagen Christmas Markets
For many, Copenhagen isn't often thought of as a city break, let alone a Christmas market destination, but with cheap flights and affordable accommodation it can be a great option. Be sure to check out the statue of the Little Mermaid while you're in town, head across the sea to Sweden for a day trip, or catch a local game of ice hockey one evening.
Hamburg Christmas Markets
The port city of Hamburg offers a couple of Christmas market offerings in the city, with the main market outside of the town hall. Head to other places for a winter wonderland style theme park, before seeing what else Hamburg has to offer, including Minatur World.
Berlin Christmas Markets
Germany has become synonymous with the idea of a Christmas market city break and Berlin is great example of this. A city rich in culture and history, many visitors flock here from across Europe to experience the Christmas markets in this fantastic city. After a trip round the markets, head out and explore some of Berlin's cool and quirky bars.
Birmingham Christmas Markets
If you don't fancy travelling abroad but still want to get all cosy and experience a Christmas market break in the UK, try Birmingham which has previously claimed the spot for the biggest Christmas market in the UK. Combine your trip with a visit to Cadbury World, whether or not you have kids, and you'll be able to get a few chocolate gifts there too.

What To Expect From A Christmas Market Break
Christmas markets are a great way to embrace winter, spend time together, get into the festive spirit, grab a few presents and see somewhere new. If you've not experienced one before, you're in for a treat! Most Christmas markets run from late November or early December through to the new year. You might even be able to pick up a bargain or two on your Christmas decorations in January.
While you generally won't be charged to go into a Christmas market, you may find that prices are a little higher than other shops, however it's really the experience you are paying for. Think pretty, twinkling lights, traditional wooden stalls and plenty of festive fun like ice skating, seeing Santa Claus and Christmas carols! Be sure to check if you are paying a deposit for your Gluhwein cup and therefore needs returning, otherwise it's a great keepsake from your festive break.
Shopping
At a Christmas market in Europe you can expect plenty of market stalls selling gifts, trinkets and knick knacks. You'll also be able to pick up a few handmade decorations for the Christmas tree too.
Food & Drink
There'll be plenty of food stalls offering everything from sweet treats and gingerbread men, to warm churros and waffles covered in chocolate sauce. Hot dogs, burgers, grilled sausages and pork crackling are also often on the menu if you prefer something savoury. Be sure to try a tasty Gluhwein (mulled wine) or mulled cider to keep you warm in the winter cold.

How To Book A Christmas Market City Break
Tour Operators & Travel Agents
European Christmas markets can be an absolute minefield, especially if you're travelling with children. Knowing where to go and what there is to do is so important. So you can either do the research and book a flight and hotel package break yourself through tour operators like TUI, Jet2holidays or Expedia (who are also ABTA and ATOL protected), or you can speak to a travel agent like Travel Counsellors or your local independent travel agent, to get their help and advice on where to book.
UK Breaks
If you're planning to stay in the UK, places like Edinburgh, Bath, London and York are all great Christmas market destinations in the UK. One of the easiest ways to book a UK break is to book your hotel separately through companies like Booking.com and Expedia, you could also try websites like Airbnb. You can then book your travel arrangements separately (if you need to). If you're travelling by car, check that your hotel has ample car parking, and if travelling by train, check to see how far your accommodation is from the train station.
By Coach
Whether you'd like to stay in the UK or head over to Europe, travelling by coach can be a convenient, easy and friendly way to take a trip. You don't have to worry about driving, you'll make plenty of friends, and you'll have a tour guide or host showing you around so you don't miss anything out. Companies like Just Go Holidays, Shearings and National Holidays are great coach holiday companies with Christmas market breaks.
More Great City Breaks