Find Your Ideal Holiday With
Latest Jet2holidays Offers
A Guide To Jet2 City Breaks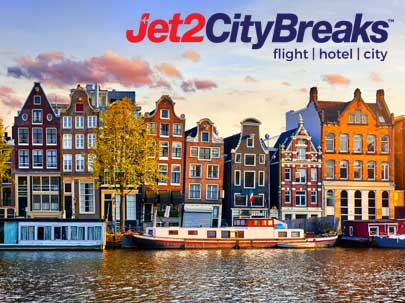 Fly from your local airport on one of many Jet2 city breaks in 2023/2024 and explore loads of exciting destinations in Europe, including Rome, Prague, Amsterdam, and even New York City in the USA. Love a city you've been to before? Book a cheap weekend break with a wide range of hotels, or if you fancy somewhere you've never been, how about the stunning scenery of Montenegro?
Simply use the search tool above to see what's on offer from your local airport
From a low deposit to a range of Jet2 city break ideas, take a look at our guide below and see what's on offer when you book a short break with Jet2 Holidays. We've even got some really useful FAQs. And if it's more of a beach holiday you're after, head to our Jet2 Holidays page to find out what's on offer.
The Top 10 Best Jet2 City Breaks
Whether you fancy a quick break in Amsterdam, or a long weekend in New York, Jet2 has you covered, and we've got some favourite destination ideas too. Here are our best top 10 city break destinations with Jet2.
Barcelona

A city break to Barcelona offers the fantastic mix of both city and beach, providing lots of history, wonderful culture, delicious food and the beautiful sandy beaches of the Mediterranean Sea.

Prague

Fly to Prague from Manchester with Jet2 and you'll enjoy a truly unique break. From Prague castle to the Museum of Medieval Torture Instruments, it's a city like no other.

Paris

Well known for its romance, Paris is also a city of art and architecture. Discover impressive museums and quaint cafes before a stroll along the banks of the Seine.

Venice

A truly stunning city break, fly from Birmingham to Venice on a Jet2 city break and stroll along the narrow canals to discover some absolute gems serving up tasty Italian cuisine.

Krakow

A city break in Krakow is both enjoyable and educational. Stay in the city to experience it's vibe but make sure to head out to Auschwitz for a sombre but inspirational day learning about Europe's history.

Amsterdam

Hop across the North Sea with Jet2 to Amsterdam for a fun city break with friends and family. Make sure to explore by bike like the locals do while you're in town.

Palma

Another wonderful beach city, fly to Palma, Majorca for a city break in the sun, an ideal destination if you need a little sunshine in December and January.

Rome

Historic with incredible food and tasty gelato, fly from Glasgow to Rome with Jet2 a discover a stunning city in bella Italia.

Split

For somewhere a little less travelled, try Split in Croatia. A cheap city break destination and a great alternative to popular Dubrovnik, if you have the time, you should also look at day trips to the islands of Solta and Brac.

New York

You can explore the Big Apple and enjoy a cheap city break in New York with Jet2holidays from a number of UK airports including Manchester, Newcastle and Leeds Bradford airport.
More Short Break Ideas
If you're looking at jetting away in December, Christmas market city breaks are a popular option, exploring cities like Berlin, Budapest and Innsbruck. There's nothing to get you more into the Christmas spirit than getting wrapped up warm and taking a wander around a xmas market or two, before heading out to a nearby restaurant for the evening to try some of the local dishes.
Weekend breaks are the perfect time to maximise any time off from work you have, but because of their popularity, flight and accommodation prices can be higher than normal. Look out for promotions online to see if you can get it cheaper. A long weekend break with Jet2 to Alicante, Malaga or even Tivat in Montenegro is a fantastic option when you just want a little bit of sunshine.
What's more, you can fly from your local airport in many cases, like a city break from Birmingham or a family holiday from Edinburgh.
Onboard Jet2
Meals aren't included in the cost of your package break but can be pre-ordered in advance or bought once you're onboard. If you're celebrating, onboard champagne can also be pre-ordered between 5 days and 3 months before you travel to help you get your trip start on the right foot. The onboard shop also serves a range of fragrances, gifts, beauty products and duty free alcohol.
Jet2 City Break Discounts & Promo Codes
There are a number of ways to reduce the cost of your break when booking with Jet2. As well as the usual ways of being flexible with your choice of destination and when you travel, occasionally they will also offer discounts in the way of voucher codes. Jet2 city break discount codes can be used online and have certain restrictions depending on the offer. There may be minimum spends or destination specific terms and conditions.
Jet2's search is a great deal finder tool to see what's on offer. Jet2's last minute breaks are also worth looking out for. Although you won't be able to put down a deposit, late deals could help you save money on your next short break away.
Book your Jet2 city break
In partnership with

Frequently Asked Questions
Do Jet2 City Breaks include transfers?
Transfers are not automatically included in Jet2 City Breaks, however, you can add them in during the booking process if you want to.
Do Jet2 City Breaks include luggage?
Yes, when booked through the offical Jet2 website, your Jet2 city break package will include 22kg of checked-in luggage allowance.
Can I book a Jet2 city break with a deposit?
Yes, you can book a city break with Jet with just a £60pp deposit. The full payment is due at least 70 days prior to travel.
What is the Jet2 City Breaks contact number?
The contact number for Jet2 City Breaks (Jet2 Holidays) is 0800 408 0778.
Does Jet2 City Breaks offer NHS discount?
Yes, NHS workers can get up to £25 off their Jet2 city break when booking online.
When is my balance due if paying a deposit?
If you book a short break with Jet2 with a deposit, your full balance will be due 10 weeks prior to departure. You can either call up their customer service or login online to pay part or all of your balance at any point up to 10 weeks before you travel.
Jet2 City Breaks Reviews
When looking online, Jet2 City Breaks reviews are generally very positive with many good comments particularly focusing on their customer service and the ease of being able to book a trip on the website.
Manage My Booking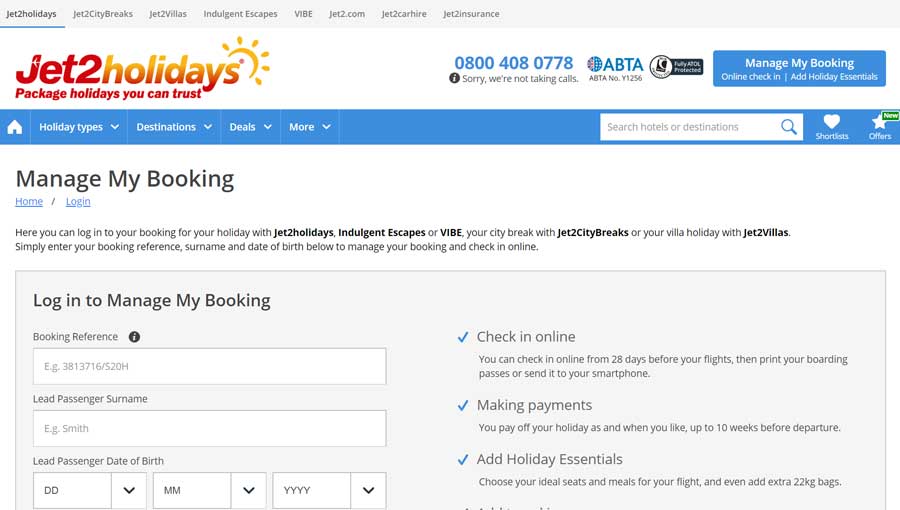 Once booked, customers can log on to the Jet2 Holidays website to view and manage their booking and do lots more. Simply go onto the 'Manage My Booking' of the website and log in with your booking reference, lead passenger name and the lead passenger date of birth. Once online, if you paid for your city break with a deposit, you can make payments to your booking over time, add extras onto your booking such as in-flight meals, seats and check-in luggage, as well as check in online. You can also download the free Jet2 Holidays app, to view your booking and access your boarding passes.
Why Book A City Break With Jet2?
When you book a package city break with Jet2, you'll benefit from a number of things, compared to booking your flight and hotel separately. For a start, your booking will be ABTA bonded and ATOL protected which means you can have peace of mind that your money is safe when booking. Additionally, if you book far enough in advance, you can put down a £60pp deposit to secure you're booking and pay off your break over time.
If you book a short break in Europe as a package through the Jet2 Holidays website, you'll also benefit from one piece of check-in luggage per person included in the cost of your break. Not so important for a weekend break but for a four day getaway, a bit of extra luggage allowance can be really useful. (Please note, luggage is not automatically included for New York city break packages).
When booking a package Jet2 does have a change and cancellation policy in place for its package city breaks. Always check directly with them what the most up-to-date cancellation charges are before you cancel anything. The cost to cancel your break will depend on when you cancel before departure. If you cancel 70 days or more prior to travel, you will lose your deposit. The cost between then and the day of departure varies. If you which to make a name change on your booking, you should call them up to see if this can be accommodated.
Book your Jet2 city break
In partnership with

Popular City Breaks