Top 10 Best Holiday Parks In The UK
We don't all have the luxury of cars, and even if we do, sometimes we just don't want to have to worry about driving to go on holiday, but that means we need to make sure public transport is easy. That's why we've pulled together our top 10 list of holiday parks in the UK, that are close to train stations. We've chosen our favourites based on parks being within a 15 minute walk of the nearest station, as well as the facilities on offer.
10. Pontin's Southport, Merseyside
Distance to nearest train station: 1.2km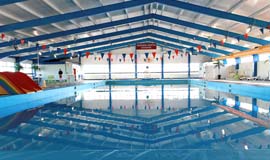 Pontin's Southport is located roughly 1.2km (about a 15 minute walk) from Ainsdale train station, so if you don't have a car, this is a great holiday park to enjoy. Southport is actually about four miles away, and while the holiday park has plenty to offer on-site, Merseyrail trains run between Ainsdale and Southport every 20 minutes or so, and there is also a local bus service too, so it's easy to enjoy a day out in Southport, exploring the town centre, shopping and visiting the pier, without needing a car.
Why we like it: Walking distance of the beach, loads of activities on offer and easy day trips to Southport.
9. Park Holidays Dawlish Sands, Devon
Distance to nearest train station: 800m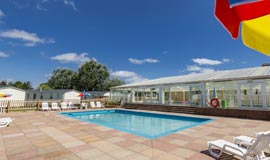 Served by CrossCountry and Great Western Railway, Dawlish Warren station is on the famous Riviera Train Line that runs along the south coast from Exeter to Paignton offering beautiful views out to sea as you travel along. Just a 12 minute walk from the station is Dawlish Sands Holiday Park, a Park Holidays resort, offering everything you would expect, including indoor and outdoor pools, children's entertainment plus guests at Dawlish Sands can also use the facilities at nearby Golden Sands Holiday Park.
Why we like it: Close one of Devon's beautiful beaches, plus access to another holiday park within walking distance.
8. Sandford Holiday Park, Dorset
Distance to nearest train station: 1.2km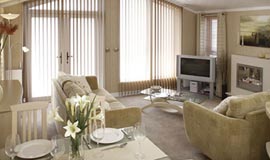 Along the south coast of Dorset, just past Poole is Holton Heath, mainly made up of several holiday parks. The countryside setting of Sandford Holiday Park ensures you enjoy a relaxing break, but with facilities like entertainment, swimming pools and an 18 hole crazy golf course. Holton Heath train station is a 15 minute walk away and served by South Western Railway from London Waterloo. The area is quiet but there are a number of walking trails in the area here. You can also head on the train into Poole or Bournemouth for a day out.
Why we like it: Range of accommodation on offer in a quieter countryside setting.
7. Park Resorts Weeley Bridge, Essex
Distance to nearest train station: 50m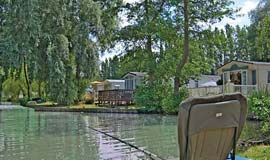 For a much quieter break, the Weeley Bridge holiday park is ideal for those who are just after some peace and quiet. While there are amusements, entertainment centre and outdoor pool on-site, Weeley Bridge is one of the quieter parks in Essex, offering a well stocked fishing lake. There isn't much in the area outside the park, but Weeley train station is a two minute walk away, perfect for access into Colchester for shopping or to Clacton, Frinton and Walton to enjoy some time by the seaside.
Why we like it: Quiet holiday park with fishing lake, but easy access by train to the beach.
6. Parkdean Sandylands, Ayrshire
Distance to nearest train station: 1.1km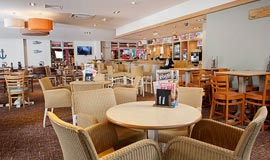 If you fancy a break in Scotland, this Parkdean caravan park is a 15 minute walk to Saltcoats train station which offers train times of approx. 40 minutes into Glasgow Central. While the park is self-contained offering a range of activities, for those that want to get out and explore the area, the park is just a couple of minutes walk from the sandy Stevenston Beach, while you can walk back into Saltcoats for the shops or hop back on the train a couple of stops to Ardrossan for a day out by the harbour.
Why we like it: Close to the beach and within easy access of Glasgow.
5. Parkdean Wemyss Bay, Renfrewshire
Distance to nearest train station: 1.1km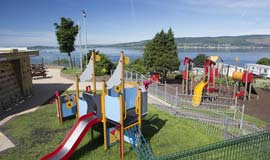 With easy train links to Glasgow, Wemyss Bay sits on the west of Scotland with ferry links to the Isle of Bute. While not too much going on in the area, the Wemyss Bay holiday park is set on the side of a hill with incredible views. The park is just a 15 minute walk from Wemyss Bay train station however, with great views comes an uphill walk to the park! An adventure play area, indoor pool DJ workshops, and evening entertainment will be sure to keep the kids entertained on holiday.
Why we like it: A range of accommodation options with stunning views across the Firth of Clyde.
4. Haven Penally Court, Tenby, Pembrokeshire
Distance to nearest train station: 900m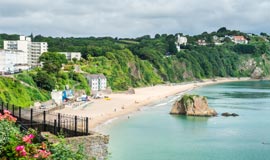 Tenby, in South Wales, has long been a popular holiday destination and it's easy to see why. From the historic Tenby Castle to the absolutely stunning beaches, there is plenty to enjoy in the area. And just a 15 minute walk from Tenby train station is Haven's Penally Court, a very quiet holiday park, but with access to the entertainment and facilities of nearby Kiln Park Holiday Centre. This one is for those that want a relaxing break without all the need of all the extra facilities.
Why we like it: A very quiet holiday park within easy reach of Tenby and it's beaches.
3. Richmond Holiday Centre, Skegness
Distance to nearest train station: 900m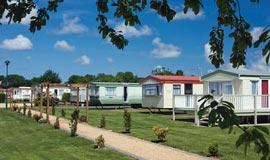 The Richmond Holiday Centre in Skegness has a number of accommodation options available, from budget to caravans with verandas and hot tubs. It's a large park with a range of facilities including on-site supermarket, hair salon and alternative therapy centre, while the indoor pool, all-weather court, amusements and entertainment will keep everyone busy. Skegness train station is just a 15 minute walk away, as is Skegness town centre and the beach. No trip to Skegness would be complete without a few sandcastles!
Why we like it: Large holiday park, close to popular Skegness and the beach.
2. Pontins Prestatyn Sands, Prestatyn
Distance to nearest train station: 1.1km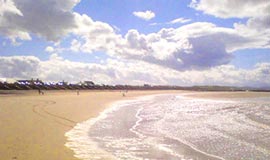 A great seaside town, Prestatyn offers direct train access to Manchester, Birmingham and Cardiff, making it an easy holiday destination without a car. The nearby holiday park, Pontins Prestatyn Sands, is only 15 minutes by foot and within easy reach of local shops, restaurants and the beach. You'll get all the Bluecoats entertainment you would expect from a Pontins holiday, plus the heated, indoor pool for those rainy days when you need to keep the family busy.
Why we like it: Easy to get to from a number of cities, near the beach and plenty to do.
1. Butlin's Bognor Regis, West Sussex
Distance to nearest train station: 1.1km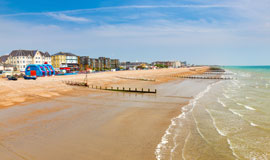 With easy access from London Victoria and a 15 minute walk from Bognor Regis station, you'll reach the infamous Butlin's holiday resort. Offering hotel rooms and self-catering apartments, Butlin's offers a huge range of facilities right on the sea front. Whether it's relaxing in the spa to unwind, learning something new in the Pavillion, or spending some fun, quality family time together at the Splash Waterworld, Butlin's has long been a popular holiday resort, and you don't even need a car!
Why we like it: Loads to do for all the family, and a popular seaside resort.
Do you have a favourite holiday park that's easy to get to by train? We hope you found our guide useful.