A Holiday Guide To Corfu
Welcome to the breathtaking island of Corfu, a hidden gem nestled in the azure waters of the Ionian Sea. Known for its captivating landscapes, rich history, and warm hospitality, holidays to Corfu offer a truly memorable experience. Whether you seek relaxation on sun-kissed beaches, exploration of ancient ruins, or vibrant nightlife, Corfu has it all. This guide aims to inspire your next adventure to this captivating Greek island, providing useful information, exciting activities, and accommodation options to suit every holidaymaker in 2023 and 2024.
Popular Hotels In Corfu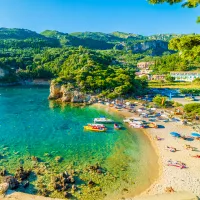 Our Guide To Corfu Holidays
Corfu, also known as Kerkyra, is the second-largest Ionian island and a favorite destination among UK travellers to the Greek Islands. With its diverse offerings, Corfu appeals to families, couples, and solo travelers alike. Immerse yourself in the island's fascinating history by exploring the UNESCO World Heritage Site, Corfu Old Town, with its Venetian architecture and narrow cobbled streets, and stroll through the bustling markets, dine in traditional tavernas, and discover the warm local culture.
Corfu's stunning coastline offers a myriad of beaches for sun-seekers, including the popular Paleokastritsa, Kavos, and Glyfada. Adventure enthusiasts can engage in various water sports activities, such as snorkelling, scuba diving, and sailing. The island's lush interior invites exploration, with hiking trails leading to picturesque villages, olive groves, and panoramic viewpoints. Don't forget to sample the island's renowned local cuisine, infused with Mediterranean flavors and fresh seafood.
And then there is the accommodation, ranging from cute little self catering apartments and villas, to sprawling all inclusive resorts, offering swimming pools, entertainment and delicious dining options.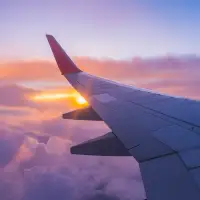 Getting To & Around Corfu
Travelling to Corfu from the UK is convenient, with several reputable tour operators offering packages tailored to suit every budget. Companies like TUI, Jet2holidays, and Thomas Cook provide comprehensive holiday options which are ABTA and ATOL protected, including flights, accommodation, and airport transfers. Direct flights operate from many UK airports, including Manchester, Glasgow and Birmingham, making it easy to reach Corfu in just a few hours.
Upon arrival, you'll find a range of transportation options to explore the island. Car rentals are readily available, allowing you to venture into remote areas at your own pace, although it's usually better to book this in advance. Public buses connect major towns and tourist spots, offering an affordable and efficient way to get around, but frequency isn't its strength. Alternatively, taxis and private transfers offer convenience and comfort, particularly for those seeking a hassle-free experience.
By far, the best way to get from Corfu airport to your hotel is by a shared coach transfer. These are affordable, convenient and often included within the price of your break.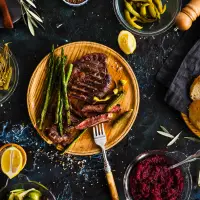 Things To Do In Corfu
Corfu presents an array of exciting activities to ensure a fulfilling holiday experience. History enthusiasts should visit the Achilleion Palace, the former residence of Empress Sisi of Austria, and the ancient site of Palaiopolis. Embark on a boat trip to the nearby Paxos and Antipaxos islands, where crystal-clear waters and hidden caves await exploration.
Nature lovers will be delighted by Corfu's verdant landscapes. Discover the natural wonders of Corfu by hiking the Corfu Trail, a long-distance walking path that traverses the island's diverse terrain. Visit the iconic Canal d'Amour, a series of unique rock formations that have captured the imagination of visitors for centuries.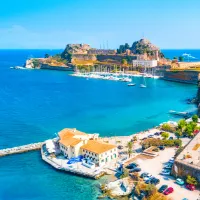 Where To Stay In Corfu
Corfu offers a range of accommodation options to suit all preferences and budgets. From luxurious beachfront resorts to charming boutique hotels and family-friendly apartments, there is something for everyone. Popular areas to stay include Corfu Town, with its historic charm and vibrant atmosphere, and the coastal resorts of Sidari, Kavos, and Roda.
For a more authentic experience, consider staying in a traditional village, such as Pelekas or Lakones, where you can immerse yourself in local culture. Those seeking peace and tranquility can opt for the idyllic resorts of Paleokastritsa or Agios Stefanos, offering stunning views and secluded beaches.
Kavos
Located on the south east coast of the island, Kavos is a favourite for holidaymakers looking to enjoy golden beaches, with a few easy to get to bars and restaurants.
Sidari
Up on the north coast is Sidari, a popular resort with a big beach and beach bars. You'll find a mix of self catering accommodation and hotels to suit all budgets up this way.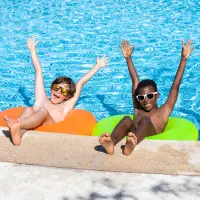 Holiday Types
All Inclusive
Corfu caters to a variety of holiday types, ensuring a perfect match for every visitor. All-inclusive packages are a popular choice, providing a hassle-free experience with meals, drinks, and entertainment included. Major tour operators like TUI and Jet2holidays offer a wide range of all-inclusive options to suit different budgets and preferences.
Villa Holidays
For those seeking privacy and flexibility, villa holidays in Corfu offer an excellent alternative. Companies like James Villas and Villa Plus provide a selection of luxurious villas with private pools, allowing you to enjoy the island at your own pace and discover quiet sandy beaches. In fact, certain tour operators include car hire within the cost of your package.
Last Minute Holidays
Last minute Corfu holidays are also worth considering for spontaneous holidaymakers seeking a great deal. Keep an eye on websites like lastminute.com and On the Beach for late availability offers on flights and accommodation, and try and be flexible with your dates and hotels if you can.
Family Holidays
One thing's for sure, this place is great for families. Lots to do, family friendly hotels and easy to get to, a much needed family break in the sunshine here is ideal. And don't forget that many hotels and tour operators offer free child places too, allowing you to save money when two adults travel with at least one child.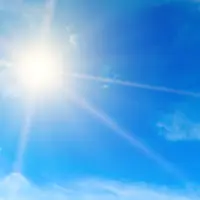 Weather In Corfu
Summer
Corfu experiences a delightful Mediterranean climate during the summer months, making it a popular destination for sun-seekers. From June to August, temperatures soar, with averages ranging from 25°C to 35°C. The sun shines brightly, and clear blue skies dominate the landscape. It's the perfect time to indulge in beach activities, soak up the sun, and enjoy the refreshing waters of the Ionian Sea. Don't forget to pack your sunscreen!
Winter
Corfu's winter season, from December to February, offers a milder climate compared to many other European destinations. Although temperatures drop, they remain relatively mild, ranging from 10°C to 15°C. While rain showers are more frequent during this period, there are still plenty of sunny days to enjoy. The winter months in Corfu present a quieter and more serene atmosphere, ideal for exploring historical sites, hiking through lush landscapes, and indulging in cozy tavernas with traditional Greek cuisine, however you should expect many hotels, bars and restaurants to close during this low season. It's advisable to bring a light jacket or sweater for cooler evenings.
More Great Holidays