Latest Late Deals To Greece
Check out these great hotels in Greece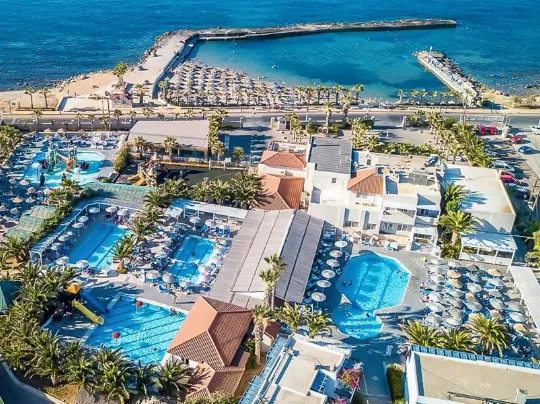 DISCOVER
Stella Village Seaside HotelCrete
A Guide To Last Minute Greece
Discover Greece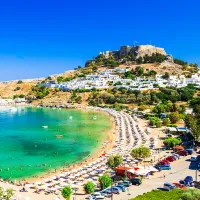 With stunning islands, gorgeous beaches, fantastic restaurants and tavernas, and great nightlife, it's easy to understand why a last minute holiday to Greece might be on your hit list. There are lots of destinations to choose from, depending on the sort of holiday you're after, whether that's a family friendly all inclusive resort in Kefalonia, or a self catering, party holiday in Corfu.
And with flights from across the UK, there's usually plenty of choice when it comes to late holiday deals, as long as you can be flexible with where and when you travel. This is the rule for any last minute holiday, flexibility. Much of Greece is seasonal, meaning that while you might be able to snap up an exceptional deal in winter, the weather will be much cooler and a lot of the hotel facilities and attractions in the surrounding area might be closed. The local beach will be open, of course, but don't expect warm sea temperatures!
Whether you're looking for an all inclusive luxury resort for 7 nights, or hoping to stay at a more of a traditional Greek villa, there is something for everyone, and there's a good chance you'll be able to snap up a bargain at the last minute, outside of summer school holidays.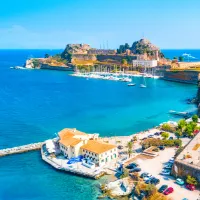 Popular Last Minute Resorts & Hotels In Greece
You'll want to be flexible for the best last minute deals to Greece but with so many popular resorts and destinations to choose from, make sure you choose the right resort, from the Peloponnese region to the Greek Islands.
Rhodes
Rhodes is a family favourite with an abundance of accommodation to choose from. Generally speaking, the further south you go on this Greek island, the quieter it will be. So towns like Kiotari and Gennadi enjoy a more relaxed feeling, while areas like Faliraki are where to head if you're after bars and nightlife. For a great resort with just the right amount of bars and restaurants, try Pefkos, a bit further down the south coast of of the island, where you'll find a fantastic variety of self catering accommodation.
Corfu
Corfu has some of the best beaches in Greece, from small villages like Kassiopi to the livelier towns like Kavos, making this a great island for couples, families and groups of friends. Meanwhile, if you love a bit of a culture, head to Corfu Town to experience a bit more of the traditional way of life.
Kefalonia
Wonderfully family friendly, the late deals to Kefalonia usually include lots of small and friendly hotels, perfect if you don't like to get lost in great, expansive all inclusive resorts.
Santorini
One of the most popular destinations in Greece, Santorini can sometimes be a bit pricier than it's neighbouring island, and as a result, might not have the availability nor the low price to warrant a late getaway. That said, it's still worth having a look as you never know what sort of cheap offers you might find, especially if you're travelling outside of school holidays when the prices can be lower anyway.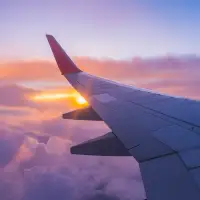 Popular Last Minute Holiday Brands & Deals
Take a look a TUI's late deals, Jet2holidays last minute breaks and easyJet's offers, all of which are ATOL financially protected and ABTA bonded, for your financial protection, during uncertain times. Some brands do have top deals with things like cancellation holidays, where customers have cancelled, leaving flight seats and hotel rooms available. Make sure to take a look at other brands including First Choice, On The Beach and Love Holidays. It's worth bearing in mind that some travel agents and tour operators aren't protected by the ATOL Scheme. As with all Greece holidays, we always recommend you check the latest travel advice from the Foreign Commonwealth and Development Office (FCDO) website before you travel.
Holiday Comparison Websites
Holiday comparison websites like Dealchecker and Ice Lolly can help you find a suitable holiday, whether you're a solo traveller, or you're taking everyone away to enjoy a luxury villa with private pool. But it is worth bearing in mind that these websites won't necessarily tell you whether things are open. Children's clubs, for example, are often only open between April and October.
Free Child Places
Free child place holidays are a great way for families to save money on their holiday, however, there are only a limited number of them available, so once they are gone, they're gone. That means that some of the Greece late deals may have a free kids place, but they won't be the most popular hotels with all the bells and whistles. There may still be a kids club and a few activities, but check what's on offer during your trip before you book.
Popular Holidays