Holidays From Glasgow Airport
Great holidays from Glasgow International Airport
Jet off from your local Scottish Airport and discover incredible destinations on your next holiday from Glasgow airport in 2023 & 2024. Hit the beach in Tenerife, Malta or Rhodes, or explore a historic city like Munich or Rome. Or for that once in a lifetime escape, head onwards to some of the world's most inspiring places like Bali, Tokyo and Hawaii.
Popular Holiday Destinations From Glasgow

Airlines & Tour Operators from Glasgow Airport
From regional flights heading out to the Scottish islands, to large international airlines providing services to far flung destinations like Dubai, New York and Barbados, Glasgow is a great for choice, meaning you can easily fly direct from your local Scottish airport, and if there aren't direct flights, a stopover in a variety of destinations like Amsterdam, Dublin and Dubai will have you flying onto your final destination in no time.
Airlines flying from here include low-cost carriers like easyJet, Play and Ryanair, while holiday airlines like Jet2holidays and TUI will whisk you off to beach holiday destinations like the Canary Islands, the Greek Islands and the Turkish Riviera. National airlines like KLM, British Airways, Aer Lingus and Emirates will take you to their hubs before flying you on to incredible faraway places.
Most tour operators like TUI, Hays Travel and Barrhead Travel offer package holidays from Glasgow which you can book online, over the phone or in person. You can also book your flights and hotel separately online with the likes of Ryanair, Booking.com and Airbnb. Although these can often be great deals from Glasgow airport in terms of price, be aware that when you aren't booking package holidays, you may not have ABTA or ATOL protection included.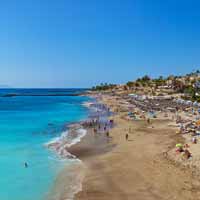 Holiday Destinations from Glasgow
From classic city breaks like Amsterdam and Berlin, to luxurious beach holidays in Cancun or Mexico, there's heaps of choice if you want to fly from Glasgow. Here are a few of our favourites:
London, UK
It's easy to think about destinations abroad but London is one domestic city you don't want to miss out on. Althoug many customers choose to connect with BA in Heathrow to onward destinations around the world, enjoying a city break in London can skip the longer train journeys and even get you into London City Airport with ease.
Benidorm, Spain
A classic beach holiday, holidaymakers heading to Benidorm on Spain's Costa Blanca will actually fly into Alicante and head up the coast. This lively holiday resort is home to towering hotels, gorgeous golden sand beaches and so much to do.
Kos, Greece
One of the most popular beach destinations in Greece, Kos is also home to lots to do and a cracking range of accommodation options, from self catering villas to luxury 5-star resorts.
Dubai, United Arab Emirates
Head directly to the Middle East with direct flights and holidays from Glasgow to Dubai with Emirates. The flight time is around 7 hours 30 mins and with the time difference, you could be jetting off after work and arriving the next morning before heading to your hotel and jumping in the pool.
Connecting Destinations
With flights to London Heathrow, Paris, Dubai, and Toronto, you can easily connect on to hundreds of destinations beyond, like Thailand, India, California, Indonesia and Australia. Simply search above to find the best way to get to you away on your faraway holiday.

About Glasgow International Airport (GLA)
Glasgow International Airport is one of two main airports in the region, the second being Prestwick. Glasgow (GLA) is by far the biggest with both low-cost and large international airlines serving the airport.
Getting There
By Public Transport
If you're travelling to the airport by public transport from Glasgow city centre, the bus is going to be your best option as there is no airport train station here. The Glasgow Airport Express service 500 runs from 4:30am until 11:30pm between Buchanan Bus Station, through St Vincent Street (for Glasgow Central Station) and George Square (for Queen Street Station), before heading out to the airport. Services run about every 15 minutes. Other bus services to other areas like Loch Lomond and Fort William are also available although not as frequent.
By Car
If you're travelling by car, there are a number of different car parking options here, from convenient valet parking and fast-track, to long stay car parks that are further away. Prices can vary depending on your choice but you should aim to book in advance to get the best rates and avoid disappointment.
Airport Hotels
Holiday Inn
The closest hotel to Glasgow Airport terminal building is the Holiday Inn Glasgow Airport. This 3-star hotel is a great option if you're venturing in from other parts of Scotland, or you've got an early flight to catch and just want to be as close to check-in as possible when you wake up. With free WiFi throughout the hotel, plus offers like kids stay and eat free, this is a great option for both couples and families.
Premier Inn
For a more budget friendly stay, the Premier Inn Glasgow Airport is an ideal option with family rooms also available. There is a car park here, but you can also walk from the hotel to the terminal building in about 10 minutes (there is a footpath along the road). This is one of the most popular hotels here for those on a budget.
Travelodge
Another cheap airport hotel here is the Travelodge. It's a short drive over the M8 motorway and offers comfortable rooms, free overnight parking for guests and free WiFi.
In The Terminal
There are a great range of shops and restaurants here including all the necessary ones like Boots, WHSmith, Starbucks and Burger King, along with some favourites like Frankie & Benny's, Greggs, Sunglass Hut, JD Sports and of course, The Celtic Football Club shop. There's also the obligatory World Duty Free shop with everything from make-up and sunglasses to big bags of sweets and your favourite bottle of alcohol.
There are two airport lounges here, adults only The Lomond Lounge which offers a range of food and drink before your flight, and the UpperDeck Lounge which is more suited to families and also offering complimentary drinks and snacks. Both cost extra and should be booked in advance.

Holiday Types From Glasgow Airport
Last Minute Escapes
With loads of destinations on offer from Glasgow airport, holidays at the last minute can be pretty cheap, although it's important not to rely on booking so late as you might miss out on your faourite hotels. While brands like lastminute.com are designed for late deals, check things like cancellation holidays and top deals with more charter style brands like TUI and Jet2holidays.
Villa Holidays
Travelling as a family or group, if you want more privacy and space, a villa, especially one with a swimming pool, gives you freedom without having to worry about other holidaymakers. Book your villa and flight (and even car hire) together for some of the best deals.
All Inclusive
When you're on a strict budget, there's nothing worse than booking a holiday, and then having to worry about how much you're spending while you're away. There are some great all inclusive resorts and destinations available from Scotland, including your typical places like Antalya in Turkey or Gran Canaria in Spain, as well as more "exotic" destinations like Mexico and Jamaica.
City Breaks
For a quick short break, city breaks from Glasgow are a great option. All the classic destinations like Dublin, Barcelona and Amsterdam are great, but there's also places further away to be discovered like Toronto and Dubai.
More Great Holidays