Our Complete Guide To TUI Lakes & Mountains Holidays In 2023/2024
If you love exploring the outdoors, booking a holiday with TUI Lakes & Mountains is the perfect way to organise this, whether you prefer hiking in the mountains of Switzerland or simply relaxing with a glass of local wine and a stunning view in Slovenia. There are some incredible destinations to be discovered, focusing in and around the European Alps. Take a look at destinations like Lake Garda and Lake Como in Italy, Interlaken and Zermatt in Switzerland or Zell am See and St Johann in Austria's Tyrol for some of the brand's top resorts.
If you're looking for more inspiration, you can check out the Discover Lakes & Mountains page, dedicated to giving you tips and ideas for your next outdoor adventure, like what are the best things to do in Poland, and find out whether Lake Como or Lake Maggiore is better for you. It's also worth bearing in mind that twin centre and multi-centre holidays are also available, so you can combine a beautiful city like Salzburg with the stunning scenery of Kitzbuhel.
Activities
Many people prefer to simply sit back and relax when they book a Lakes & Mountains holiday, taking in the mountain views from the terrace, or enjoying views of the lake from the spa. For others, being in the great outdoors is the perfect opportunity to try something new and get a bit adventurous.
One thing that shouldn't be missed is the incredible hikes on offer in each of the regions. There's no better way to enjoy the scenery than to put on your backpack and go for a walk. Guided walks are also available in many locations which is a good idea if you are new to hiking or are unfamiliar with the area.
Excursions
Excursions and day trips are the ideal way to find somewhere new or try something different. These can either be organised directly with TUI when you book your holiday, or you can organise them independently yourself, giving you the freedom to choose an excursion you like. These could range from ski gondola rides up into the mountains, or sitting back and taking in the scenery by railway. You can even try things like chocolate tasting and chocolate making in Switzerland, arguably the best chocolate making country in the world.
Spas & Fitness
Many hotels within the lakes and mountains range offer spa facilities or a variation of it. A lot of European's choose areas like the Alps for their holiday to simply escape and enjoy the fresh mountain air, and with it, the chance to rest, recover and get a little bit healthier. Spa facilities can range from outdoor hot tubs and massage to full health centres with swimming pools, steam rooms and saunas. Some "retreat" style hotels will also offer a healthier food selection, giving you the option of eating healthy with healthy juices for breakfast and tasty salads for dinner.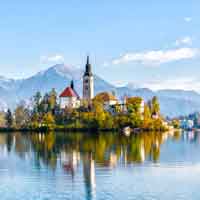 TUI Lakes & Mountains Destinations
Lake Garda, Italy
Often the preferred getaway for many Italians, Lake Garda is the ideal escape who prefer to be surrounding by both lakes and mountains (funny TUI should call its brand that!) From budget friendly two star hotels like the Hotel Sirena in Malcesine, arguably one of the prettiest towns on the lake, to the impressive 5-star Hotel Park Imperial in Limone, these outdoors style holidays to Italy are perfect for the active adventurer.
Lake Bled, Slovenia
TUI Lakes & Mountains also offers holidays to Lake Bled, in Slovenia's north-western corner on the board with Austria. You'll find plenty of adventurous activites here to keep you occupied, or you can simply hire a row boat and head out onto the lake to enjoy some peace and quiet. There are budget friendly stays like the Hotel Kristal in Bohinj, going all the way up to the beautiful Hotel Bohinj ECO, part of the TUI Lakes & Mountains Platinum range of hotels.
Interlaken, Switzerland
Separating Lake Brienz and Lake Thun, Interlaken is a beautiful city, typically Swiss yet incredibly unique. It's the perfect place to combine more strenuous activities like hiking and and cycling, with relaxed sightseeing by boat or train, taking in the simply breathtaking scenery, like the two hour train ride from Interlaken up to Jungfraujoch. And of course, no trip to Switzerland should be without plenty of Swiss chocolate tasting...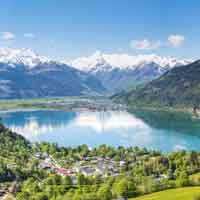 Platinum
The lakes and mountains Platinum range is the ideal way to upgrade your stay, with hand picked, well rated hotels enjoying luxurious facilities. Take a look at hotels like the Hotel Tirolerhof in Zell am See, or the Hotel Caesius Thermae in Lake Garda which is home to a large spa facility, perfect for unwinding after a hard day in the mountains.
Like the rest of TUI's Platinum range hotels, Lakes & Mountains Platinum hotels are hand picked, ensuring guests receive a superior level of service and accommodation. It's the small touches in these hotels that really make a difference, plus you can be sure you're in for a treat when you hit the restaurant with delicious dishes from the local area.
Free Child Places
TUI's free child places offers are a great way to save on your next holiday if you're taking children. They may be available on lakes and moutains holidays so it's worth checking. It's worth also looking at a number of different accommodation options, as some hotels may be more child friendly than others. Some hotels offer a half board option, so that you don't have to worry too much about spending extra, especially on kids meals while you're away, which again, can help reduce the cost of your holiday in the outdoors.
Twin Centre Holidays
Being able to take a holiday can often be at a premium these days, with your time having to be split all over the place, so another option is to book a twin centre Lakes & Mountains holiday. This allows you to experience more of a destination, combining different locations and hotels, like spending a few days in Lucerne city before heading down to Wengen to enjoy a true escape in the Swiss countryside. Or how about an adventurous trip, hiking in the Italian Dolomites, before spending a couple of days at a spa hotel on the shores of Lake Como?
Book your next family holiday with TUI Holidays
In partnership with
More Ways To Save
And don't forget there are other ways you can save on your next holiday too. Late deals and last minute mountain holidays can often be worth taking a look at, especially if TUI puts on charter flights from regional UK airports like Belfast, Manchester or Edinburgh. Another way is to check for discount codes, which can also help to bring down the cost of your holiday, usually if you spend over a certain amount. And don't forget keeping up to date with special offers. Every so often, TUI may have a promotion with some great deals such as money off your booking.
Contact & Manage My Booking
TUI doesn't have a dedicated team for Lakes & Mountains holidays, however, you can visit your local TUI travel agent, or contact TUI by phone on 0203 451 2688 or 0203 636 1931 which are open between 9am and 7pm, Monday to Friday, and reduced hours at the weekend. If you are already on your Lakes & Mountains holiday, you can download the TUI app and contact them through that, or call +44 3333 365147. Contacting TUI on Twitter is also an option. If you want to check on your booking, you can log onto the 'Manage My Booking' section of the TUI website with your email address and password, which also allows you to book extras like seats, car hire and much more.
If you or your holiday has been affected by Coronavirus, you should contact TUI to discuss your options. If your booking is cancelled, TUI can advise on the best next steps. For travel agent login and brochure ordering, you can use your dedicated agent number and reference on the retailagents.tui.co.uk website.
Frequently Asked Questions
There are a variety of activities on offer when you get to your destination. These can be organised once you arrive.
If you've booked a TUI Lakes & Mountains holiday before you may find that the hotel you stayed in previously is no longer available to choose. This can be for a number of reasons including working with hotel partners who can support TUI's customer requirements. If you have a specific hotel in mind, there's no harm in calling and asking.
Lakes and mountains holidays are best enjoyed when you can get out and enjoy the scenery on foot. Even if you're only used to walking on flat surfaces, there are often some wonderful lakeside walks to be enjoyed. If you have accessibility requirements, call TUI to discuss your options and find out which destination and hotel is suitable for your needs.
Popular Holiday Destinations