Find Your Ideal Holiday With
Popular Small & Friendly Hotels
Our Complete Guide To TUI Small & Friendly Holidays In 2023/2024
TUI's Small & Friendly Hotels are the perfect way to enjoy a quiet holiday, at a family run or boutique hotel in some fantastic destinations like Skiathos, Crete and Sorrento in Europe and Sri Lanka, Thailand and Barbados around the world. These smaller hotels and apartments are ideal if you hate the thought of roaming around a huge all inclusive resort without actually experiencing any of the local culture.
While you can grab a brochure from your local TUI store, you're best checking out the latest small and friendly holidays online to get the most up-to-date offers. Some of the most popular destinations include Parga, Pefkos and Kefalonia in Greece and Tuscany and Amalfi in Italy. Areas like Tenerife and Lanzarote in the Canary Islands, and Sicily and Sardinia in Italy sadly don't have hotels amongst the Small & Friendly collection.
Many hotels in the collection are family run, so that personal touch is never far away and you've always got access to a local expert. Even the hotels fit in with surroundings.

Small & Friendly All Inclusive
While many hotels in the range are small and offer limited food options, encouraging guests to head out and enjoy the local eateries and tavernas, but there are a number of hotels in the range which do offer half board and all inclusive options.
With a couple of hotels in Barbados and Greece, like the Castelli Hotel in Zante, guests can enjoy not having to worry about spending extra on meals. This is a great option if you need to stick to a budget, but we would highly recommend going for a bed & breakfast option so that you can go and enjoy some tasty local dishes.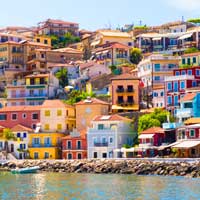 Small & Friendly Self Catering
Many of TUI's Small And Friendly hotels are available on a self catering basis, allowing you to buy local produce, cook up a tasty meal in your apartment or simply head out and explore the local restaurants and tavernas. Being able to enjoy these authentic and local experiences adds to what TUI wanted to achieve with it's Small & Friendly offering.
From the Greek islands of Skiathos and Rhodes to the exotic beaches of the Caribbean, there are plenty of self catering options available. While many are studios or rooms with small kitchenettes so that you can rustle up a little breakfast, others are apartments with full kitchens, meaning you can head to the stores and try your hand at some of the local dishes.

TUI Small & Friendly Destinations
Skiathos, Greece
The island of Skiathos, just off Greece's mainland, is idyllically Mediterranean. With turquoise water, quaint little coves, and small villages bursting with colour, the island's small and friendly hotels with TUI range from luxury suites with infinity pool, to budget friendly apartments near the beach. Check out areas like Aghia Paraskevi, Kolios Beach and Skiathos Town
Madeira, Portugal
Madeira is a fantastic island to enjoy a holiday with a more authentic and traditional feel. It's lush and dramatic landscape is also ideal for a bit of adventure, whether that's hiking in the hills or surfing the coastal waves. Hotels like the Hotel Madeira and Casa Velha do Palheiro in Funchal are perfect if you want a warm and welcoming stay on the island.
Sorrento, Italy
In Italy's Campania region, just outside of Naples sits the popular coastal town of Sorrento. Well known for its iconic hillside homes, Sorrento is perfect for a cute beach/city breakto take in the impressive scenery and enjoy the delicous Italian food. And a day trip into Naples to try out authentic Italian food in the home of the pizza is an absolute must. It's also worth taking a look at smaller hotels other areas in Italy like Lake Garda, Sicily and Sardinia.
Majorca, Spain
While you might think of Majorca as the party scene in Magaluf or huge holiday resort hotels, but there are some incredible hidden gems on the island. Little family run and authentic hotels are just waiting to be discovered. For quieter, relaxed holidays to Majorca take a look at the small and friendly collection, and hire a car to discover hidden coves and quiet beaches dotted around the island.
Chania, Crete
Another fantastic destination for a small and friendly holiday is Chania in Crete. One of the several areas on Crete offered by TUI, Chania combines a summer holiday with a Mediterranean city. If you fancy a break from the pool, why not head into the city to discover the Venetian harbour and try out some local cuisine in one of the area's many cute little Greek tavernas.
Last Minute TUI Small & Friendly
Last minute holidays at TUI's small and friendly hotels are a great way to get away at the last minute and enjoy a bit of much needed rest and relaxation. While the hotels might be small, which means the rooms can get booked quickly, there are often plenty of late deals available, whether you fancy a quiet summer getaway or bit of winter sun. Make sure to check out TUI's late deals.
Book your next family holiday with TUI Holidays
In partnership with
Frequently Asked Questions
No, TUI doesn't own its Small & Friendly hotels. They are independently owned.
Solo travellers can book a Small and Friendly hotel with TUI. For the latest prices, you can search online above.
Check out these great family hotels with TUI
Popular Holiday Destinations