Find Your Ideal Holiday With
Holidays To Bodrum In 2023/2024
Located out on Turkey's Bodrum Peninsula by the Aegean Sea, Bodrum holidays are a great choice for combining a fantastic sun holiday in the Mediterranean with a bit of culture and history. In fact, the Greek island of Kos is just across the water and the weather is very similar. Now is the time in 2023 and 2024 to visit this fantastic holiday destination, which a huge range of accommodation types to suit every style and budget, as well as fun attractions like Bodrum Aqua Park.
Check out these great hotels in Bodrum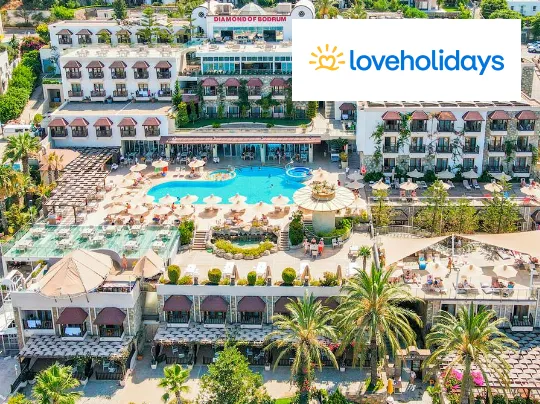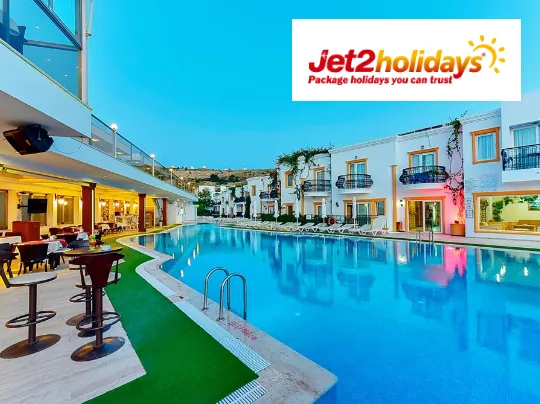 DISCOVER
Tropicana Beach ApartmentsBodrum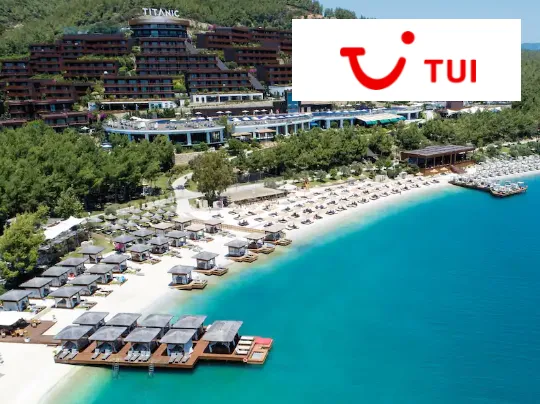 DISCOVER
Titanic Deluxe HotelGuvercinlik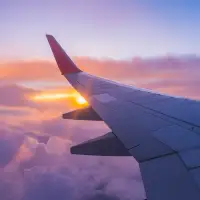 Getting to, from and around Bodrum
Flying into Milas-Bodrum Airport (BJV), direct flights from the UK with airlines like British Airways, Jet2 and easyJet are fairly regular, although regional flights may not be as frequent. Charter and holiday flights with airlines like Pegasus, TUI and Wizzair can operate during the busy summer months. When booking your holiday, a good idea if you're planning on spending most if not all of your time at your hotel is to ensure airport transfers are included in the cost. Depending on which tour operator or travel agent you book with, coach transfers in resort may be included so always check, otherwise, all good ABTA and ATOL protected agents should be able to add transfers on, like TUI Holidays and Jet2holidays.
Once you've arrived, depending on where you're staying will depend on how best to get around. By far one of the best ways to get from Bodrum Airport to your hotel is with an airport transfer. If you're planning to explore the region, whether discovering a quiet beach or taking a look around some of the incredible historic sites, hiring a car from the airport or near your hotel can also be a good option.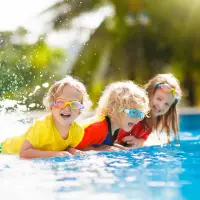 Things to do in Bodrum
Bodrum is a fantastic area for a holiday and it's not all just hotels and pools. It's a great opportunity to try something new or learn more about the history and beauty of the region. Or for a fun day out, head to one of the waterparks in Turkey, like Bodrum Aquapark and throw yourself down some thrilling waterslides.
Bodrum City
Bodrum city combines a fanastic day trip of shopping, culture, delicious food and plenty of history. Take a trip to the Castle of St Peter (Bodrum Castle), followed by a little shopping at the bustling bazaars, a wander around Bodrum harbour, and then finish the day with a cool cocktail at one of the many bars in the city.
Beaches
There are loads of pristine beaches in this part of Turkey from big stretches of soft sandy beach, to quiet coves with crystal clear water which are perfect for snorkelling and relaxing in the sun. Bitez Beach and Gumbet Beach are two of the most popular in the area.
Water Sports
The Turkish Aegean Coast is an ideal place for trying out new water sports. Whether trying your hand at kayaking or surfing off the shore, or heading out on a boat trip and discovering the sea life on a scuba diving trip, it's ideal for something adventurous.
Where to stay in Bodrum
The Bodrum region is split out into a number of different areas, including Bodrum city on the south coast of the peninsula. There are a few key holiday resorts here ranging from popular tourist hotspots to quieter resorts.
Gumbet & Bitez
If you want a lively resort with lots going on, head to Gumbet or Bitez, the two closest resorts to Bodrum city centre. There are a huge range of accommodation types on offering, including large all inclusive hotels, small and friendly hotels, and beautiful villas with private pools. This also means it can be great for a last minute holiday.
Guvercinlik
Guvercinlik is actually one of the closest resorts to the airport. Bodrum holidays typically have longer airport transfer times so if you want to keep that short, head to Guvercinlik. It's very quiet area with most hotels being self contained, on the beach, and far away from many shops and restaurants. Hotels here include the five-star Titanic Deluxe Bodrum and La Blanche Island.
Altinkum, Akbuk & The Delice Peninsula
North of both Bodrum and the airport, you'll find the resorts of Akbuk, The Delice Peninsula and popular Altinkum. Accommodation ranges from self catering apartments, to large, beachfront all inclusive hotels.
Family Holidays To Bodrum
Bodrum is an ideal destination for a family holiday in the sunshine. There are plenty of family friendly hotels with kids clubs, children's pools and evening entertainment to keep even the most bored of kids busy. To help save money, you can often find free child spaces at some fantastic, family-friendly resorts in Bodrum. Take a look at places like the Bodrum Holiday Resort & Spa which has family rooms, or the Maxeria Blue Didyma in Akbuk, which has a fantastic splash park for kids.
Safety In Bodrum
Bodrum is generally considered a safe part of Turkey to travel to, and it caters well for tourists. As with all tourist holiday destinations, petty theft and pickpocketing does take place so keep your wits about you.
Book your next holiday with Jet2holidays
In partnership with