Find Your Ideal Holiday With
Cheap Antalya Holidays
Popular Resorts In Antalya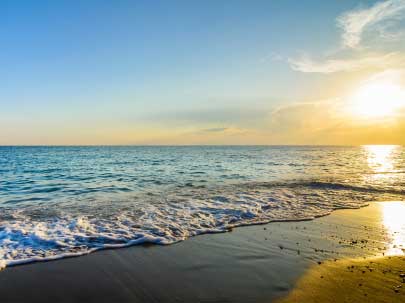 Belek
Known for big resorts and stunning golf courses, Belek provides the ideal escape for couples, families and groups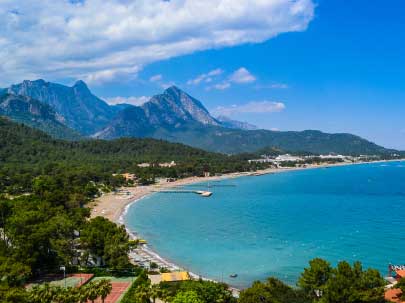 Kemer
Soft sandy beaches against a beautiful mountain backdrop, Kemer is an incredible place to enjoy a holiday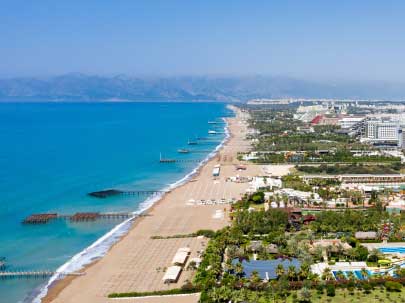 Lara Beach
Expansive, luxury resorts with great pools, mini waterparks and much more, line Lara beach on this stretch of coast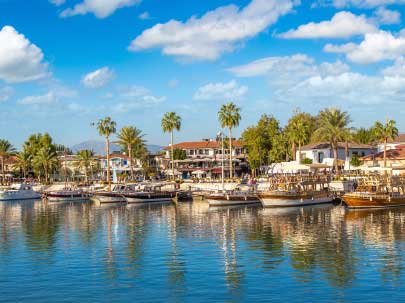 Side
A bustling resort with plenty of budget friendly and luxury resorts, close to nightlife an ancient ruins
Our Complete Guide To Antalya Holidays In 2023/2024
It's easy to see why holidays to Antalya are so popular with Brits, offering plenty of sunshine, expansive beaches, water parks, lots of nightlife culture, and, of course, a range of accommdation from self catering villas to luxury, all inclusive resorts.
Getting to, from and around Antalya
If you're heading to the region on holiday, you'll fly into Antalya Airport (AYT) with direct airports from across the UK, including Gatwick, Manchester and Glasgow, with a range of airlines including Jet2, easyJet and Turkish Airlines.
One of the best ways to get from the airport to your hotel or resort is with a prebooked coach transfer. This is often included in the cost of a package holiday with tour operators like TUI and Jet2holidays, and can be an affordable way to travel in-resort. Taxis are available at the airport, however, the cost can vary depending on the resort you're staying at. Car hire is also an option, particularly if you're staying at a villa or you plan on travelling around the region.
Things to do in Antalya
While many holidaymakers visit Antalya to enjoy the enormous list of facilities and activities at their all inclusive resort, this part of the country offers plenty of things to do and see. Here are a few of our favourites:
Antalya City
The main city in the area, Antalya City, is perfect if you love to enjoy a bit of sightseeing. The city is full of history and culture, with areas like the Old Harbour and Old Town where you'll find the ancient Roman fortress, museums and the city's iconic Yivli Minare.
Beaches
Running from Lara Beach all the way along to Side, the beaches here are a fantastic way to spend time away from the pool. Here you'll be able to try a wide range of watersports including jetski, parasailing and snorkelling. You can even try out scuba diving, or maybe you'd just prefer to sit back, relax and enjoy the Turkish sunshine.
Where to stay in Antalya
There are four key areas in Antalya to stay, Belek, Kemer, Lara Beach and Side. Kemer is a small seaside town south of Antalya City, about an hour's drive from Antalya Airport, and is a great area if you prefer to be away from the main tourist hotspots. Alternatively, Lara Beach, Belek and Side stretch along the coastline east of Antalya City with big resorts, lots of nightlife and plenty to enjoy.
Popular hotels in Antalya
Similar Destinations