Jersey Holiday Offers
Jersey Holidays Guide
If you want to stay in the UK but still feel like you're heading abroad, holidays to Jersey can offer a little bit for everyone. From eating fish 'n' chips by the marina in St Aubin, to meeting the flamingos at the zoo, like the other Channel Islands, it's one of the UK's great holiday destinations for unwinding, getting back to nature and reawaken yourself so that you can return to normal life feeling human again.
One night breaks start from less than £100 per person including flights, although ferry is a great way to get to Jersey if you are travelling by car. And with so many different types of accommodation to choose, from camping and glamping to five-star luxury hotels, there's something to suit all budgets. Staying a few nights, if not a week is a good length of time to spend here, giving you time to explore the history, taking the fresh air and relax a little.
Getting to, from and around Jersey
Jersey is just a short trip across the channel, making it easy to get to, yet still feel like you're going abroad.
By Air
There are flights from across the UK including Glasgow, Liverpool and London Gatwick with British Airways, easyJet, Jet2 and Blue Islands. The airport is located over on the west coast close to Les Mielles Nature Reserve. A taxi from the airport into St Helier will cost no more than £20 each way.
By Ferry
The alternative is to book onto a ferry from Poole or Portsmouth over to St. Helier, the main town on the island. With Condor Ferries from Poole, the high speed ferry will take around 4 hours 30 minutes while the traditional cheaper ferry takes just over 10 hours. The main ferry harbour is located in St Helier where ferries also come in from northern France.
By Coach (And Ferry)
If you like it all done for you, travelling by coach is another great way, allowing you to jump onboard and have someone else drive you there and show you the sights. You can also join one of the numerous organised tours on the island to help you see more while you're visiting.
Getting Around
Once you've arrived, hiring a car is a great way to enjoy the freedom of discovering the island at your own pace, especially if you want to uncover some of the hidden gms here. LibertyBus is the bus service on the island and provides public transport from the capital to all corners of the island including St Brelade's Bay, Greve de Lecq and Gorey Pier. Depending on the route, buses can start from 6am and run through until midnight, but you should check in advance what times the first and last buses are.
Walking and cycling are also wonderful ways to explore the island. The tourist board, Visit Jersey, has created some really handy, downloadable maps of walking and cycle routes around the island, with lots of beautiful coastal routes to try out, allowing you to discover hidden coves like Bouley Bay, and attractions like Mont Orgueil Castle.
Things to do in Jersey
Jersey is the perfect place to get active or do nothing, whether you're after a romantic break to get away, relax and let your cares drift away, or you fancy something a little more adventurous like taking in the fresh country air and exploring by foot or cycle, or even venturing into the sea for a bit of surf. Jersey offers something for everyone, and there's lots to see and do, from a visit to the Jersey War Tunnels to kayaking around the coast.
Whatever you plan, trying out the local cuisine should definitely be on your hitlist. Food here is amazing and you should give the local oysters a try or taste some of Jersey's fresh lobster. You are by the sea after all!
St Helier
St Helier is the island's main town where you'll find lots of the shops, bars and restaurants. It's here you'll want to stay if you like a bit more of a lively atmosphere on your doorstep. It's the ideal place to be based if you haven't got a hire car (or your own car), as buses run from Liberation Station to all corners.
Scuba Diving
Did you know Jersey is a fantastic place to go scuba diving? For those new to the sport, there are plenty of shore dives you can enjoy, discovering some of the local underwater wildlife. For the more advanced diver, due to its history and location, there are multiple ship wrecks in the sea around Jersey, including a 139 foot cargo ship and a Douglas C-47 Dakota American Air Force transport from 1944.
History
There's also lots of history to discover here too. The famous Jersey war tunnels give an informative and truly moving insight into the wartime, uncovering their history as an underground hospital during the German occupation in World War II. Meanwhile the 400 year old Elizabeth Castle in St Aubin's Bay is great for kids as they learn more about the defences required to protect the Jersey over hundreds of years.
Jersey Zoo
For a fun and interactive day out with the family, Jersey Zoo is lots of fun. With animals ranging from gorillas and meerkats to peacocks and flamingos it's exciting for the youngsters and there are even animal experiences, like meeting the bears or venturing into the bat tunnel. There's also the option to stay for a couple of nights at the wildlife camp too.
Jersey Museum & Art Gallery
Another opportunity to learn more about the history of this area, the Museum and Art Gallery goes back 250,000 years when the first people arrived. This is certainly one to visit if you have children who are interested in history, from the ice age to Medieval to the Victoria era.
La Mare Wine Estate
Of course, being closer to the equator than mainland UK mean's the weather is warmer here, perfect for grape growing, and that can only mean one thing. Wine! The vineyard at La Mare Wine Estate in St Mary offers vineyard tours and wine tasting in a beautiful setting, along with the beautiful restaurant, allowing you to enjoy delicious food, paired with local wines. The dinner menu features plenty of seafood, with salads and ciabattas also available at lunchtime.
Reg's Award Winning Garden
A cute place to visit if you're venturing to St Brelade and St Aubin, Reg's Award Winning Garden is 1.5 acres of open garden and is home to an abundance of plants and wildlife. Certainly one to visit if you love your flora and fauna.
Best beaches in Jersey
Whichever way you turn, there's a beach not too far away which makes it a wonderful destination for a summer holiday by the sea. With small bays hidden along the coastline, if you love relaxing by the sea, a Jersey holiday is just the getaway.
L'Ouziere
One of Jersey's most prominent beaches is L'Ouziere which is in the east by St Ouen's Bay. This expansive beach is popular for surfing and due to it's sheer size is ideal if you love land sailing. There's plenty of space here and a great walk along the promenade too, where you'll find a beach cafe or two dotted along the coast. Dogs are also allowed and it can also be good for fishing.
Bonne Nuit
Bonne Nuit beach is situated in a cute little bay in the north. With a small marina, when the tide goes out, the sandy beach is a lovely alternative in the summer months when the sun is highest.
Bouley Bay
Another quieter beach on Jersey is at Bouley Bay. Up here, you'll be away from the crowds and there are some lovely walks up this way too. Here you can also organise a scuba diving trip which will take you out to discover the reefs and wrecks around the island.
Greve d'Azette
Running from The Lido down to Green Island Beach, Greve d'Azette and La Mar is another long stretch of beach just outside of St Helier. This area is quite residential with the odd hotel or two closeby.
Plemont Bay
Voted as one of Jersey's top attractions, the beach at Plemont Bay is worth discovering as the tide goes out and the sand is revealed. With impressive rock formations, caves and magnificent walks, this is certainly one to add to your list.
Where to stay in Jersey
St Helier
St. Helier is the main town on the island where you'll find attractions like the Jersey Museum and Art Gallery, the Maritime Museum and Elizabeth Castle. Some key hotels here are the Radisson Blu Waterfront Hotel and the Grand Jersey Hotel & Spa, both located close to the waterfront with many rooms offering views of the seaside. Take a look at the Merton Hotel with its indoor and outdoor pools and waterslides, providing a resort style stay that's perfect for all the family for something a little more holiday resort-ish.
St Brelade's Bay
If you prefer to stay outside of the main town, St Brelade's Bay offers that true seaside holiday feeling, with wonderful golden sand beach, dotted with cafes and restaurants along the promenade. Here you'll find accommodation like the Biarritz Hotel, L'Horizon Beach Hotel & Spa and the St Brelade's Bay Hotel & Spa, a popular choice if you can stretch the budget a little.
Gorey
Gorey is another seaside town with budget friendly hotels and B&Bs which are within walking distance of gorgeous Grouville and Longbeach. Take a walk up to the pier and Mont Orgueil Castle for stunning views of the region before heading back along the coastline towards La Rocque.
Elsewhere, there is a range of accommodation is dotted about Jersey, from guest houses and holiday cottages to more exquisite hotels with spas. Les Ormes Resort is another excellent resort, close to the airport and Valley Adventure Centre with lodge style accommodation, while the Prince Of Wales Hotel, tucked away in Greve de Lecq is ideal if you love the peace and tranquility.
Camping
If you're on a budget or just simply love to explore the outdoors, camping can be a wonderful way to enjoy a stay. Take a look at the Rozel Camping Park near Rozel, or the Palms Campsite close to Leoville and St Ouen. You can even spend a night or two at in a tent at the Durrell Wildlife Camp near the zoo, a fantastic experience for both adults and kids.
Who Does Holidays To Jersey
There are a lot of holiday companies which offer a range of holidays in Jersey from the UK, each one suitable for a different type of traveller, and each offering their own deals. You can often save money when you book your ferry or flights and hotel together, and it's important to book an ABTA or ATOL protected break for your financial protection, especially in uncertain times like Covid 19. Top brands to take a look at include:
easyJet Holidays
Teletext
Jet2holidays
TUI
Shearings Holidays
Johnsons Holidays
Timewells Holidays
Premier Holidays
A Twin Centre Jersey Holiday
You can also book twin centre stays in the Channel Islands, staying on Jersey and Guernsey for a few nights each. The Condor ferries journey between the two islands is less than 30 miles and takes around an hour.
Holiday Cottages In Jersey
If you prefer the freedom of your own space, holiday cottages in Jersey are a wonderful way to enjoy the island while still feeling like you're at home. Usually booked for 7 nights at a time, these cottages can range from large, family friendly homes with private pools, to more quaint, dog friendly cottages with a hot tub. You don't have to worry about any language barriers here so you might feel more confident to book this type of self-catering holiday, visiting the supermarket or farmers market to buy local produce but still giving you the chance to eat out and try some of Jersey's popular restaurants.
Jersey Frequently Asked Questions
Jersey Holidays & Coronavirus
Like most destinations, Jersey was closed to air travel during the UK's Coronavirus lockdown. Travel is now permitted to the island, however, there may still be restrictions imposed by the UK government when you arrive due to Covid 19. You should always check the latest government travel advice, both for domestic UK travel and air travel, and, as always, book ATOL protected breaks where possible.
Popular hotels in Jersey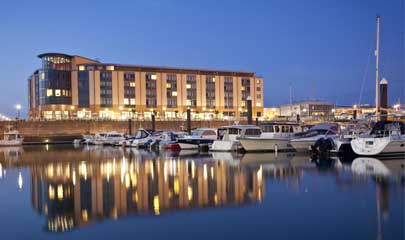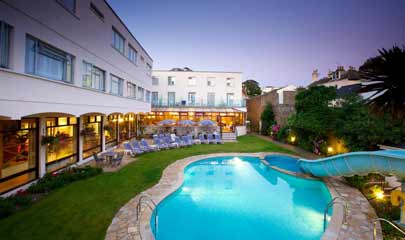 More Popular Holidays