An Amsterdam City Break Guide
Capital of the Netherlands and just an hour flight from the UK, a city break in Amsterdam is easy, inspiring, educational and so much more. Nicknamed the Venice of the north because of its 60 miles of impressive canals and waterways, the city is made up of multiple areas.
From its trendy cafes and bars to its historic museums and beautiful parks, Amsterdam is an ideal city break destination. In the summer, the city's Vondelpark hosts a range of activities including an outdoor cinema and open air theatre. In winter, the streets light up and the cold air fills with the smell of Christmas markets.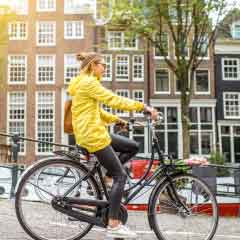 Getting to, from and around Amsterdam
With low cost airlines offering return flights to Amsterdam from various points across the UK starting at £39 per person, getting to Amsterdam is easy on a budget.
In a few years, Deutsche Bahn will introduce direct rail services between London and Amsterdam, however, you can also get to Amsterdam on the Eurostar to Brussels and then change.
Getting around Amsterdam is perfect on foot or by bike. Why not take a walking or cycling tour of the city?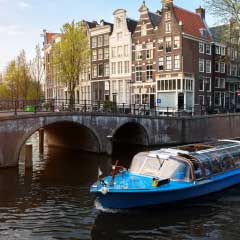 Things to do in Amsterdam
There is plenty to see and do in Amsterdam so whatever your interests there will be something to keep you occupied and entertained.
If visiting in the summer months, be sure to visit the city's Vondelpark, the largest park in Amsterdam and home to plenty of wildlife, sculptures and an open air theatre. Take the tram or bus to Leidseplein and walk across the canal to the Flevoroute path near the Bjorg van den Berg store.
The Anne Frank House, located 20 mins walk from the Central Station, is the museum dedicated to the World War Two diarist. The museum showcases the various well known aspects of her life in hiding from the Nazi regime. Anne Frank's sombre and moving, yet inspiring story is certainly one to discover on a trip to Amsterdam.
At the 200 year old Rijksmuseum,, you can learn about the history of Amsterdam, with beautiful pieces of artwork from the likes of Rembrandt, Borch and Michelangelo.
Van Gogh Museum
Situated in the Museumkwartier, the Van Gogh Museum, one of the city's best art galleries, is a must for art fanatics. Even if you're not, it's still a must-see with over 200 paintings from the man himself. Open Tuesday to Sunday, the museum also features hundreds of his drawings and paintings, as well as research facilities and temporary exhibitions.
Dam Square
Dam Square could be considered the beating heart of Amsterdam. From here, canals and streets spread out, encompassing the city. It's here you'll find shops, attractions and the Koninklijk Palais, the impressive seventeenth century Royal Palace.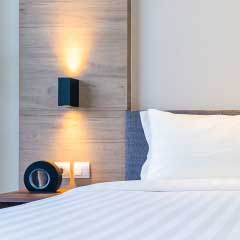 Where to stay in Amsterdam
Whatever your budget, an Amsterdam holiday is fun and affordable, but it's important pick the area you stay wisely. From the Centrum to De Pijp, each area of Amsterdam has something unique to offer.
On the budget end, well rated hostel dorm rooms from £3.50, and hostel private rooms from £12 mean comfortable and affordable accommodation.
If you are after a little more luxury, good three-star hotels cost from £42 per night or even less with one of lastminute.com's Top Secret® hotels and can even be combined with flights to create a low-cost city break holiday.
Try the Bulldog Hotel for budget stays or the Hotel Central Park for something a little nicer but still on a budget.
Amsterdam By Eurostar
You can now travel by Eurostar to Amsterdam from London in less than 4 hours. The benefits of travelling from city centre to city centre easily can mean limiting the amount of time travelling to and from airports. Arriving into Amsterdam Centraal Station, you've got easy access to the rest of the city via tram, metro and even walking.
Frequently Asked Questions
Amsterdam is arguably a year-round city, with Christmas markets in the Winter, cycle rides in the Summer, and mild weather during the Spring and Autumn.
Three full days is a good amount of time for first time visitors to spend in Amsterdam, allowing you to discover the city, visit attractions and try out various restaurants.
Amsterdam regularly ranks in the top 10 safest cities in Europe. Like most cities, it's important to stay safe and aware when visiting.
Top Hotels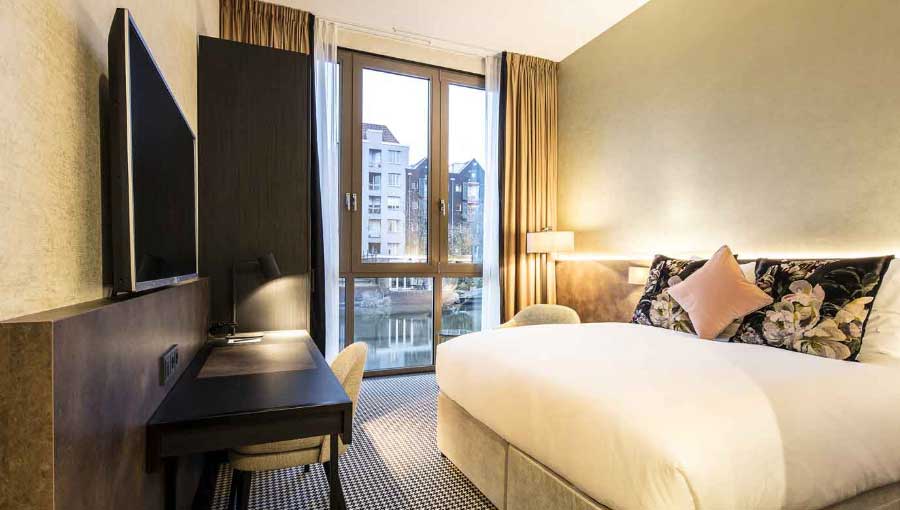 There are some fantastic hotels dotted around the city like the Monet Garden Hotel (pictured) which is actually rated second best hotel in Amsterdam by TripAdvisor reviewers. Picking the right area is important in Amsterdam depending on your plans for the trip. While you might expect Centrum to be the place to be, which is true if you love to be central, love your nightlife and don't mind being close to the red light district.
How To Book An Escape
There are two ways you can book a break. The way we always recommend is an ATOL protected flight and hotel package. Brands like British Airways, Jet2CityBreaks, Expedia and Barrhead Travel, all offer financial protection through the ABTA and ATOL schemes when booking your train or flight with your accommodation. THe alternative is booking your travel arrangements separate to your hotel or apartment, like flights with Ryanair and then an Airbnb home. This can help save money and suit your travel requirements, but just bear in mind you should have travel insurance to help protect your arrangements should anything happen.
More Popular Short Breaks