Where Is Hot In October?
October can be a funny time of year for weather. In the UK it's already started getting cold so it's nice to go abroad to somewhere warm and sunny, especially during the October half term holidays when you have the kids to think about. So if you're wondering where is hot in October, we've pulled together some of our favourite destinations with their average temperatures and sunshine hours for October.

Canary Islands
You don't have to go too far to enjoy hot weather in October. The Canary Islands are a great short haul destination for year round sunshine and in October average day time temperatures are around 22C, with an average 7 hours of sunshine a day.
Wherever in the Canary Islands you prefer, whether it's the beaches of Fuerteventura or the golf resorts of Tenerife, the sunny weather and warm climate is ideal for getting away from the cold weather in the UK.

Cyprus
Cyprus is another great destination for October sunshine with average temperatures in the low 20s, known to reach as high as 28C. Beautiful sunshine on most days helps keep the temperatures up with around 8-9 hours of sunshine each day on average in October.
Both Paphos and Larnaca can be flown into from the UK in October, and as the hotels get quieter following the summer season, there can be some great discounts so you can enjoy the warm weather on a budget.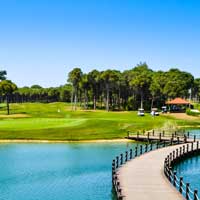 Turkey
While higher up from the equator than Cyprus, Turkey still enjoys wonderful hot weather in October. Plus there are a number of beach resorts in Turkey to enjoy depending on where and how you like to spend your time. Head south to the likes of Olu Deniz for average October temperatures around 21C and 8 hours of sunshine a day.
Temperatures do start to decrease towards the end of the month which is then low season, however, visit at the start of October and you'll be able to grab some great bargain holiday deals.

Bali
Heading much further afield and tropical, Bali is a great long-haul destination for October heat. Flight times might be over 17 hours and involving a stopover, however, with temperatures in the late twenties, rising as high as 32C, Bali offers a slightly more adventurous trip.
Being tropical does have it's set backs, with rain forecast for about 7 or 8 days a month, however, as with most tropical destinations, the rains are often short, sharp bursts. Bali's rainy season is actually December to April so you shouldn't expect days of downpours in October.

Dubai
Not quite as far, Dubai is an ideal location for heat and sunshine in October. While not for everyone, the incredible towers that dominate the skyline can be just that, the skyline. Head out to the likes of the Palm Jumeirah for beautiful sandy beaches and fantastic views of Dubai.
Starting to cool off from the very hot summer months, in October, Dubai enjoys temperatures around 27-29C, often reaching into the 30s making it an ideal holiday destination. It rarely rains in Dubai so you can expect dry weather with around 10 hours of sunshine each day when visiting in October.
More Popular Holidays