Top Algarve Deals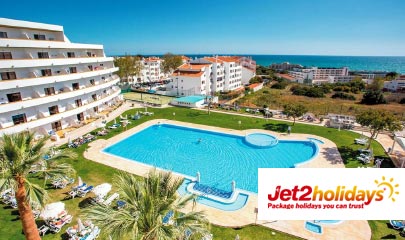 Brisa Sol AparthotelAlbufeira
★★★★
🛏 - 7 nights - 2 adults ✈ - Departs Newcastle 🗓 - Sun 10th December 2023 🍽 - Self Catering
From£399per person
View Deal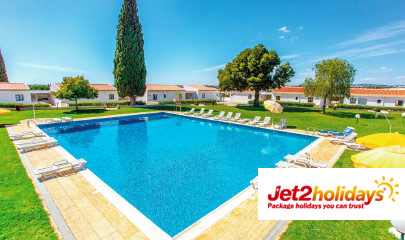 Golf ApartmentsVilamoura
★★★
🛏 - 7 nights - 2 adults, 2 children ✈ - Departs Manchester 🗓 - Thu 14th March 2024 🍽 - Self Catering
From£419per person
View Deal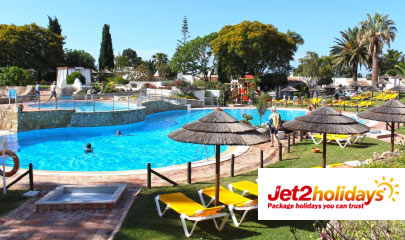 Rocha Brava VillageCarvoeiro
★★★★
🛏 - 7 nights - 2 adults ✈ - Departs Glasgow 🗓 - Tues 30th April 2024 🍽 - Self Catering
From£576per person
View Deal
Algarve Holidays Guide
With an average 12 hours of sunshine a day in the summer, and almost 0mm of rainfall in August, no wonder the Algarve attracts so many holidaymakers, whether for a two week holiday or just a short break in the Algarve. If you're worried about Coronavirus, the Portuguese tourism board has introduced a Clean & Safe seal of approval for hotels and restaurants, ensuring that venues adhere to a series of health and safety requirements to ensure tourists and holidaymakers can be safe on their holidays. This includes aspects like regular disinfection of swimming pools and that Personal Protection Equipment (PPE) such as face masks and hand sanitiser is available throughout the hotels.
From Sagres in the West to Monte Gordo in the East, you'll find an area of the Algarve to suit you, all served by Faro airport, just a three hour flight from the UK. For those who like a lively holiday, Albufeira's nightlife offers plenty of bars and restaurants, while the quieter coastal town of Alvor is perfectly suited to holidaymakers looking for a quieter stay along the Algarve coast.
Top Algarve Excursions

Getting to, from and around the Algarve
Most low cost airlines such as easyJet, Ryanair and Jet2 offer flights from across the UK to Faro, it can be very cheap and easy to get to the Algarve, with a flight time of less than three hours. Many tour operators such as On the Beach, TUI Holidays and Jet2holidays include flights as part of the ABTA and ATOL protected package holiday.
A prebooked transfer is usually the easiest and most cost-effective option to get from Faro airport to your hotel, wherever that may be in the Algarve. Some holiday packages may automatically include coach transfers so be sure to check what is included in the price of your holiday. Vilamoura is just a 30 minute drive from Faro airport while a journey to Praia da Luz in the western end of the Algarve can take just over an hour.
Depending on where you stay, you may find that you don't need to travel around very much, however, some hotels offer shuttles or your hotel can order you a taxi very easily. For those looking to enjoy a bit more freedom or perhaps those booking a villa holiday in the Algarve, hiring a car might be a better option.

Things to do in the Algarve
Apart from basking in the sun, there is plenty to do in the Algarve.
Your hotel may offer activities both for children and adults, such as kids clubs or swimming pool games. For those of you who like to really relax, a spa treatment may be in order, however if your hotel doesn't offer any spa facilities, there are plenty to choose from along the Algarve. Hotel chain Tivoli have several hotels in the Algarve and most have beautiful spa facilities, several have stunning views also. The Tivoli Victoria in Vilamoura offers a rooftop spa centre that overlooks the calming golf course and out to the Mediterranean.
For those who are more active, mountain biking is a great activity if you head in land, and bikes can be hired locally. Ask your hotel for details. With so much on offer in Edinburgh you won't get bored.
Of course there are the stunning beaches, with soft sand and beautiful warm waters of the Med. Why not head along the coast and search for hidden coves that will have less holidaymakers and more peace and quiet.
The town of Albufeira is a great night out with more than enough restaurant and bar choices. There are plenty to choose from and everyone will be trying to coax you into enjoying their cuisine or drinks.

Where to stay in the Algarve
The Algarve can be enjoyed on a budget or in the lap of luxury. If it's a cheap holiday to the Algarve you are after, try staying in one of the busier resorts so you have plenty of choice when it comes to eating out. There are also plenty of self catering options including apartments and villas giving you the freedom of when and what to eat. Alternatively, all inclusive resorts like the Be Live Family Palmeiras Village in Porches means feeding the family is already sorted.
If it's more the luxury end of the scale, there are some stunning golf resort hotels dotted throughout the Algarve, like the Tivoli Victoria Hotel. Food can be delicious but a little pricey as there aren't many other restaurant options in the area.

All inclusive holidays in the Algarve
The Algarve is an ideal destination for an all inclusive holiday. Many of the hotels and resorts here offer a comprehensive all inclusive and half board offering, allowing guests to enjoy their family getaway without having to worry about money once you're there. Take a look at popular all inclusive hotels like the Jupiter Albufeira Hotel with its waterpark and swimming pools, or the Iberostar Selection Lagos Hotel with its impressive views of the sea.
Villa Holidays
If you prefer your own space, check out the numerous villa holidays in the Algarve, from smaller one bed homes, to larger four bedroom villas, perfect for group holidays. Many Algarve villas feature a private pool, gardens and terrace so you can enjoy poolside barbeques. When you book a package holiday with certain tour operators like Jet2 villas, car hire may also be included, giving you the freedom to head to the shops when you need, as well as explore other areas of the Algarve. For some of the best villa locations, check out areas like Albufeira for somewhere a bit busier, or Estoi if you prefer a bit more peace and quiet.
Golf Holidays
The Algarve is an incredibly popular destination for a golf holiday. With sunshine most of the year, and warmer months in Spring, Autumn and Winter than the UK, as well as some fantastic courses, it's easy to see why golfers love it here. Take a look at golf courses like Monte Rei and Palmares for pretty scenery, while the golf course at Vale Do Lobo sits on the cliffs by the beach with stunning views out to sea. The championship course at Penina Resort is also one to take a look at.
Book your holiday
In partnership with

Other Sport Holidays
Because the Algarve enjoys sunshine, it's popular with health, fitness and sports enthusiasts from the UK to take a break and experience a more active holiday in the sun.
Yoga Holidays
If you love a yoga retreat, you'll love a yoga holiday in the Algarve. Many hotels and resorts offer yoga classes as part of your stay, but if you want a bit more dedication to yoga, it's worth getting in touch with your local yoga teacher at home to ask about organised yoga retreats. You'll find many teachers organise specialised yoga retreats in Portugal to take advantage of the sunshine, scenery and tranquility.
Tennis Holidays
Tennis is another popular sport enjoyed outside which is why many choose the Algarve as a tennis holiday destination. Larger resorts and sport focused hotels will offer tennis courts, as will local country clubs too. You can find tennis coaching breaks online too. Take a look at brands like the Healthy Holiday Company for more inspiration.
Cycling Holidays
Cycling holidays in the Algarve also make lots of sense. Booking through a specialist cycling holiday company, you might find a host of benefits like organised trips and bike carriage when booking flights as part of a package. Areas by the coast can be relatively flat, but head inland and you'll find some great road cycling and mountain biking routes. Check out areas like Quinta do Lago.
Frequently Asked Questions
The best towns in the Algarve are Albufeira for nightlife, Vilamoura for a relaxed holiday with access to restaurants and the beach, and Alvor for an expansive beach.
Yes, the Algarve is a very safe area to enjoy a holiday. As with most popular holiday resorts, be a little more careful in the busier tourist areas where pickpockets may operate, otherwise it's a very safe area.
Popular Hotels In The Algarve
Holiday Resorts In The Algarve