Latest All Inclusive Deals To Barbados
All Inclusive Holidays To Barbados
For a tropical escape to the sunshine in 2023 or 2024, where you only have to worry about your spending money, all inclusive holidays to Barbados can be the perfect option. With direct flights from the UK, pristine beaches and a range of great hotels and accommodation, this long haul paradise has long been a favourite for Brits looking to getaway. Far far away.
So if you love great food, rum punch, and fancy visiting some of the best beaches in the Caribbean, this could be the holiday for you. Take a look at our guide below, whether you prefer an all inclusive resort for couples only, or want to make sure the kids have plenty to do while you're chilling by the pool.

Why All Inclusive In Barbados
There's nothing quite like heading off on a tropical holiday, safe in the knowledge that your food, drink and airport transfers are all included, leaving you to just worry about having a good time. With direct flights from the UK and a range of wonderful accommodation from budget friendly a little further inland, to 5 star luxury resorts on the beach, you can tailor your holiday to suit your budget and taste.
When booking an ATOL protected package with the likes of Virgin Holidays, Kuoni, TUI or BA Holidays, you can also be safe in the knowledge your money is financially safe. Always check the terms & conditions of your booking to see what is and isn't included, but generally you'll find your luggage and airport transfers are also included on an all inclusive break.
If you're flexible (and lucky), you may also be able to take advantage of offers like promo code, minimum spend discounts and last minute deals. These can save you hundreds of pounds if you're travelling long haul and there's several of your travelling too. If you're a frequent flyer or you collect Avios or other air miles, airlines like British Airways may be able to offer discounts off your flight only (or package holiday if booking with British Airways Holidays), by using your air miles to pay for some or all of your holiday, or even give you the possibility of an upgrade. If you do collect miles, it's worth checking on the airline or tour operator website to see what's available.
Extras
You may find certain things aren't included within the cost of your holiday. Local alcoholic drinks are usually included but premium ones might not be (there may be the option to upgrade to an "all inclusive plus" package). Things like day trips, excursions or certain activities like sailing lessons may also have an extra charge. In fact, sometimes it's nice to escape the confines of your hotel for a day or two and take a tour of the island, visit Barbados' historic sites, or just head out to try some local cuisine in a nearby restaurant.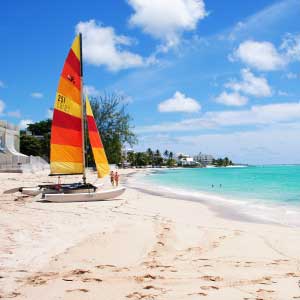 Best All Inclusive Barbados Resorts
All down the west and south coasts in particular are a range of wonderful hotels and resorts. And while you might find plenty of self catering options, including vacation rentals and villas, it's the hotels which offer the all inclusive packages. Here are a few of our favourite areas and resorts in Barbados for all inclusive:
St Lawrence Gap
St Lawrence Gap is a popular spot along the south coast of the island. Here you'll find resorts like The Sands Barbados and Turtle Beach by Elegant Hotels, both of which are within walking distance to the town. Further along you've got the Soco Hotel, Sugar Bay and Coconut Court Beach Hotel in Hastings before moving on up to Bridgetown.
Bridgetown
Bridgetown is the capital city of Barbados, and there aren't too many beach holiday hotels in the area. In fact, Historic Bridgetown became a UNESCO World Heritage Site in 2011. You'll often find more smaller, boutique hotels here, like the Island Inn Hotel, which is part of TUI's Small & Friendly Hotels range, or private apartment and villa accommodation that you might find on the likes of Booking.com or Airbnb.
St James
Further up the west coast you'll start reaching St James, a large area with gorgeous sandy beaches and plenty of accommodation options, including the luxury 5 star Sandy Lane Hotel, with famous guests including Simon Cowell, Tiger Woods and Michael Jordan. With three golf courses, luxury golf holidays here are also possible.
But fear not, there are more budget friendly options available along this stretch of coast, including Tamarind by Elegant Hotels and Mango Bay.
North Coast
There aren't anywhere near as many all inclusive resorts on the north coast. This is because that is the Atlantic Coast so it's less protected and the beaches and coastline can be a little more rugged. If you prefer the soft white sand and turquoise waters of the Caribbean Sea, stick to the western and southern coasts.
Adults Only All Inclusive
Many of the all inclusive resorts and hotels in Barbados are also adults only, offering that peace and tranquility (or that ability to let your hair down), without kids running around or screaming at dinner (we've all been there). So if you prefer less of the drama, and more of the grown up feels, take a look at adults only hotels like Sugar Cane Club Hotel, which is a cheaper holiday option, or The House by Elegant Hotels which is a five-star stay on the beach (and part of the Marriott Hotels chain) for couples only.
Sandals
Sandals is the main hotel brand which is synonymous with some of the best adult only holidays to the Caribbean, and offers resorts on other islands including Jamaica, St Lucia and Antigua. In Barbados, although they are essentially at the same location, there are two Sandals resorts here. Sandals Barbados is the more budget friendly option but still offers an unforgettable experience starting with their Deluxe Rooms. Sandals Royal Barbados however, is the ultimate in luxury, and only offers guests Club Rooms and Butler Suites. There is also a range of swim up room options available too.
Honeymoons
If you're celebrating, you might prefer that your Barbados all inclusive honeymoon is child free, and with there being plenty of adults only hotels here, you'll find many hotels also accommodate honeymoons and will celebrate with you, from special packages like complimentary bubbles and fresh flowers, to simply being able to acknowledge your special occasion with a romantic gesture. Contact your tour operator, travel agent, or the hotel directly to see what packages are on offer. Sometimes it's just worth sending them a quick email to let them know.
Family Friendly Resorts
Of course, it's not all about the grown ups, this magnificent island is also great for kids too. Some of the more family friendly resorts with all inclusive in Barbados include Sea Breeze Beach House by Ocean Hotels, located right on the beachfront near Oistins, and the 3 star Barbados Beach Club, close to Maxwell Beach. Turtle Beach is also an excellent, all inclusive family resort with a range of activities and Flying Fish Kids Club.
Beaches Resorts
Beaches Resorts is the family friendly side of Sandals and offers some of the best family friendly resorts in the Caribbean, however, they've not yet expanded to Barbados. They still only have resorts in Jamaica (Ochos Rios and Negril), and Turks & Caicos.
Free Child Places
There generally aren't free child places available on holidays to Barbados, even with brands like TUI who regularly offer this to other destinations. Instead, you can expect some other deals and offers to take their place. Like one child stays free if you book within a specific promotion period (free flight not included), or kids eat free when travelling on certain dates (often during the low season).
Wedding Packages
Destination weddings are one of the most special ways to celebrate your love, and what better place to celebrate than on the white sand beaches of Barbados. Your hotel will usually be able to help plan and organise your wedding or civil ceremony, with larger resorts like Sandals having dedicated staff in place to make sure your day is planned to the finiest detail and goes off without a hitch. It's also worth checking the latest FCDO travel advice and visa information, and health advice on the National Travel Health Network website to make sure you don't have any problems before you arrive.
Check out these great hotels in Barbados
What's Included
Generally with an all inclusive stay in Barbados, you should expect both your flights and your accommodation included. Depending on who you book with, these flight inclusive holidays may also include check-in luggage and seat selection as standard, but this isn't always the case so check before you book. You may also have shared airport transfers included too. Once at your hotel, all your meals and most drinks will be included, as well as snacks throughout the day. This can vary from hotel to hotel, so make sure to find out how much and what is included. Often motorwise watersports on the beach like jetskis aren't included, but hiring sea kayaks could be.
Frequently Asked Questions
It can be worth going all inclusive, especially if you want to keep an eye on your spending. All inclusive can be a great way to make sure all your meals and drinks are covered, and then if you have the spending money, you can always go out for a meal or two as well.
No, the Colony Club by Elegant Resorts in Barbados can only be booked on a Bed & Breakfast basis.
Luxury All Inclusive
There are some truly incredible luxurious, five-star resorts in Barbados, the most notable being the Sandy Lane Hotel, with its infamous guest list, golf course, incredible beach location and some of the best hospitality you will ever experience. The House by Elegant Resorts (Marriott), on the south of the island, is another of the islands' five star resorts worth taking a look at if you're splashing the cash and want a more luxurious stay, with its soft sandy beach and turquoise waters of the Caribbean Sea, the ideal spot to enjoy the warmer weather.
Book your next all inclusive holiday
In partnership with

Weather
The rainy season in Barbados usually runs from July to November, with many holidaymakers opting for winter or spring holidays as a result. It's worth noting that during the rainy hurricane season, downpours are short and sharp with sunshine often appearing for the rest of the day. Because of this, you'll find this is the low season, when travellers prefer not to visit, but it can actually still be a fab holiday and the prices can be much cheaper during this time too. December and early January are usually the most expensive months with the dry season and Christmas and New Year period both taking place.