Discover Fantastic All Inclusive Morocco Holidays
For year round sunshine in somewhere a little different, without having to worry about spending much extra while you're away, all inclusive holidays to Morocco can be a fantastic option for 2023 and 2024. Combining the Moroccan touches and culture with an all inclusive resort, means you can truly enjoy yourself knowing that pretty much all your costs are already covered. Marrakech and Agadir should be your "go-to" destinations for all inclusive, with a range of resorts with easy access to the medina and souks, and, in Agadir, the beach.
Popular All Inclusive Destinations In Morocco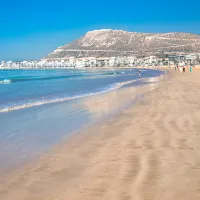 Why All Inclusive In Morocco?
Unforgetable cultural experiences, incredible cuisine, stunning scenery and beach holidays you'll remember forever, Morocco is such an incredible destination. If you're bored of sitting by the pool in the Costa del Sol or Lara Beach and want to discover something more, an all inclusive Morocco holiday allows you to combine all that, with the ability to watch your pennies.
Year Round Sunshine
While many destinations in Europe have better weather than the UK in winter (and in summer), there aren't too many places you can really enjoy some winter sun. Although Morocco is part of northern Africa, not Europe, it's about the same flight time as the Canary Islands, and the same latitude, meaning warm sunshine in December and January both in Marrakech and on the beaches of Agadir and Essaouira.
Not Your Usual Spain or Portugal
We do love the usual holiday suspects like Spain, Portugal and Greece, but you'll definitely have a very different holiday experience in Morocco. Whether it's visiting the traditional souks, trying the local Moroccan mint tea on a roof terrace, or heading up into the dramatic Atlas Mountains to explore than just the pool, there's something very magical about Morocco.
Extra Special Excursions
Staying at your hotel the whole holiday is lovely, not having to worry about a thing. But when you're in a magical country like Morocco, you've got to get out and explore a bit. Booking in advance can be great to ensure you avoid disappointment and get the availability you need, but hotel staff can also help you book a variety of excursions, such as a trip into the Atlas Mountains, out to the sand dunes of the Sahara Desert, or trying a new activity like surfing.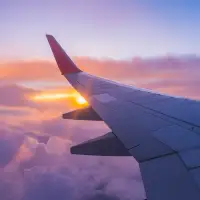 Getting There
Depending on where you're heading, getting to Morocco can be pretty easy with airlines like TUI, easyJet, Ryanair and British Airways. There are lots of flights from regional airports across the UK, including Glasgow, Manchester and London Gatwick to Marrakech, making it a great short break or longer holiday option. The beach resort of Agadir can be a little more difficult to get to, while places like Casablanca and Essouira have only a few flights from bigger airports on offer.
Tour Operators
By far, the best way to book an all inclusive holiday to Morocco is with a reputable, ABTA and ATOL protected tour operator like easyJet Holidays, TUI and Expedia. They offer flight and hotel packages which are financially protected, however, check to make sure what is and isn't included within your all inclusive holiday. For example, when booking via TUI Holidays on a TUI flight, your luggage and airport transfers are usually included. When booking through loveholidays, On The Beach or Travel Republic, however, you may need to add these on during the booking process.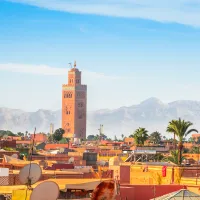 Popular Destinations
Marrakech
Marrakech might not be the first place that comes to mind when you think of a family holiday by the pool. In fact, it might conjure up images of hectic markets, snake charmers and busy souks. And to an extent, that's part of the magic of Marrakech. Combining a trip to the Medina and Jemaa el-Fna Square, to grab a bargain souvenir or try some of the local dishes, all while being able to head back to your hotel swimming pool for a bit of peace and quiet when it all gets too much. The local riads are a great experience although don't generally offer all food included. Instead, some of the larger resorts outside the city centre provide pools and tropical gardens to enjoy, while knowing that all your meals and drinks are included.
Agadir
If you prefer to spend more time at the beach, Agadir provides a number of all inclusive hotels which are close to Plage d'Agadir, such as the TUI BLUE Riu Tikida Beach, Iberostar Founty Beach and the luxurious Sofitel Agadir Thalassa Sea & Spa Hotel. Most of the hotels along the beachfront are self contained, but you can easily take an excursion to visit local attractions like the Jardin d'Olhao and souks. Agadir is in the south of Morocco (athough not quite as south as the Canary Islands), meaning you'll get some great weather all year round.
Taghazout
If it is literally a fly and flop type holiday, not wanting to venture out of your hotel unless it's to dip your toes in the ocean, Taghazout could be more your thing. 30 minutes north of Agadir, the small, beachside town of Taghazout offers a number of self-contained, beachfront hotels, with multiple restaurants, expansive gardens, various pools and a range of entertainment options. Places likes the Hilton Taghazout Bay, Riu Palace Tikida Taghazout and the Radisson Blu Resort all offer such activities and amenities.
Casablanca
Despite being on the coast, as the largest city in Morocco, Casablanca isn't your typical holiday resort. In fact, it's much more suited to a city break destination. The beaches along this stretch of coast are less lined with all inclusive resorts, and more about the local, self catering, beach vibe. Head north or south out of the city and you'll still be able to relax on these Atlantic Ocean beaches, but just don't expect sprawling, family hotels with endless pools and activities.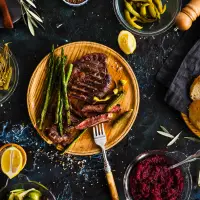 Holiday Types
Family Holidays
All inclusive, family holidays in Morocco are made possible at accommodation like the AQI Aqua Mirage Club, Pickalbatros Aqua Fun Club, and Kenzi Club Agdal Medina in Marrakech. With things like dedicated kids' clubs, water parks and waterslides, children's pools and plenty of family friendly activities, you certainly won't worry about the little ones gettting bored. Plus many hotels now have a dedicated children's section in the buffet restaurant.
Adult Only Holidays
If it's a grown-up up escape you're after, places like the Be Live Collection Marrakech, and TUI BLUE Medina Gardens hotel are dedicated adults only spaces. So no screaming kids running around. Just a truly relaxing break, by the pool with the added option of day trips to see the local sights.
Luxury Holidays
Hotels like the Riu Tikida Palace Agadir, Riu Tikida Palmeraie in Marrakech, and the Fairmont Taghazout Bay all offer a luxurious experience. Upgrade your room, or dining experience to enjoy a la carte restaurants, or simply enjoy the international buffet selection on offer at each of these 5-star hotels.
Last Minute Holidays
Marrakech, in particular, can be a good last minute option for all inclusive holidays, mainly because there are more flights from the UK here than other destinations in Morocco. Plus you'll find a whole host of accommodation options too, from quiet riads and self catering homes, to luxury hotels and more. As always, be flexible for the best deals.
All Inclusive Hotels In Morocco We Think You'll Love
More Great Holidays