Cheap Holidays To Hurghada
Pack your flip-flops and get ready for an adventure like no other as we dive into the sunny shores of Hurghada, Egypt. With its dazzling beaches, vibrant marine life, and rich cultural experiences, Hurghada is a haven for UK holidaymakers seeking an unforgettable escape. In this guide, we'll show you how to get there, introduce you to some fantastic hotels, unravel the exciting activities awaiting you, and explore the diverse holiday types that Hurghada offers. So, let's set sail for the Red Sea and embark on an Egyptian journey filled with sun, sand, and smiles on a holiday to Hurghada!
Popular Hotels In Hurghada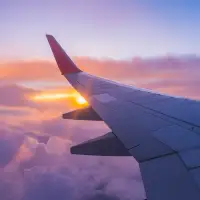 Getting To Hurghada
Airlines & Tour Operators
Getting to Hurghada from the UK has never been more accessible, with various airlines and tour operators offering services to Hurghada International Airport. Major airlines like TUI Airways, BA, and easyJet operate direct flights from major UK airports, ensuring a convenient start to your holiday.
If you prefer a stress-free package holiday, reputable tour operators such as TUI, Love Holidays, and Blue Sea Holidays offer a range of package holidays. These packages usually include flights and hotel, although things like airport transfers, seat selection and check-in luggage isn't always included, so check with your travel agent before you book and travel.
Visas
For UK travellers, obtaining a tourist visa upon arrival at Hurghada International Airport is straightforward, but it's essential to check the latest travel advisory and requirements before your departure on the Foreign, Commonwealth & Development Office (FCDO) website.
Where To Stay In Hurghada
For families seeking an unforgettable getaway in Hurghada, consider the TUI BLUE Crystal Bay Resort. This family-friendly haven offers spacious accommodation, a private beach. Children will have a blast at the dedicated kids' club, ensuring parents can enjoy at least a little peace and quiet, on their holiday.
Couples looking for an adults-only retreat will find solace at the Premier Le Reve Hotel & Spa, a luxurious sanctuary that promises a relaxing atmosphere. With a private beach, elegant rooms, fine dining options, and a world-class spa, it's the perfect setting for a romantic escape.
Spontaneous travellers in search of a last minute holiday to Hurghada can embrace the unplanned at the SUNRISE Romance Resort Sahl Hasheesh. This charming resort offers comfortable accommodations, access to a pristine beach, and easy proximity to the vibrant town of Sahl Hasheesh.
For those seeking the ultimate in all-inclusive comfort, the Iberotel Makadi Beach awaits. Set along the beachfront, this resort provides not only comfortable rooms but also a private beach, a variety of dining options, and an array of water sports activities to ensure guests have an enriching and worry-free stay.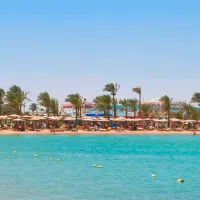 Things To Do In Hurghada
The attractions and activities in Sharm el Sheikh and Hurghada cater to everyone:
Scuba Diving & Snorkeling
No trip to Hurghada is complete without exploring the mesmerising underwater world of the Red Sea. Hurghada is renowned for its stunning coral reefs and diverse marine life, making it a paradise for scuba diving and snorkelling.
Adventure
Embark on thrilling desert safaris, where you can ride camels, go quad biking, or experience a night under the stars in a Bedouin camp. The desert landscapes are both serene and breathtaking.
Water Sports
If you're an adrenaline junkie, Hurghada offers an array of water sports, including kitesurfing, windsurfing, parasailing, and jet skiing. The gentle Red Sea waters provide the perfect playground for aquatic adventures. Many of the non-motorised sports like kayaking and paddleboarding can be included in your stay.
Nightlife
As the sun sets, Hurghada comes alive with a vibrant nightlife scene. Enjoy a mix of international and Egyptian cuisine at local restaurants, dance the night away in clubs, or simply unwind at beachfront bars with live music.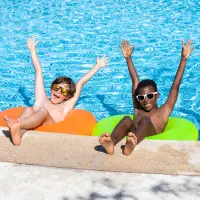 Holiday Types In Hurghada
Family Holidays
Hurghada's family-friendly resorts like Jaz Aquaviva offer a multitude of activities and amenities for children, including water parks and kids' clubs, ensuring a memorable and stress-free holiday for families. Free child place holidays are sometimes available at selected resorts when booking with TUI Holidays, helping you save even more money.
Adults Only
Couples seeking a romantic escape can find serenity and intimacy at adults-only resorts like Mamlouk Palace Resort, where you can enjoy a private beach, fine dining, and spa experiences in a tranquil setting.
All Inclusive
For those who prefer a worry-free escape, all inclusive resorts in Hurghada like the Steigenberger Aldau Beach Hotel provide everything you need, from comfortable accommodation to buffet restaurants and exciting water sports activities.
Last Minute Getaways
Spontaneous travellers can take advantage of last-minute deals and enjoy the warm weather of Egypt, and relaxation offered by resorts like Titanic Palace Hurghada.
More Great Holidays