Cheap All Inclusive Holidays To Egypt
When it comes to sun-soaked getaways, Egypt's Sharm el Sheikh, Hurghada and Dahab are at the top of the list for many UK holidaymakers seeking all-inclusive bliss. These Red Sea gems offer the perfect blend of relaxation, adventure, and cultural exploration. From exquisite underwater worlds to desert adventures and historical marvels, all-inclusive holidays in Egypt cater to every taste. In this guide, we'll delve into the enticing world of all-inclusive Egypt holidays, from getting there with ease to uncovering popular resorts, exciting activities, and holiday types suited for families, couples, and spontaneous travellers.
Popular All Inclusive Hotels In Egypt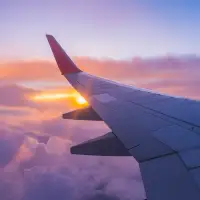 Getting To Egypt
Getting to Sharm el Sheikh and Hurghada from the UK is a breeze, thanks to a range of airlines and tour operators dedicated to making your journey smooth. Major airlines such as British Airways, TUI Airways, and easyJet operate regular flights to these sunny destinations, with several flights departing from major UK airports.
For those who prefer hassle-free package holidays, trusted ABTA and ATOL protected tour operators like TUI, On The Beach and easyJet Holidays offer a range of all-inclusive options. These packages typically include flights and accommodation, although things like airport transfers aren't always included so check before you book.
All Inclusive Destinations In Egypt
Sharm el Sheikh and Hurghada boast an impressive array of all-inclusive resorts, each with its unique charm and offerings. Whether you're looking for family-friendly fun, an adults-only retreat, or last-minute relaxation, there's a resort to match your desires.
Sharm El Sheikh
Reef Oasis Blue Bay Resort: Perfect for families, this resort offers spacious rooms, multiple swimming pools, water slides, and a kids' club. Parents can unwind at the spa or enjoy nightly entertainment.
Baron Palms Resort: Catering to adults seeking tranquility, this resort features luxurious rooms, a private beach, multiple dining options, and a spa for ultimate relaxation.
Xperience St. George Homestay: Ideal for last-minute escapes, this charming resort offers comfortable rooms, a large pool, and easy access to Sharm el Sheikh's attractions and nightlife.
Hurghada
Jaz Aquaviva: Families love this resort for its massive water park, spacious accommodations, and numerous dining choices. Parents can indulge in a spa treatment while the kids have a blast.
The Makada Spa Hotel: An adults-only haven, this resort offers serene surroundings, elegant rooms, fine dining, and a spa to rejuvenate your senses.
TUI BLUE Crystal Bay Resort: A fantastic resort in Hurghada that's ideal for both family holidays and romantic escapes, the 5-star TUI BLUE Crystal Bay Resort has three outdoor pools, as well as swim up rooms.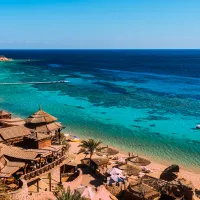 Things To Do In Egypt
You might want to stay within your the confines of your all inclusive resort, and enjoy some relaxing time by the swimming pool bar, sipping on a cocktail or two, but there are loads of things to see and do outside of the hotels.
Desert Safari
Although not included in all inclusive packages, a desert safari excursion is an exciting way to spend some time. Embark on thrilling desert safaris, where you can ride camels, go quad biking, or even spend a night under the stars in a Bedouin camp. The arid landscapes of Egypt's deserts are a sight to behold.
Water Sports
If you're a water sports enthusiast, you can indulge in kitesurfing, windsurfing, parasailing, and jet skiing along the coast. The Red Sea's gentle waters are perfect for trying out these exciting activities. Some beachfront hotels may include non-motorised watersports within their all inclusive offering.
Snorkelling & Scuba Diving
Explore the mesmerising underwater world of the Red Sea, known for its colorful coral reefs and diverse marine life. Both Sharm el Sheikh and Hurghada offer fantastic scuba diving opportunities, with numerous PADI-certified centers.
Nightlife
As the sun sets, the nightlife in both Sharm el Sheikh and Hurghada comes to life. Enjoy a mix of international and local cuisine at restaurants, dance the night away in clubs, or simply relax at beachfront bars with live music.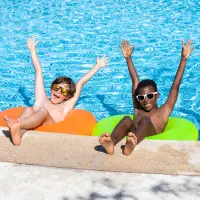 All Inclusive Holidays In Egypt
Family Holidays
Resorts like Jaz Aquaviva in Hurghada and Reef Oasis Blue Bay Resort in Sharm el Sheikh are designed with families in mind, offering kid-friendly amenities, water parks, and supervised activities, allowing parents to relax while the little ones have a blast. Many resorts also have free kids places in combination with TUI flights to help you save money.
Adults Only
Couples seeking a romantic getaway can find serenity at adults-only resorts like The Makadi Spa Hotel in Hurghada or Baron Palms Resort in Sharm el Sheikh, where you can enjoy private beaches, gourmet dining, and spa treatments in a tranquil atmosphere.
Last Minute
If you're craving a spontaneous adventure, resorts like Mamlouk Palace Resort in Hurghada and Xperience St. George Homestay in Sharm el Sheikh provide easy access to local attractions and are perfect for impromptu getaways.
More Great Holidays