Cheap Holidays To Sharm El Sheikh
If you're on the hunt for a dazzling destination that'll have you basking in the sun, diving into crystal-clear waters, and exploring vibrant coral reefs, then Sharm El Sheikh is your ticket to paradise. Nestled on the Red Sea coast, this Egyptian gem offers a world of adventure and relaxation. In this guide, we'll spill the beans on how to get there, unveil some fantastic hotels, show you what you can do, and explore the diverse holiday types you can dive into in Sharm El Sheikh. So, grab your shades and flip-flops – we're heading to a sun-soaked adventure on a holiday to Sharm El Sheikh!
Popular Hotels In Sharm El Sheikh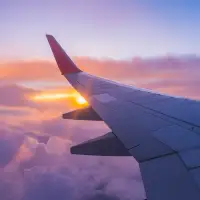 Getting To, From And Around Sharm El Sheikh
Airlines & Tour Operators
Getting to Sharm El Sheikh from the UK is a breeze, thanks to a variety of airlines and tour operators ready to whisk you away to this dreamy destination. Major airlines like TUI Airways and easyJet operate direct flights from most UK airports, including Manchester, Edinburgh and Birmingham, although you might find some of the services are seasonal, operating only in the summer months.
For those who prefer the ease of a package holiday, companies like TUI, easyJet Holidays and On The Beach are ABTA or ATOL protected. The flight and hotel packages on offer can vary, with some tour operators also including things like airport transfers and a piece of check-in luggage within the cost of your holiday. Others, you might need to add this on during the booking process.
Visas
When it comes to visa requirements, you'll find the process straightforward as a UK citizen. You can snag a tourist visa upon arrival at Sharm El Sheikh International Airport. However, it's a smart move to check for the latest travel requirements on the FCDO (Foreign, Commonwealth & Development Office) website, before you jet off.
Where To Stay In Sharm El Sheikh
For families craving an unforgettable retreat in Sharm El Sheikh, consider the Savoy Sharm El Sheikh. This place is like a paradise for kids and parents alike. With spacious rooms, a private beach that feels like it's right out of a postcard, and a fantastic kids' club, you can bet your little ones will be entertained for hours. Meanwhile, you can finally kick back and relax without a care in the world.
If you're a couple in search of an adults-only escape, the Rixos Premium Seagate is the ultimate choice. It's like stepping into a dream. Here, you'll find a private beach that practically whispers romance, elegant rooms that are basically love nests, gourmet dining experiences that'll make your taste buds do a happy dance, and a lavish spa that's basically a love potion for couples.
Now, let's talk about last-minute getaways. If you're the kind of traveller who believes spontaneity is the spice of life, then the Coral Sea Holiday Village is your go-to spot. Comfortable rooms, beach access that's practically at your doorstep, and quick access to Sharm El Sheikh's vibrant attractions and nightlife make it perfect for those who live for the moment.
And if you're the type who wants everything taken care of, look no further than the Arabian Beach Resort. It's the kind of place where you can let your worries float away on the waves. With luxurious accommodations, a private beach that feels like it's all yours, a treasure trove of dining options, and a bunch of water sports activities to keep you entertained, it's like stepping into a world of relaxation and indulgence.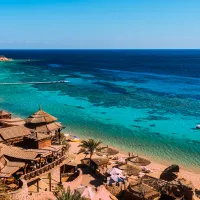 Things To Do In Sharm El Sheikh
Sharm El Sheikh is a treasure trove of activities, ensuring that every holidaymaker has an unforgettable experience:
Desert Excursion
Book onto a desert safari, where you can hop on a camel, go quad biking, or spend a night under the starry skies in a Bedouin camp. The desert landscapes are both serene and breathtaking. Your hotel or travel rep will be able to help you book this, or you can jump online and book in advance.
Water Sports
Sharm El Sheikh offers a range of fantastic water sports, including windsurfing, parasailing, and jet skiing. The calm waters of the Red Sea are a paradise for aquatic adventures like this. And how could we talk about Sharm without talking about the incredible snorkelling and scuba diving on offer, renowned for vibrant coral reefs and exotic marine life.
Nightlife
Come evening time, your hotel or resort will likely have some sort of evening entertainment programme, however, you can also venture out and explore the local area, trying out local restaurants and bars.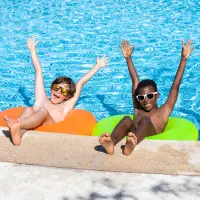 Holiday Types In Sharm El Sheikh
Family Holidays
If you're traveling with your family, Sharm El Sheikh is an ideal choice. Picture this: You and your kids splashing around at the fantastic water park in the Coral Sea Water World. Spacious family rooms, a soft sand beach, and a kids' club ensure your family has a fantastic time, and you get some well-deserved relaxation.
Adults Only
For a romantic escape, Sharm El Sheikh has just the place – the Four Seasons Resort Sharm El Sheikh. Here, you can enjoy a golden sand beach, luxurious rooms with breathtaking views, and exceptional dining options perfect for a romantic dinner by the sea. Mind you, it is a little pricey!
All Inclusive
Seeking an all-inclusive haven? Look no further than the Baron Palms Resort Sharm El Sheikh. With elegant accommodation, a beachfront location, a variety of dining choices, and top-notch water sports activities, it's the perfect place to indulge and relax.
More Great Holidays