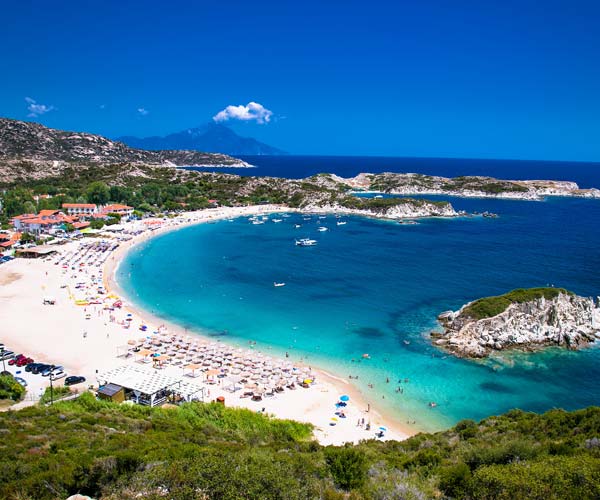 Cheap Halkidiki Holiday Offers
Our Complete Guide To Holidays In Halkidiki In 2023/2024
Halkidiki is a fantastic holiday destination on Greece's mainland with a number of popular resorts set amongst the pretty peninsulas of the area. Flying into Thessaloniki, transfer times in the region can take anywhere from 30-90 minutes depending on your final hotel.
Getting to, from and around Halkidiki
When travelling to Halkidiki, you'll fly into Thessaloniki airport (airport code: SKG) with airlines like Jet2, TUI, easyJet and Ryanair. The time it takes to travel from the airport to your hotel will vary depending on the region or resort you're staying at. It can be anywhere between 30 and 90 minutes if you're taking a shared coach transfer (as you may have other hotels to stop at on the way for other holiday makers). If you're planning to spend most of your time at the hotel or in-resort, this can be the best and most affordable way to travel from the airport to your hotel.
If you intend to escape the confines of the hotel and discover more of the region, car hire can be a great option, and affordable too. It's best to book this in advance and pick up at the airport to maximise your time and stay, and get a great deal. The more you drive around, the more you'll find a quiet sandy beach here, or a couple of secret beach bars there.
Things to do in Halkidiki
There's a real mix of things to see and do in Halkidiki. You can discover quiet beaches along the coast and cute little seaside towns with idyllic tavernas offering authentic Greek dishes. Or you can party until the early hours at one of the clubs or bars in Kassandra. Or you can simply chill out and relax by the pool at one of the many luxury hotels here. The choice really is up to you.
Day trips and excursions
Why not try out a boat trip to the Blue Lagoon and Ammouliani Island and enjoy the crystal clear waters of the Aegean Sea, or perhaps you'd prefer a day trip up into the hills to discover old villages, archaeological sites, pine forests and olive groves? You can also enjoy a trip to the eastern peninsula of Athos, where you'll find Mount Athos, a Unesco World Heritage Site, which is home to 20 monasteries.
Beaches
Halkidiki is designed for beach holidays. The beaches in this part of Greece are fabulous and 96 of them have the infamous Blue Flag Beach status. Whichever hotel, villa or apartment you stay at, you'll never be to far from the soft sand. Rarely do the beaches get packed here, meaning you can enjoy the peaceful sounds of the waves crashing, test out your skills with loads of water sports, or simply take in the breathtaking scenery at one of the many beachfront bars.
Where to stay in Halkidiki
There are a number of smaller holiday resorts within Halkidiki such as Kalives and Hanioti for long stretches of beaches, or if you prefer quieter resorts, try Kriopigi or Psakoudia. Here are a few of the popular beach resorts in the Halkidiki region:
Kriopigi
Just one of the many charming villages within this part of Greece, Kriopigi is a relatively quiet resort for holidaymakers. The town itself is located in Kassandra, is set back from the sea and offers a few local bars and restaurants while the surrounding area is dotted with small hotels and boutique B&Bs, including the popular Alkion Hotel, a four-star hotel just a few minutes walk from nearby Kriopigi Beach.
Kalives
Kalives (also known as Kalyves Polygyrou) is home to both of the TUI BLUE hotels in Halkidiki, the TUI BLUE Lagoon Princess and TUI BLUE Lagoon Palace. The area is relatively quiet and you'll no doubt spend most of your time by the pool or enjoying all the activities on offer, however, with easy access to the beach from both properties, you can then walk all the way up the beach to a slightly busier part of the town where there are a few tavernas to grab a drink and Greek tapas.
Hanioti
Also known as Chaniotis, Hanioti sits on a lovely stretch of soft, sandy beach. This resort town features a good range of restaurants, bars and accommodation options, from self catering apartments to premium resorts, with the village square at its core. There are a couple of beach bars, as well as one or two places to try out watersports or even take a scuba diving trip to an offshore shipwreck.
Popular hotels in Halkidiki
Weather In Halkidiki
The weather in Halkidiki ranges from 9°C in January (which is why most resorts close over winter and airlines stop flying between November and April) to over 30° in July and August. If you don't like it too hot, a visit in May or September can make for the perfect holiday when temperatures are usually in the mid 20s and the sun shines most days.
Nightlife In Halkidiki
In terms of nightlife, it's typically quieter than other Greek holiday destinations, however, you can see find some great all-night clubs and lively beach parties, particularly in Kassandra and areas like Sani and Kallithea.
Deals & Offers
With several airlines flying from across the UK to Thessaloniki airport, there are some great deals to be had, especially outside of the summer school holidays. ATOL protected brands like Thomas Cook, Love Holidays and British Airways all offer flight and hotel packages, while tour operators like TUI and Jet2holidays will often include things like check-in baggage and airport transfers within your booking. Check also for free child places to help you save money.
Regional flights are also possible during the high season with Jet2 and TUI flying from cities like Birmingham, Bristol, Manchester and Edinburgh. Whoever you choose to book with, always take out comprehensive travel insurance and check the most up to date advice about Greece with the UK Foreign, Commonwealth and Development Office.
Frequently Asked Questions
Halkidiki is a great place to go on holiday, especially as a couple or family who want to enjoy the Greek sunshine and maybe enjoy some of the local Greek culture and history.
Yes, Halkidiki can be good for families. While you haven't good big theme parks or anything, the area offers great family holiday accommodation with hotels here often providing things like kids clubs.
Yes, there are some great all inclusive resorts in Halkidiki, including Akrathos Beach Hotel in Ouranoupolis, the Philoxenia Hotel in Psakoudia and Lagomandra Hotel & Spa in Neos Marmaras.
Family Friendly Halkidiki
There are plenty of accomodation types that cater to families. Luxury, five star hotels like the TUI BLUE Lagoon Princess, which is one of the larger resorts in the area, offer a comprehensive list of activities and entertainment for children, such a poolside games, live music and kids clubs, plus you're never far away from the white sand beaches which is always fun. These hotels usually have great swimming pools for children too.
Book your next getaway with TUI Holidays
In partnership with

Similar Destinations