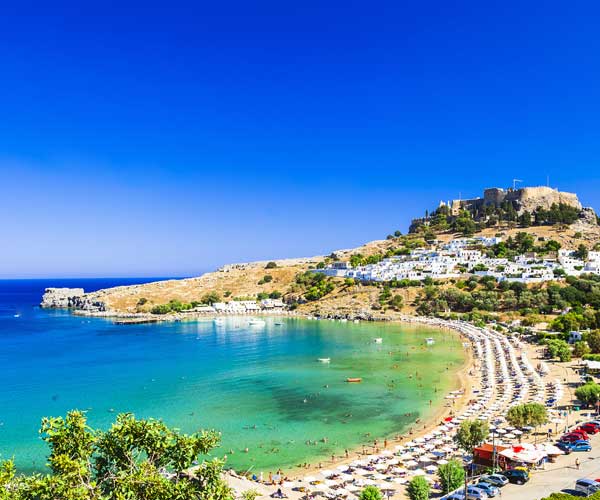 Cheap Rhodes Holidays
Our Complete Guide To Holidays In Rhodes In 2023 / 2024
While often known for it's party side, holidays to Rhodes are also ideal for families looking to enjoy a beach holiday. Although Rhodes airport and Rhodes town are in the north, you'll find many of the popular tourist resorts like Faliraki, Kolymbia and Lindos, are dotted along the southern coast of the island where there are some fantastic beaches to be enjoyed. If you love to explore, head inland or to the west/north of the island where you'll find quieter Greek towns like Mandriko and Monolithos.
Getting to, from and around Rhodes
Flying to Rhodes from the UK takes around 4.5 hours direct and many airlines offer direct flights, including the low-cost ones like Ryanair and easyJet. Once on the island, if you're planning to just enjoy spending time in the sunshine by the pool, you're best bet is to book an airport transfer in advance. This can be very affordable and easy, especially if you've got kids to herd around.
If you prefer to get out an explore, hiring a car is a good option, giving you the freedom and flexibility to discover Rhodes in your own time and at your own pace. Don't worry though, there are taxis on the island and you can also organise excursions once you're in resort at your hotel.
Things to do in Rhodes
You'll no doubt be wanting to spend time relaxing by the pool while you're on holiday in Rhodes, but there is plenty to see and do while you're on the island. For a start, the crystal clear waters of the Mediterranean can only be enjoyed when you're at the beach, and there are lots of lovely beaches to find. Lindos Beach is one of our favourites, and Kiotari offers a wide stretch of beach with plenty of space.
If you like a lively holiday, head to Faliraki, full of bars and restaurants and where you'll find the main nightlife on the island. But if you prefer discovering a bit more about the culture of the place, head to Rhodes Town and explore areas like the Palace of the Grand Master of the Knights of Rhodes and the Acropolis of Rhodes.
If you like spending time in the outdoors, there are plenty of hiking trails around the island, from coastal walks to more adventurous mountain climbs, allowing you to take in the truly incredible views from the various vantage points. Have a look at hikes to Mount Profitis Ilias for some of the best views on the island. You'll no doubt spot the numerous ruins dotted about the island, whichever hike you decide to take.
Where to stay in Rhodes
Most of the popular holiday resorts in Rhodes are along the south of the island and you'll what to choose where to stay on Rhodes depending on what sort of holiday you prefer. If you like to get off the plane and be by the pool in a flash, hotels closest to the airport are in Ialyssos which is a quieter resort with a typical Greek feel.
Head to Rhodes Town and Faliraki for livelier holidays, offering a range of different accommodation from cheap apartments to luxury hotel resorts. If you prefer somewhere a little quieter, you can truly escape the further from the airport you go. Try places like the Atrium Prestige Thalasso Spa Resort near Lachania Beach, or you might prefer the TUI MAGIC LIFE in Plimmiri which offers an expansive holiday resort with plenty of activities from volleyball to the onsite water park.
Popular hotels in Rhodes
Similar Destinations