Cheap All Inclusive Holidays To Hurghada
If you're dreaming of sandy shores, clear waters, and the ultimate relaxation without a care in the world, then a trip to Hurghada, Egypt, might be your ticket to paradise. In this guide, we're diving into the nitty-gritty of all inclusive holidays to Hurghada. We'll help you with getting there, finding the perfect place to stay, highlight some awesome things to do, give you the lowdown on what to expect with all-inclusive packages, and explore the various holiday types to cater to your needs. So, get ready to soak up the sun and let's embark on this Egyptian adventure for 2023/2024
Popular All Inclusive Hotels In Hurghada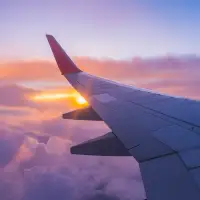 Getting To Hurghada
Airlines & Tour Operators
Hurghada is beckoning, and getting there from the UK is a breeze. Several airlines, including TUI Airways and easyJet, offer direct flights from major UK airports like London Gatwick, Manchester, and Birmingham to Hurghada International Airport. No need for layovers or hassle; you'll be on the Red Sea in no time. Some services may be seasonal with more in the summer months.
Now, if you prefer a seamless holiday package that is protected by the ABTA and ATOL scheme, you can rely on trusted tour operators like TUI and Thomas Cook to handle everything for you. Packages will always include flights and hotel but anything else will depend on who you book with. For example, TUI adds in airport transfers within the holiday price, where as On The Beach, you'll need to add it on before you pay. And don't forget that TUI also has a low deposit option for many hotels.
Don't forget to stay updated on the latest travel information, including visa information, as these may change over time. You can find out more on the Foreign, Commonwealth & Development Office (FCDO) website.
Where To Stay In Hurghada
Hurghada has a diverse array of accommodations to suit every taste and budget. Here are some of our favourite all inclusive hotels in Hurghada:
Steigenberger Al Dau Beach Hotel: This luxurious beachfront hotel offers elegant rooms, an outdoor swimming pool and lazy river, private beach, multiple dining options, and a range of water sports activities to keep you entertained.
Mövenpick Resort & Spa El Gouna: Located in the beautiful El Gouna area, this resort features stunning architecture, a sandy beach, spa facilities, and access to the vibrant town of El Gouna.
The Grand Resort Hurghada: Offering a mix of affordability and comfort, this resort boasts spacious rooms, and a variety of dining choices, making it an excellent option for families and couples.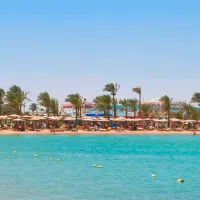 Things To Do In Hurghada
In Hurghada, there's no shortage of adventure. Dive into the crystal-clear waters for snorkeling or diving through the coral reefs and tropical fish, explore the desert on a thrilling desert safari, visit historical attractions like the Hurghada Grand Aquarium and Old Town, indulge in water sports like kayaking, jetskiing and windsurfing, and enjoy the vibrant nightlife scene in the local area.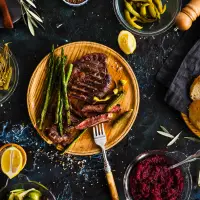 What To Expect On An All Inclusive Holiday In Hurghada
With an all inclusive holiday in Hurghada, you can expect a worry-free escape. Everything is covered – from your accommodation to meals and sometimes even drinks and activities. You can dine at various restaurants, relax by the pool or beach, and participate in evening entertainment programs without reaching for your wallet constantly. It's a fantastic way to unwind and enjoy the Red Sea paradise without the hassle of budgeting.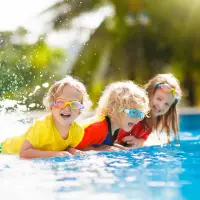 Holiday Types In Hurghada
Family Friendly Holidays
Many resorts in Hurghada are family-friendly, offering kids' clubs, water parks, and activities for children. It's the perfect setting for a memorable family escape. Don't forget that some hotels offer free child places in partnership with TUI.
Adults Only
If you're seeking a romantic or peaceful getaway, adults-only resorts like Steigenberger Al Dau Beach Hotel provide a serene environment, private beaches, and luxurious amenities.
Last Minute Holidays
Hurghada often has last-minute deals that adventurous travellers can make the most of. Be flexible in when you go and, if you can, where you fly from, as this can open up your options.
More Great Holidays