Find Your Ideal Holiday With
Cheap Majorca Holidays
TUI BLUE Alcudia PinsMajorca
★★★★
🛏 - 7 nights - 2 adults, 2 children ✈ - Departs London Gatwick 🗓 - Wed 24th Apr 2024 🍽 - Self Catering
From£450per person
View Deals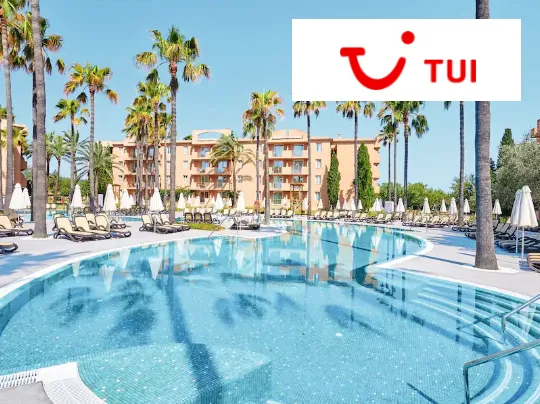 Protur Bonaire AparthotelCala Bona
★★★★
🛏 - 7 nights - 2 adults, 2 children ✈ - Departs Manchester 🗓 - Sat 11th May 2024 🍽 - All Inclusive
From£580per person
Find Out More
Popular Resorts In Majorca
Majorca Holidays Guide
While temperatures get cooler in the winter months, Majorca is still warmer than the UK with an average six hours of sunshine per day in winter and up to 12 hours in summer, ideal if you find yourself suffering from seasonal affective disorder, or you just want a cheap break in the sun.
And the best part? Holidays to Majorca start from less than £100pp.
Popular Hotels In Majorca
Getting to, from and around Majorca
Low cost and charter airlines like Ryanair, easyJet and Jet2 fly year round from the UK to Palma. Expect more flight options during the summer months as the holiday season ramps up. Between May and September, you can expect many regional airports like Bournemouth, Belfast, Newcastle and Norwich to offer direct flights too.
Public Transport
Bus services around the island are frequent, but be mindful of first and last buses, as well as Sunday services. From the airport, you can get to many of the popular areas like Palma city centre, Alcudia, Palmanova, Magaluf, Can Picafort, Cala Bona and S'Arenal. Buses depart from outside the arrivals hall at Palma Airport.
Airport Transfers
By far one of the easiest and cheapest ways to get from the airport to your hotel is with an airport coach transfer. These can be booked in advance when you book your holiday in Majorca. Companies like TUI and Jet2holidays are likely to include shared airport transfers within your package holiday, so that's one less thing to worry about.
Car Hire
If you are looking to explore Majorca, a hire card provides flexibility and the ability to discover the quieter coves, beaches and villages of the island. There are a number of car hire companies at the airport and it's always advised to book before you arrive to get the best deals. You may also be able to hire a car for a day or two from your hotel or in the resort you are staying. Speak to hotel staff for more information.
Ferries To Nearby Islands
Ferry services to neighbouring islands from Palma is a great overnight trip to explore more of the Balearics. Twin centre holidays to the Balearic Islands aren't common but can be organised by yourself, booking your flight and hotels separately, with the ferry inbetween.
Things to do in Majorca
There are plenty of things to do in Majorca no matter your interests or your budget.
A walk around Palma Old Town highlights some of the islands cultural history. The narrow streets with beautiful juliet balconies, lead to the impressive Sa Seu Cathedral, one of Majorca's most iconic buildings. If you want to get away from the pool or beach for a bit of culture, this gothic cathedral will leave you gawping at its sheer size.
If you're a fan of the outdoors, Majorca is home to the Serra de Tramuntana, a mountain range and UNESCO World Heritage Site in the west of the island, and about an hour and a half drive from Palma. The stunning scenery from some of the peaks and view points makes the hiking and biking trails well worth the effort.
Where to stay in Majorca
First thing's first, if you don't yet know where to stay, take our quiz to find the best Majorca resort for you.
Now we've got that out the way, let's dive into a few of our favourites.
The combination of great eateries, Old Town culture and nightlife make the main city of Palma an ideal location for a short holiday or city break. Hotels along the Avinguda de Gabriel Roca offer rooms with superb views over the marina.
If it's beach life you're after, venture further out to holiday hotspots like Alcudia in the north or S'illot in the east. Althought they may take a little longer from the airport the beaches in both are beautiful.
If you're after nightlife, try the popular holiday resort of Magaluf, south of Palma. Whilst having a reputation as a messy night out, there are still some great bars perfect for relaxing in with a beer or wine. For those who want to stay at a party hotel, check out somewhere like the BH Mallorca hotel which hosts regular pool parties and has it's own adults only water park.
Types Of Holiday In Majorca
Whether you enjoy a city break in Palma, a clubbing holiday with friends in Magaluf or a family villa holiday in a quieter part of the island, there's something for everyone in Majorca.
All Inclusive
Taking the family can be pricy when you have to add on food, drink and activities while you're on holiday, which is why all inclusive holidays to Majorca are so popular, allowing you to pay for everything upfront so you don't have to worry about money while you're away. Of course, you might still want to head out into the local area or enjoy a day trip to Palma to explore (and you might need a bit of extra spending money), but staying at the hotel for your meals and drinks can save you a lot of money. You'll also be able to keep the kids happy with child-friendly buffets, eating earlier dinner times and much more.
Clubbing & Nightlife
If you're heading to Majorca for a clubbing holiday and to enjoy the nightlife, Magaluf should be your first point of call. There's a bit of a love/hate relationship with the town but those looking for nightclubs and bars, holidays to Magaluf are the way forward. With popular clubs in Magaluf like Gringos and Millenium, along with a whole host of smaller bars and restaurants on offer, the best thing to do is head out and explore. You're friends and family who have visited before may have recommendations, or you might find reviews online.
Cruises
Did you know you can fly to Majorca and then jump on a week's cruise holiday around the Mediterranean? These fly cruises are a great option if you love cruises, don't mind flying, but want to skip to the good part and have most days in a new port. Companies like Marella Cruises and MSC Cruises offer 7 nights cruising in the sunshine and visiting other fantastic destinations like Barcelona, Cannes and Corsica.
Villa Holidays
Villa holidays in Majorca are a popular choice for holidaymakers looking for a self catering escape in the Spanish sunshine. Great for family holidays, groups of friends or a romantic couples escape, there are so many villas to choose from, with the bulk of properties being the Pollensa and Puerto Pollensa area up in the north east of the island.
Popular Holiday Destinations