Fuerteventura Holidays 2023 / 2024
Find Your Ideal Holiday With
Latest holiday deals in Fuerteventura
Fuerteventura Destination Guide 2023/2024
With stunning white sand beaches, year-round sunshine and plenty of holiday options to choose from, holidays to Fuerteventura could be the perfect option for you. As the Canary Islands' second largest island, it's one of the top destinations holidaymakers choose with holiday types ranging from a family holiday in the summer school holidays, to a couples getaway looking for some winter sunshine. You'll be spoilt for choice with the range of resorts and hotels on offer here, whether you're here for 3 days or 14. Simply search above to find the latest prices for 2023 & 2024.
Popular Hotels In Fuerteventura

A Guide To Holidays In Fuerteventura
Fuerteventura holidays can range from budget two-star apartments to luxury five-star all-inclusive options and everything inbetween, and flights depart from across the UK including London Gatwick, Manchester, Birmingham and Glasow. So whether you're a golfer, party animal, or wanting to get some quality time away with the family or on an adults only getaway, check out the latest Fuerteventura holiday offers to see what's available within your budget.
Best Time To Go
While temperatures in July and August are in the late 20s, the winter months of December and January are still much warmer than the UK, with temperatures in the low 20s. The weather here is often bright and sunny, although it can get a little windy too.
The cheapest time to go is during the school term, avoiding Christmas, Easter and July/August. The months of May, June and September can have some excellent deals. Being flexible is definitely important for the best deals, whether you're hoping to get away next week, or in 2024. For example, take a look at the variety of hotels in the Costa Caleta, like the Sheraton Fuerteventura, the Elba Carlota or the Barcelo Fuerteventura Thalasso Spa Hotel which each have great facilities and are close to the beach. And don't forget the option of self catering apartments and villas either to help keep the cost down.
All Inclusive
All inclusive holidays to Fuerteventura can be an excellent way to both save money, and also not worry about putting your hand in your pocket while you're away. This can be especially good for families as all inclusive means the kids will be able to eat what they want and when they want, even if that does mean four ice creams before dinner! These hotels generally have all you can eat buffets with an extensive menu serving up both local and international food. Half board is another great option if you want the choice of going out to some of the local restaurants to try some traditional Canarian cuisine.
Luxury & Family
There are several luxury five-star resorts and even some of the four-star hotels provide a high level of service and food quality. Luxury brands such as TUI Platinum, Kuoni, Exclusive Holidays and Jet2's Indulgent Escapes all offer luxury stays. For families, most of the larger hotels provide excellent facilities like kids clubs, poolside activities and evening entertainment.

Getting to, from and around Fuerteventura
As Fuerteventura is one of the Canary Islands, it's in a great position of having year-round flights from the UK, so winter sun seekers will often choose the island as their holiday location of choice. Top airlines including Jet2, TUI, Ryanair and easyJet all sell flights from across the UK including from Liverpool, Belfast and Glasgow, particularly in the summer months when the charter and low-cost airlines offer more flights to cater for an increase in holidaymakers.
Once you've arrived, getting about the island is easy enough by bus, however, if you prefer to go a little more off-piste, hiring a car is a fantastic option. You can either pick up a hire car from the airport or from a number of main tourist resorts and hotels dotted around the island. This is a great way to go and explore, discovering some of Fuerteventura's expansive beaches and sand dunes of Parque Natural de Corralejo.
A taxi from Fuerteventura airport to the main town of Corralejo will cost €40-50, but if you're planning to head to your resort to just relax and enjoy the facilities of the hotel, booking a preorganised coach transfer is a cost effective way to get from the airport. Many package holidays will have transfers included in the cost.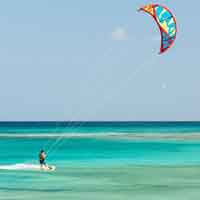 Things to do in Fuerteventura
If you want to venture away from the pool or beach, there are lots of activities to see and do, from excursions to experience more of the culture of the Canaries, to more adventurous activities and even an experience with sea lions. Fuerteventura literally means strong (fuerte) wind (ventura) and it's understandable how it got it's name. The strong winds from the north-east mean that this Canary Island is perfect for the likes of surfing and wind-surfing. If you fancy a little adventure, be sure to book yourself a lesson or two.
For animal and nature lovers, Oasis Park, located in the south of the islands near the Costa Calma, is the place to go. With over 250 different animal species and the only botanical garden, it's a great day trip out when you fancy taking a break from the beach or pool. Alternatively you can book an excursion into the Parque Natural de Jandia, where you can explore the local landscape and even spot dolphins in the wild.
Golf is another favourite sport in the Canary Islands with six golf clubs and courses to choose from. For the perfect golf break in Fuerteventura, try a stay at the Hotel Elba Palace Golf, located a few minutes drive from the Caleta de Fuste and just south of the airport so you could be on the fairway within an hour of landing.
If you love a water park, then make sure you take the family to Acua Park in Corralejo, the island's only water park and one of the best water parks in the Canary Islands. Here there is a variety of waterslides and attractions including a lazy river, wave pool and children's area, perfect for a fun day out in the glorious sunshine. And don't worry if you've not hired a car. There's a shuttle bus service which runs from Jandia and Costa Caleta to the park which can be reserved for a fee.
Other activities well worth a go are a boat trip out to the Isla de Lobos (Lobos Island) on a glass-bottomed boat, where you may even be able to spot dolphins or pilot whales. The island is a short ferry ride from Corralejo in the north and ideal for hiking in the beautiful nature reserve. Or perhaps you might like a more adrenaline filled jet ski safari?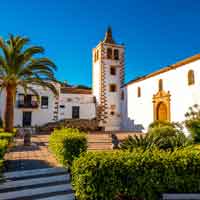 Where to stay in Fuerteventura
There are some great resorts in Fuerteventura, each with it's own unique feel and characteristics, from Corralejo, the island's main town with nightlife, to El Cotillo, a sleepy fishing village in the north. In the south, protected a little more from the wind, you'll find a number of quieter resorts, perfect for that relaxing getaway you've been longing for.
Corralejo
Corralejo is the main town on the island, with a range of bars, nightlife, hotels and where you'll find more of the hustle and bustle as well as the harbour. You can also find the Casco Viejo or Old Town here too near the port. There are some incredible beaches in and around the north, offering lots of space and often ideal for water sports like windsurfing, which make this area a popular place to stay, especially if your accommodation doesn't have a swimming pool.
Costa Caleta
The Costa Caleta, also known as Caleta de Fuste, is located along the eastern coast of the island and only 5km from the airport, making it easily accessible if you want to be by the pool or on the beach as quickly as possible. This small town caters well to families with a variety of family-friendly hotels on offer, as well as a shopping centre and live music in the evenings at a number of places. If you're visiting in February or March, you might have the opportunity to gawp at the impressive carnivals that happen all over Spain, with flamboyant parades and beautifully designed carnival floats.
Jandia
Situated in the south of the island, Jandia is home to the incredible Jandia Beach and Morro Jable, Jandia offers a number of excellent resorts like the Occidental Jandia Mar and the superb TUI Magic Life Fuerteventura.
Nuevo Horizonte
Nuevo Horizonte is on the Costa de Antigua and offers a much quieter side of Fuerteventura without missing out on the restaurants and facilities. This is a growing community with a couple of bars and restaurants, however, the nearest main beach is a short drive away or a 30 minute coastal walk at Playa del Castillo.
If You Like Adventure
For those who prefer a more active breaks, there are a number of adventurous activities on offer, whether you prefer exploring Corralejo Natural Park or walking up the Pico de la Zarza and Montana de Tindaya, or taking to the waves in El Cotillo with the various watersports available. Never tried it before? Fear not. There are plenty of surf schools here which can offer reasonably priced surfing lessons. You can either take a look at the options and book online before you visit or ask for local recommendations from your hotel staff once you arrive. Plenty of other sports are available on the island, including things like tennis, golf, and sailing trips, as well as other water sports like snorkelling, kite surfing and jet skiing.
If You Like Nightlife
Many of the hotels have their own evening entertainment, whether that's kid-friendly discos to live music and tribute acts, but some of the best nightlife in Fuerteventura is up in Corralejo where you'll find plenty of bars and a number of night clubs staying open late into the night. Look at La Playa Bar, Flicks Karaoke Bar and The Reflex Disco which are all located round the corner from each other close to Playa la Clavellina.
If You Like Beaches
There are some of the best beaches in the Canaries here, with soft, white sandy beaches and crystal clear water, offering some of the most Instagrammable spots in Europe. The sea water can be cooler in Dec and Jan but it's still warm enough to head to the beach. Some of the more iconic or well-known areas include Morro Jable, located in the south of the island, where the combination of wide sandy beach, turquoise blue water and an active lighthouse make for a picturesque shot, likened to photos from the Caribbean.
Another area to take a check out are the beaches just south of Corralejo. Best explored with a car, popular beaches here include Playa Larga and Playa Bajo Negro, where the combination of sea, sand and clear blue sky are the stuff your holiday dreams are made of. What seems like out in the middle of nowhere, here you'll find the expansive resorts of Riu Oliva Beach Resort and Riu Palace Tres Islas, popular for an all inclusive holiday in the sunshine, with postive reviews on the likes of TripAdvisor.
For a day trip to a remote beach, head over to Playa de Esquinzo or Playa del Aguila where you can escape the crowds, particularly during the April or summer school holidays.
Booking Your Holiday To Fuerteventura In 2023
There are some fantastic offers out there, from late deals with TUI to free child places with Jet2 Holidays and much more. When booking your holiday in 2023 you should always book with reputable travel companies which offer financial protection as part of the ABTA or ATOL scheme, such as easyJet, British Airways, Saga and Travel Republic. We always promote ATOL protected holidays listed on this website. If you are unsure whether your holiday is protected by the ATOL scheme, make sure to check with your tour operator or travel agent and check the booking conditions or contact them by phone call or email address.
When you book one of these flight inclusive holidays, you'll receive an ATOL certificate. To help in staying safe and healthy abroad the foreign commonwealth development office issues information and travel advice regarding holiday destinations for Brits. At My Budget Break we always recommend to check the latest FCDO advice and take out appropriate travel insurance when booking your holiday. You can find out more information about financial protection on the travel agent or tour operator website. Please note, we try to aim that all holidays on this website are financially protected.
If you do choose to book your flight and hotel separately, it's often worth booking directly with the companies you are using, such as Melia, Barcelo or Elba, which can be a better option when cancellations do happen, such as during the Coronavirus Covid 19 pandemic.
Frequently Asked Questions
Book Now
In partnership with

Popular Fuerteventura Holidays