Latest holiday deals in Costa Blanca
Popular Costa Blanca Resorts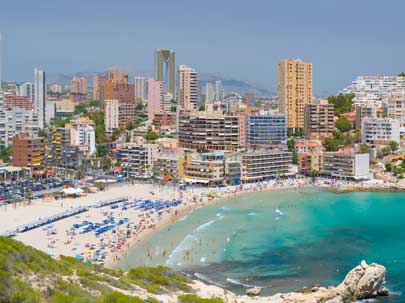 Benidorm
A popular hotspot for those who like their nightlife, Benidorm offers cheap holidays with plenty to see and do.
EXPLORE BENIDORM
Costa Blanca Destination Guide
A Guide To Holidays In Costa Blanca
The popular Costa Blanca stretches from Denia in the north and Torrevieja in the south and offers a variety of holiday types suitable for everyone. Holidays in Costa Blanca range from cheap hotels in Benidorm, and family friendly resort in Alicante, to quiet Finca holidays inland and wellness getaways.
Summertime is obviously the peak time to go, however there are some great holiday deals available for quieter months like October and December outside of the school holidays.
Getting to, from and around Costa Blanca
The main airport in the Costa Blanca is Alicante, sitting relatively central on the coast and there are plenty of flights to Alicante from the UK, with airlines like Jet2, TUI and EasyJet. The journey from Alicante airport to Alicante city takes about 15-20 minutes in a taxi, while the drive up to Benidorm will take up to an hour by shuttle bus. There is also a public bus that runs from Alicante airport to Benidorm which takes about an hour too.
Pre-booked airport coach transfers from Alicante airport are an ideal and cost effective way to get to your holiday accommodation. If you want to explore the area though, hiring a car is the perfect way to get out and about, whether it's to head inland and try some local tapas in a traditional village, or travel along the coast to see more of the holiday resorts on offer in the region.
Things To Do In Costa Blanca
Aqualandia is certainly one of the most popular things to do in the Costa Blanca. Located just outside of Benidorm, this outdoor waterpark is a favourite with both locals and holidaymakers. Tickets can be bought at the park or online, in advance, and make sure to keep an eye out for offers like 2 for 1 tickets too.
BOOK AQUALANDIA TICKETS
Where To Stay In Costa Blanca
All inclusive resorts like the Hotel Flamingo Oasis or Sandos Benidorm Suites, are a popular choice for those who simply like to "fly and flop". If you're a fan of the TV programme Benidorm, the hotel is the Sol Pelicanos Ocas and is a fun holiday option. Villas are also a favourite, allowing you to enjoy quality time together in more homely surroundings.
Brands like First Choice, Innisfree and Jet2.com Holidays offer a variety of accommodation types to suit what you're after.
You might like these hotels in the Costa Blanca
Popular Holiday Destinations