A Guide To Hotels In Majorca
Majorca is such a great place to enjoy some time in the sun and with plenty of hotels in Majorca to choose from, it can be difficult to work out where to stay, so here's our guide to Majorca hotels including some of our favourites you should check out before booking.
All-Inclusive Hotels
There are some fantastic all inclusive hotels in Majorca. Try Holiday Village in Cala Millor, TUI Family Life Mallorca Mar in Cala Bona, or the budget friendly Barcelo Hotel Ponent Playa in Cala d'Or, all offering a variety of facilities and activities that are included within the price of your holiday. There are plenty of options so make sure you check out the latest Majorca TripAdvisor reviews too.
Hotels in Palma
A great city break destination, Palma is the perfect combination of history, culture, cuisine, and beach, all rolled into one. Hotels in Palma are as diverse as the city, from self catering apartments to luxury villas. Try areas like Santa Catalina and Sant Nicolau to be close to the heart of the city, while heading further down Avinguida de Gabriel Roca, Palma's main promenade road, will offer a number of hotels with some fantastic views of the marina area.
Hotels in Alcudia
Hotels in Alcudia are popular with holidaymakers looking to spend some time by the beach. The stunning Alcudia beach is the perfect place to enjoy some time on the sand, with a turquoise backdrop. Up here, hotels like Club Mac and Sol by Melia are perfect for family holidays in the sun. While it has nowhere near the nightlife of Magaluf, there are a number of bars and restaurants to enjoy in the evenings.
There are also a number of fun activities in the area too, such as boat trips from Alcudia Port and small but fun Hidropark water park. If you're hiring a car on holiday, it's also a great place to stay for exploring the countryside and the little hidden beaches up in the north of Majorca.
Best Hotels in Majorca
Hotels With Water Parks
Being such a great family destination, there are a number of hotels in Majorca with a water park, or waterslides. And if not, there are a couple of public waterparks you can also enjoy a daytrip to. The 4 star Sol Katmandu Park & Resort in Magaluf is definitely a hotel to check out. It's mini waterpark is popular with groups of friends and families, while the hotel also caters well for a variety of groups. Take a look at the Hotel Saturno too, one of the First Choice SplashWorld hotels which offers a variety of fun waterslides as well.
Hotels Near The Airport
If you want a hotel near Palma airport, Ca'n Pastilla is a good place to start. A little noisy because of its proximity to the runways, you'll be off the plane and by the pool in no time, plus there's a great sandy beach here with a few bars and restaurants. It's an ideal town if you really don't fancy a long shuttle bus journey after your flight. Check out the Hotel THB El Cid and the Illusion Calma & Spa Hotel for some accommodation ideas in this area.
You might like these popular hotels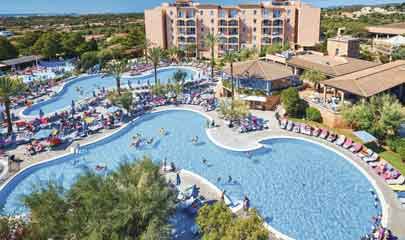 Popular Holidays