Popular French City Breaks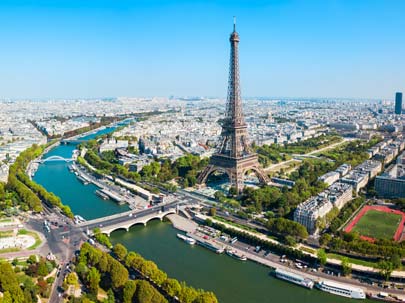 Paris
Ideal for a romantic weekend break, Paris ticks lots of boxes for a city break in France
EXPLORE PARIS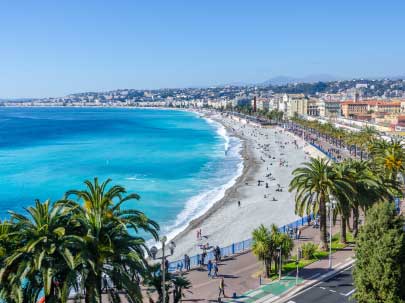 Nice
Nice shows off the best of the French Riviera, with ultra chic cafes, shopping and much more
A Guide To City Breaks In France
One of the great things about enjoying a city break in France is that it's not too far to travel. Whether you're taking the Eurostar from London, or flying from your local airport, there are plenty of cheap and quick flights from the UK to France, and there's a lot of cities to explore.
Getting to France
Road, rail and air are all possible options to get to France, so which one is for you?
Eurostar
The very cool, and functional way to get from city centre to city centre, the Eurostar whisks you through the England and French countryside into Gare du Nord in as little as 2 hours 30 minutes, as you sip on your French wine and tuck into the latest binge watch on Netflix. Lille and Disneyland® Paris are also great options by Eurostar.
Flying
Depending on where you live and where you're travelling can influence whether you fly to France or not. If you're outside of the south east of England, you might find that flying is the better option, otherwise you'll be travelling through the UK first. If it's the south of France or the central west region, flying can also be a good choice, with direct flights from the UK into places like Nice, Marseille and Bordeaux making the journey just that little bit quicker than driving or the train.
Eurotunnel and Ferry
If you're after exploring by car, taking the Eurotunnel from Folkestone to Calais, or the ferry from either Dover to Calais or the south coast of England to ports including Caen, Cherbourg and Roscoff, make these the best options. While travelling by car can take longer, it can also be cheaper and allow you to take home comforts, as well as simply enjoying the drive.
Which French City Break For You
From the glitz and glamour of the ousth of france, to the more rural cities throughout France, there are plenty to choose from depending on what sort of break you're after. You can even combine a few days in Paris with a few days wine tasting in the countryside.
Paris
Ah, Paris. The classic city break destination for anyone who has never been to France. Maybe you visited as a child and want to explore the city all grown up, or perhaps you're an avid lover and come back time and time again. There's something truly magical about the French capital.
Nice
Nestled along the French Riviera, Nice is one of those places you dream of retiring to one day. Where chic meets beach and you just know you'd love to sample the cafe culture while spending an afternoon people watching on the Boulevard Jean Jaures.
How To Book A City Break To France
Lots of brands like TUI, Love Holidays, Expedia and lastminute.com all offer a variety of cheap short break offers to France. Most also can book your Eurostar or flight with hotel as a package, giving you peace of mind your money is sfe through ATOL protection (something we always recommend).
You may be inclined to book your accommodation and travel separate from one another, like a ferry booking with an Airbnb holiday rental, which can also be a great way to save money, however make sure you take out comprehensive travel insurance should issues with Covid or cancellations arise.
Popular City Breaks