Cheap All Inclusive Holidays To Cyprus
Welcome to the jewel of the Mediterranean, where ancient history meets azure coastlines and vibrant culture. Cyprus, the third-largest island in the Mediterranean, is not just a destination; it's an experience waiting for you to enjoy. And what better way to immerse yourself in its beauty than through an all inclusive Cyprus holiday in 2023 and 2024?
Imagine a holiday where every detail is taken care of, from your flight to your accommodation, meals, and even activities. All-inclusive holidays to Cyprus offer a stress-free and indulgent escape, allowing you to focus on creating memories that will last a lifetime. In this guide, we'll delve into the enchanting world of Cyprus, covering everything from how to get there, where to stay, and the myriad of activities awaiting you outside the hotel.
Popular All Inclusive Hotels In Cyprus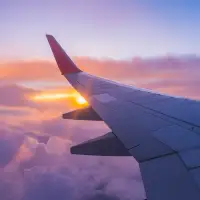 Getting To Cyprus
Airlines & Tour Operators
Getting to Cyprus from the UK is a breeze, thanks to direct flights from major airports. London, Manchester, and Birmingham are among the cities offering convenient direct flights to both Paphos and Larnaca airports. Several airlines, including British Airways, easyJet, and TUI, provide direct flights from across the UK.
There are multiple tour operators and travel companies offering all inclusive holidays to Cyprus, however, not all packages are the same. For example, ABTA and ATOL protected Jet2holidays and TUI often include a piece of check-in luggage and airport transfers with their package holidays, while other companies like On The Beach, loveholidays and Blue Sea Holidays will require you to add these on to your holiday when you book.
Where To Stay In Cyprus
Paphos
Paphos, a UNESCO World Heritage site, is a haven for British holidaymakers. Stay in an all-inclusive resort along the coastline and immerse yourself in the rich history of this ancient city. While the resorts have all you could need, including kids' clubs, swimming pools, waterslides and evening entertainment. It's also great to get out and explore the area, like the Paphos Archaeological Park, visit the Tombs of the Kings, and indulge in Mediterranean cuisine at the odd local restaurant.
Ayia Napa
If you're looking for sun, sea, and vibrant nightlife, Ayia Napa is the place to be. All-inclusive resorts in Ayia Napa offer beachfront bliss and proximity to the island's best clubs and bars. Spend your days lounging by the famous Nissi Beach and your nights dancing under the stars. Take a look at hotels like the huge Atlantica Mare Village further down the coast, or the beachfront Hotel Grecian Sands which is just outside of Ayia Napa town. Prefer to be in the heart of the action? Head to the 4-star Napa Plaza hotel which is within walking distances of the nightlife.
Limassol
Limassol, Cyprus's second-largest city, blends urban sophistication with coastal charm. Located on the island's south coast, choose an all-inclusive hotel in Limassol to enjoy the facilities and food and drink at your resort, as well as being in close proximity to the city's cultural attractions, shopping districts, and lively atmosphere. The Limassol Marina and the medieval Limassol Castle are must-visit landmarks too. Head a little further east along the coast for some of the best places to stay in the area like the Amathus Beach Resort (which is actually a half board and full board option), or the 5-star Royal Apollonia for a great all inclusive holiday on the beachfront.
Protaras
For a more serene experience, Protaras beckons with its crystal-clear waters and pristine beaches. Opt for an all inclusive stay in Protaras to enjoy the resort facilities, as well as, the tranquility of Fig Tree Bay and the natural beauty of Cape Greco National Forest Park. Fly into Larnaca airport for holidays to Protaras and stay at hotels like the Cavo Zoe Seaside Hotel to the south, or the popular Crystal Springs Beach Hotel further north.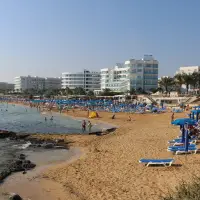 Things To Do In Cyprus
You might be tempted to check-in and chill out on an all inclusive Cyprus holiday, but it's well worth getting out and exploring the island. Whether you choose to just take a wander around the nearby resort, hire a car and discover some of the quieter beaches and villages, or book onto a day trip or tour to find out more about what the island has to offer from a tour guide, it's well worth it.
Wander through Charming Villages
Escape the tourist hubs and explore the charming villages of Cyprus. Omodos, known for its cobblestone streets and traditional architecture, is a delightful destination, where you can experience the warmth of Cypriot hospitality as you stroll through the narrow alleys. And be sure to hit the local restaurants to escape the hotel buffet and try out some delcious Cypriot cuisine.
Discover Natural Wonders
Venture into the heart of Cyprus's natural beauty by visiting the Troodos Mountains. Hike through picturesque trails, explore traditional mountain villages like Kakopetria, and marvel at the UNESCO-listed painted churches.
Water Adventures
Cyprus's coastline invites you to indulge in water adventures. Try snorkelling or scuba diving in the crystal-clear waters of Cape Greco, or embark on a boat trip to discover hidden caves and secluded beaches.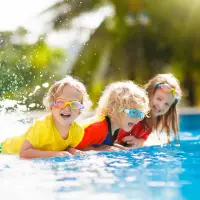 Holiday Types In Cyprus
Family Friendly Holidays
Cyprus is an ideal destination for families, with all-inclusive resorts offering a range of amenities for both adults and children. From kids' clubs and water parks to family-friendly entertainment, these resorts ensure that every member of the family has a memorable experience. Free child places are often available on holidays in Cyprus so make sure to filter your search so you can see how much money you can save, even in the summer holidays. Places like the King Evelthon Beach Hotel & Resort is perfect for fun family holidays, as it's right on the seafront and has a mini water park too.
Adults Only
For those seeking a tranquil and sophisticated retreat, adults only all inclusive resorts in Cyprus provide the perfect setting. Enjoy uninterrupted relaxation by the pool, indulge in gourmet dining experiences, and take advantage of spa and wellness facilities for a rejuvenating escape.
Last Minute Holidays
Spontaneity meets luxury with last-minute all-inclusive holidays to Cyprus. Benefit from competitive deals and enjoy the convenience of having all aspects of your trip arranged at the eleventh hour. Whether you're a solo traveller or a couple, these last-minute options cater to various preferences, but be flexible for the best deals.
Party Holidays
Ayia Napa is well known for it's lively nightclubs and bars, so you might be choosing it for a bit of a party holiday with friends, or maybe a hen do or stag do destination. Before you book, check with the hotel to see if they will take groups, and take advantage of offers like low deposit holidays which allow you to secure the price and the group can pay the balance over time. But going all inclusive will help you save on food and drinks, before you head out for the night.
More Great Holidays