Find Your Ideal Holiday With
Latest holiday deals to Cyprus
Popular Cyprus Holiday Resorts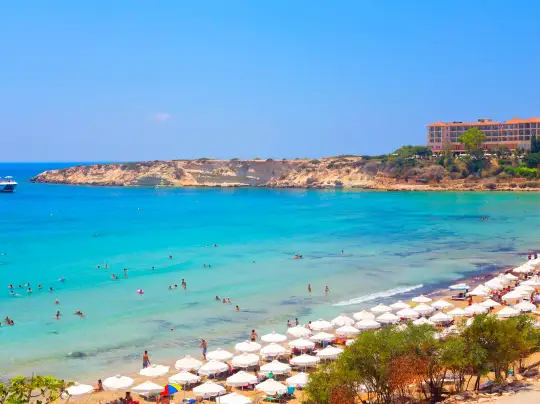 Paphos
Family friendly Paphos is a great holiday resort to enjoy, combining Cypriot culture with the beautiful beaches
EXPLORE PAPHOS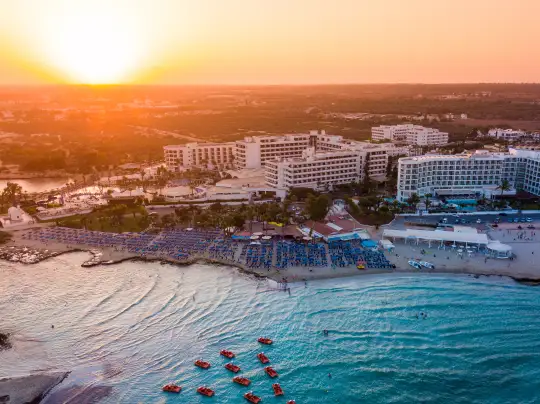 Ayia Napa (Larnaca)
Big on beaches and nightlife, Ayia Napa is a favourite with those looking to let their hair down and enjoy the music
EXPLORE AYIA NAPA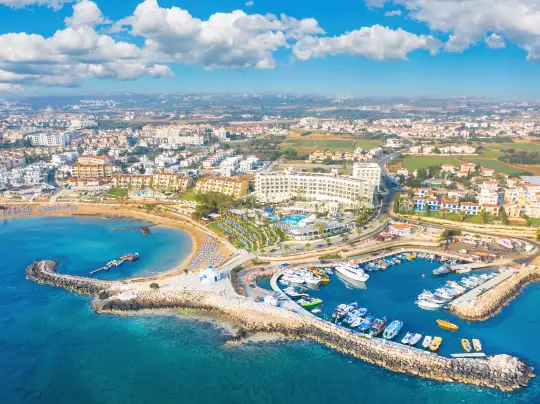 Protaras (Larnaca)
Popular with couples, families and groups of friends, Protaras is a great holiday destination
EXPLORE PROTARAS
Popular hotels in Cyprus
Cyprus Destination Guide

A Guide To Holidays In Cyprus
Four and a half hours from London, in the eastern Mediterranean is the fantastic holiday island of Cyprus. Famed for its nightlife and beautiful beaches, a holiday in Cyprus is popular with families, couples and friends. Weather here is relatively warm year round with summer temperature reaching well into the 30s, although you can still expect a busier summer season, with many bars, restaurants and hotels closing from November through to March, when you can find many of the cheap holiday prices.
You'll fly into one of two airports, Paphos and Larnaca. If you're booking your accommodation separate from your flights, make sure you select the correct airport.

Getting To, From And Around Cyprus
Larnaca and Paphos are the two airports on Cyprus and both have direct flights from across a number of airports in the UK including Belfast, Edinburgh, Bristol and London Stansted, with airlines like easyJet, TUI and Ryanair. Being a seasonal destination, you may find that certain flights only run between April and October, and on certain days of the weekend.
Paphos is on the west of the island, perfect for resorts like Peyia and Coral Bay, while Larnaca is in the east, and better for holiday resorts like Ayia Napa, Nissi Beach and Yanathes. Flight inclusive holidays are the best way to go to make sure you fly into the right airport. If you book your flight and hotel separately, make sure you check to see which airport is nearest to where you are staying.
Although there are public buses on the island, booking a package holiday is a great idea if it includes your in resort transfer, as it makes life much easier. Alternatively hiring a car is a great way to get to your hotel, as well as see more of Cyprus at your own pace. Perfect for if you fancy a day away from the pool. For some of the best deals, take a look at top ATOL protected tour operators like Jet2 Holidays, Mercury Holidays and TUI. Or if you're travelling with the family, see if you can find some free child places to Cyprus

Things To Do In Cyprus
Being such a big holiday destinations there is loads to do on Cyprus.
Relax On The Beaches
Did you know that Cyprus has 57 Blue Flag beaches dotted around its coastline? The sandy beach at Fig Tree Bay in Protaras is just one of these, or you may have seen the stunning Nissi Beach with its golden sand and turquoise waters. Particularly during July and August, the main beaches can get quite busy so try getting there a bit early to enjoy it before the crows roll in.
Head Out On A Boat Trip
Boat trips are another ideal way to spend the day on holiday. For families, this kids will love it, while for grown ups you may be able to book onto more of a party boat if you prefer. A trip from Paphos to the Blue Lagoon is an absolute must if you're looking for things to do away from your hotel.
Try The Rides At The Water Parks
Whether you're on a family holiday in Cyprus or your visiting with friends, an exciting day out is at one of the water parks. Waterworld water park in Ayia Napa and Waterpark Fasouri are both jammed packed with fun water slides and rides for all ages and thrill levels. You can book tickets in advance, or you can buy them at the gate. Queues may be long when you arrive if you haven't pre-bought them and you may also be able to get a discount if you book before you arrive.
Take In Some History
Cyprus is also well known for its wine so why not take a trip out into the countryside and explore one of the many vineyards in Cyprus. Alternatively for a bit of culture, head to Nicosia and discover the Machairas Monastery, rich in history and free entry too. Or book a trip to the Tombs of the Kings, an archaeological site in Paphos which features underground tombs dating back over 2,000 years.
Try A New Sport, Or An Old One
With great weather for much of the year, Cyprus is a fantastic place for sports, whether you enjoy playing tennis or golf in the sunshine, or you have a more specialised sport in mind like scuba diving or triathlon training. In fact, several of the hotels and resorts here offer specific training facilities, like the Aliathon Aegean Resort, and many of the beaches have water sports you can try out. If you love hiking and an adventure, go inland and hike one of the many incredible trails in the Troodos Mountains. In winter, you can even ski!

Where To Stay In Cyprus
With loads of resorts to choose from, it can be difficult to work out where to stay in Cyprus. Lively resorts like Paphos, Limassol and Ayia Napa are perfect if you like busy areas with plenty of bars and nightlife. Most areas will offer a variety of accommodation types including self catering apartments and five-star luxury resorts. All inclusive Cyprus holidays are another great option to help keep track of your spending, especially if you've got the family in tow.
Paphos
Over on the west coast, you have Paphos. Although not the largest city on the island, Paphos has a lot of hustle and bustle about it, being a popular place for locals to live and holidaymakers to stay.
Larnaca
On the south east coast is Larnaca and the gateway to resorts like Ayia Napa and Alaminos. Similar to Paphos, Larnaca is quite built up and has both a marina and port, and while it does have one or two beaches like Kastella Beach (a Blue Flag beach), you'll probably want to head up or down the coast for some of the best beaches in Cyprus.
Limassol
Limassol is located in the south of the island, about half way between Paphos and Larnaca (driving will take around an hour each way). It's another quite built up area with a port and marina, and is close to the Akrotiri RAF airbase. The sandy beaches here are also quite short so make sure the hotel you're staying at has a pool.
Popular Holiday Destinations