All Inclusive Cape Verde Holidays
Cheap All Inclusive Holidays To Cape Verde
Prepare to escape to a tropical paradise where the sun kisses your skin and adventure awaits around every corner. All-inclusive holidays to Cape Verde, the hidden gem off West Africa's coast, are your ticket to a dreamy getaway. In this guide, we'll unravel the wonders of Cape Verde's all-inclusive packages, from seamless travel options to where to bask in luxury and what thrilling activities await. Whether you're a family seeking fun in the winter sun, a couple in pursuit of romance in the summer, an adventurer with a taste for the wild, or simply longing to unwind, Cape Verde all inclusive resorts have it all. So, don your shades, pack your flip-flops, and let's explore this tropical paradise together for 2023 and 2024!
Popular All Inclusive Hotels In Cape Verde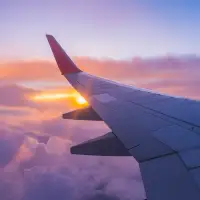 Getting To Cape Verde
Airlines & Tour Operators
Getting to Cape Verde is straightforward, but not as frequent as you might like. TUI offers direct flights to both Sal and Boa Vista islands from across the UK, including regional airports like Glasgow, Newcastle and Bristol, which take just over 6 hours, but they may only be once a week, especially at certain times of the year. You can also fly via Lisbon with TAP Portugal, which may sometimes be cheaper, but will take longer.
It's usually worth booking an all inclusive package holiday which includes flights and accommodation, and if you book directly with TUI, your airport transfers will also be included as well. This can often be the cheapest option, plus they are both ABTA and ATOL protected. Other tour operators like loveholidays, Expedia and On The Beach can also pull together packages. Jet2holidays and easyjet Holidays don't currently offer all inclusive holidays to Cape Verde.
By far the best option for getting from the airport to your all inclusive hotel is with an airport transfer, so it's worth adding this onto your booking. Public transport is possible but not as frequent or reliable.
Where To Stay In Cape Verde
Cape Verde is home to 10 individual islands. The main island is Santiago, home to the capital city Praia, but this isn't generally where most holidaymakers looking for plenty of sunshine, sandy beaches and pool-side cocktails visit. There are a selection of all inclusive Cape Verde holidays to choose from:
Sal
Although a smaller island, Sal is home to many of the all inclusive resorts in Cape Verde. Resorts to take a look at here include Riu Funana and the popular Riu Palace Santa Maria, with its sprawling white sand beaches. When you do want to venture out and explore, the lively town of Santa Maria, on the south coast, is brimming with bars, restaurants, and bustling local markets.
Boa Vista
Seeking tranquility and untouched beauty? Boa Vista is your sanctuary. Miles of unspoiled beaches, like Praia de Chaves and Praia de Santa Mónica, provide the perfect backdrop for relaxation. Sal Rei, the main town, radiates a laid-back charm. Boutique hotels and serene resorts line the coast, offering intimate escapes and access to the island's pristine natural beauty. This is a smaller island, but you'll still find all inclusive hotels like the popular Riu Touareg and Riu Palace Boavista.
Other Islands
The other Cape Verde islands aren't as well catered to UK holidaymakers, particularly as direct flights only run to Sal and Boa Vista. Sao Vicente, Fogo and Sao Nicolau can all be reached by domestic flight, or selected ferry services between some of the islands are also possible.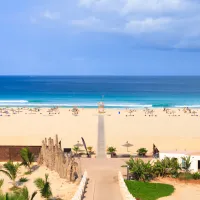 Things To Do In Cape Verde
Even though you're staying all inclusive, you can't visit the Cape Verde islands and not go out and explore on a day trip or excursion. Here are some fantastic things to see and do outside of your hotel, which can be organised in advance or booked by your hotel staff.
Watersports
Sal is a watersports paradise. Whether you're an experienced windsurfer or a first-time snorkeler, the island has something for you. Head to Santa Maria Beach for windsurfing and kitesurfing, or explore the underwater wonders with snorkeling and scuba diving. The crystal-clear waters teem with marine life and vibrant coral reefs.
Terra Boa
Visit Terra Boa, an otherworldly landscape reminiscent of a lunar desert. It's a unique and surreal experience, especially during sunset, when the changing light enhances its beauty.
Sea Life
Surrounded by ocean, if you're a marine enthusiast, consider going on a shark and turtle watching tour. Sal is known for its resident lemon sharks and the opportunity to see nesting loggerhead turtles during the nesting season.
Buracona's Blue Eye
A natural wonder, the Blue Eye is a freshwater pool located inside a lava tube on the island of Sal. When the sun hits it just right, it appears as a mesmerizing, luminous blue eye. It's a must-visit spot for a refreshing dip and stunning photos.
Sal Rei, Boa Vista
The charming town of Sal Rei is where you'll find colorful colonial architecture, local markets, and quaint cafes. Stroll through the town's narrow streets, visit the town square, and indulge in Cape Verdean cuisine at local restaurants.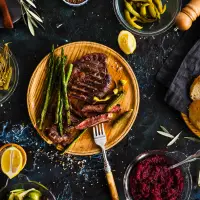 What To Expect On An All Inclusive Holiday In Cape Verde
Like all inclusive hotels in other popular destinations, the hotels here cater very well to Europeans, with buffet restaurants and various bars. What's included can vary from hotel to hotel, and also who you book with so check before booking to see what is specifically included.
All your meals will be included, along with drinks, and often things like afternoon snacks and ice creams are included too. You might have to pay extra for premium alcoholic drinks, or dining at certain a la carte restaurants within the resort.
Much of the daytime activities and evening entertainment is included too. From poolside games and the kids' club to live music and mini discos. Some activities like motorised water sports on the beach might cost a bit extra, as will things like spa treatments if your hotel has a relaxing spa.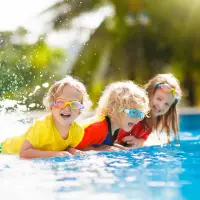 Holiday Types In Cape Verde
Family Friendly Holidays
Cape Verde boasts family-friendly beach resorts on Sal and Boa Vista. These hotels come complete with kids' clubs, children's swimming pools, safe beaches for swimming, and an array of activities to keep youngsters entertained. For family orientated Cape Verde holidays, all inclusive can be an idea way to go so you don't have to worry about anything while you're there.
Adults Only
For couples and adults seeking tranquility, Sal and Boa Vista offer adults-only resorts. These provide an intimate and peaceful atmosphere, often with spa facilities and romantic dining options. Adult only hotels to take a look at include the Melia Llana Beach Resort and TUI BLUE Cabo Verde, both of which are the perfect way to escape youngsters.
Last Minute Holidays
With only a few direct flights from the UK to Cape Verde, it might not necessarily be the first option that pops to mind for a late escape, especially when flights are just over 6 hours long, but TUI hates to see its flights go empty, so last minute Cape Verde holidays might be an option, especially for a much needed winter sun holiday.
More Great Holidays