Find Your Ideal Holiday With
Latest all-inclusive holiday offers in Greece
Check out these great all inclusive hotels in Greece
All Inclusive Holidays In Greece Guide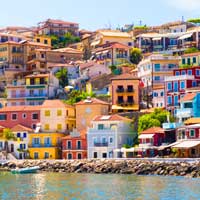 A Guide To All Inclusive In Greece
With many smaller resorts, all inclusive holidays to Greece can vary slightly from other popular destinations like Spain and Turkey. Airport transfers, check-in luggage and seat selection on the flight are sometimes included when the tour operator is also the airline like TUI or Jet2holidays. But if booking with travel companies like lastminute.com and loveholidays you'll need to add this on at an extra cost.
What's Included In The Price
Generally all meals, soft drinks and local alcoholic drinks are usually included within an all inclusive package. Hotels can vary their offering though so always check to see what is included. Daytime snacks and ice creams may also be included which can be great for families, or kids who need to eat earlier in the evening.
Full Board Plus
Full Board Plus is an alternative option that some resorts may have instead of, or as well as an all inclusive board basis, especially with smaller resorts. Full Board Plus can often vary from hotel to hotel, so always check what's on offer, but usually it's something along the lines of all meals, plus drinks during meal times (soft drinks and local alcoholic beverages).
Family Friendly
All inclusive can be ideal for families or groups who like to eat at different times or have different...tastes (we all know a child who's obsessed with a particular food!) One of the biggest cost worries for families can be how much they spend once they are away on holiday. The flights and hotel is paid for in advance, but then you have to think about food and drinks which can seriously add up. Going all inclusive ensures you can stick to your budget, minimising the extra costs while away. Many hotels now also have a dedicated kids buffet section too.
Adults Only
A true escape means not having to worry about anything, so for an adults only holiday in Greece, going all inclusive is not a bad choice. There are many hotels dotted around the islands. Try the Kairaba Mythos Palace in Corfu for an idyllic setting, or the gorgeous, beachfront resort of The Ixian Grand & All Suites in Rhodes.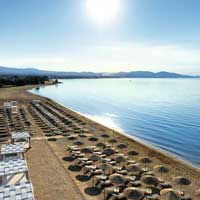 Popular All Inclusive Resorts In Greece
With so many incredible destinations, regions and resorts of Greece to discover, it can be tough to know which is best for you. If you're going all inclusive, you likely won't be leaving the hotel that much, but it's always great to get an excursion or daytrip under your belt. Some of the best known all inclusive resorts are:
Corfu
The Greek island of Corfu is a popular one for its mix of lush green landscapes, Mediterranean feel and beautiful beaches.
Crete
Being the most southern of the Greek islands, and the largest, Crete is a very popular option, offering warmer weather and plenty of hotel choices for holidaymakers.
Halkidiki
Part of the mainland with three core peninsulas, Halkdiki's most popular areas include Kriopigi and Kalithea.
Kefalonia
Kefalonia offers impressive scenery, turquoise seas and soft sandy beaches, along with many smaller hotels here.
Santorini
The iconic island of Santorini offers a little for everyone, including the all inclusive resort. While the many hillside boutique stays are luxury hotels, there are also fantastic all inclusive options here too.
Zante
If in doubt, Zante is perfect for all groups, whether families looking to get away in the school holidays, a couple on a honeymoon, or a group of friends looking for a sunny retreat.
Best All Inclusive Resorts For Families
Some of the most popular hotels which offer a fully inclusive option are Apollonion Asterias Resort & Spa in Kefalonia, a great all round resort, the MarBella Corfu in Corfu which sits on an idyllic location between the hills and the sea, and the Lindos Imperial Resort & Spa in Rhodes with its mini waterparks which is great for kids.
Popular Brands To Greece
If you're flexible, there are some amazing holiday deals to be had in Greece. If you're going all inclusive, then it's likely that the area, island or region you go to isn't anywhere near as important as the hotel. So if you don't mind which part you go, you've got more flight and hotel package options, which potentially means cheaper options too.
There are numerous tour operators and travel agents who can book you flight and hotel packages like loveholidays, On The Beach and TUI, many of which are ATOL protected and some include things like airport transfers, seat onboard selection and luggage. You may find that booking your flight and accommodation separately could be cheaper, especially when looking at airlines like Ryanair or Wizzair but bear in mind these won't necessarily be financially protected.
Opt for brands like First Choice, Blue Sea Holidays and award winning Jet2 Holidays for your next trip where possible.
Popular All Inclusive Holidays