From Scotland To Greece, A Holiday Guide
Are you a Scottish traveller yearning for a sun-kissed getaway to Greece? Look no further! This delightful Mediterranean country offers a treasure trove of destinations, each with its own unique charm. From ancient ruins to pristine beaches and vibrant cities, Greece holidays have something to captivate every traveller's heart. Here we'll explore the best holidays in Greece from Scotland in 2023 and 2024, discover reputable tour operators who book holidays from Scotland including Glasgow and Edinburgh, and delve into the exciting array of holiday types available for Scottish travellers. So pack your bags, get ready for adventure, and let's embark on an unforgettable journey to Greece!
Popular Greek Islands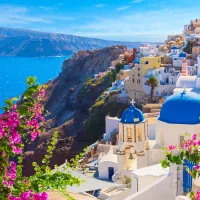 Destinations In Greece From Scotland
When planning your holiday to Greece from Scotland, you'll be spoiled for choice with an array of captivating destinations. Here are some popular options:
Athens
Begin your Greek escapade in the historic capital, Athens, on mainland Greece. Immerse yourself in the rich tapestry of ancient history at iconic sites like the Acropolis, Parthenon, and the fascinating National Archaeological Museum. Explore the charming Plaka neighbourhood, savour traditional Greek cuisine at local tavernas, and witness breathtaking sunsets from Lycabettus Hill.
Santorini
Known for its picture-perfect sunsets and breathtaking views, Santorini is a must-visit destination. Stroll through the enchanting white-washed villages of Oia and Fira, explore volcanic landscapes, and relax on stunning black sand beaches. Don't forget to indulge in Santorini's renowned wines and local delicacies.
Mykonos
If you're seeking a vibrant and cosmopolitan holiday experience, Mykonos won't disappoint. Famous for its lively nightlife, Mykonos also offers pristine beaches, charming windmills, and narrow cobblestone streets lined with boutique shops and cafes. Enjoy the pulsating energy of the island while relishing its unique blend of traditional and modern Greek culture.
Crete
The largest Greek island, Crete, offers diverse landscapes and a rich historical heritage. Discover ancient ruins at the Palace of Knossos, hike through the stunning Samaria Gorge, go tasting at local olive groves, and unwind on idyllic beaches. Delve into Cretan cuisine, known for its delicious flavors and healthy Mediterranean ingredients, all while spending your days by the beach or pool.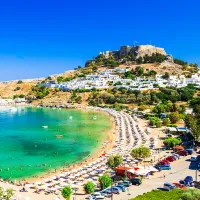 Tour Operators To Greece From Scotland
When it comes to planning your dream holiday to Greece from Scotland, several reputable tour operators based in the UK specialise in crafting unforgettable experiences with departure airports including Aberdeen, Edinburgh and Glasgow. These experts can assist you in organizing every aspect of your trip, from flights and accommodation to itinerary planning and local guides. Here are some renowned ABTA and ATOL protected tour operators that cater to Scottish travellers seeking holidays to Greece:
TUI Holidays
As one of the largest tour operators in the UK, TUI offers a wide range of holiday options to Greece. With their extensive network of flights and accommodations, you can choose from package holidays, all-inclusive resorts, or tailor-made itineraries. TUI provides flexibility and convenience, ensuring a seamless travel experience, along with a fantastic low deposit scheme.
Jet2holidays
Jet2holidays is known for its comprehensive holiday packages that include flights, accommodations, and transfers. With a dedicated team of travel experts, they offer a selection of Greek destinations, including popular islands like Crete, Rhodes, and Corfu. Jet2holidays provides great value for money and excellent customer service.
Olympic Holidays
Olympic Holidays specialises in Greek holidays and has been operating for over 50 years. They offer a wide range of holiday types, from beach retreats to cultural explorations. Whether you're looking for family-friendly resorts, adult-only escapes, or authentic Greek experiences, Olympic Holidays can cater to your preferences.
Thomas Cook
With a long-standing reputation in the travel industry, Thomas Cook offers a variety of Greece holiday packages. Their portfolio includes luxury resorts, boutique hotels, and all-inclusive options. Thomas Cook's extensive experience and expertise ensure a hassle-free holiday experience.
On The Beach
On The Beach is an online travel agent that allows you to customise your holiday and is budget friendly too. They offer a wide range of flights and accommodations, giving you the flexibility to create your ideal itinerary from a selection of flights and hotels. On The Beach provides competitive prices and a user-friendly booking platform.
Barrhead Travel
Barrhead Travel is Scotland's largest independent travel agent and so they known Scotland and they known Greece. If you want to chat with someone about your holiday, give Barrhead Travel a try.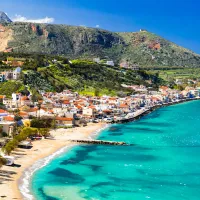 Holiday Types From Scotland To Greece
Family Holidays
Greece is an ideal destination for family holidays, offering a combination of beautiful beaches, child-friendly attractions, and warm hospitality. Many tour operators provide family-friendly packages, including free child places, making it easier to plan a budget-friendly getaway. Enjoy quality time with your loved ones as you build sandcastles on the beach, embark on boat trips, or explore the vibrant streets of traditional Greek villages.
Villa Holidays
For those seeking privacy, comfort, and a home-away-from-home experience, villa holidays in Greece are an excellent choice. Renting a villa allows you to have your own space, often complete with a private pool, breathtaking views, and all the amenities you need for a memorable vacation. Villas offer the freedom to relax, unwind, and create cherished memories with your family and friends.
All Inclusive
For a hassle-free and convenient escape, consider an all-inclusive holiday to Greece. These packages typically include flights, accommodations, meals, and sometimes even activities or airport transfers. You can unwind by the pool, enjoy a variety of cuisines, and take advantage of the facilities and entertainment provided by the resort. All-inclusive holidays offer great value and allow you to relax and indulge without worrying about additional expenses.
Beach Retreats
Greece's stunning coastline is perfect for beach lovers. From the turquoise waters of the Ionian Islands to the golden sands of Crete, you can find idyllic beach holidays that offer sun-soaked relaxation. Many tour operators offer villa holidays in Greece, providing the privacy and comfort of your own accommodation while being just a stone's throw away from the beach.
Popular hotels in Greece
More Great Holidays