Our Complete Guide To Jet2Villas Holidays In 2023 / 2024
Jet2Villas, the villa holiday brand of Jet2holidays, offers package villa holidays to loads of destinations across Europe including Majorca, Cyprus and the Costa Del Sol. Booking a package villa holiday with flights through Jet2 Villas means you're money is ATOL protected, plus you get the benefit of check-in luggage and car hire included as standard. And with the ability to secure your holiday with a low deposit from just £60 per person, booking a villa holiday is easy and affordable in 2023/2024.
Popular Villas With Jet2

Jet2 Villas - What's Included
Booking a package villa holiday with Jet2holidays means there's lots included. Return flights, 22kg of checked-in luggage per person and 10kg of hand luggage is included in your Jet2Villas holiday, along with free car hire for the duration of your stay.
Extras such as car hire upgrades and seat selection can be added during the booking process. A welcome pack can also be purchased which contain items like bottled water, milk and bread, and is an ideal add-on if you are arriving late and won't make it to the supermarket before it closes to pick up the necessities.

Best Jet2 Villa Locations
From beautiful finca style villas in Spain to incredible, ornate homes in Italy, there are some fantastic destinations to choose from when booking your next holiday villa. Here are some of our favourite locations:
Majorca, Spain
As one of the brand's most popular destinations, Jet2Villas to Majorca are fun filled. Most villas have swimming pools (always ideal for a family holiday), with areas like Puerto Pollensa, Alcudia and Cala d'Oro offering a variety of small to large holiday villas. In fact, Puerto Pollensa is one of Majorca's most popular villa locations.
Protaras, Cyprus
The area of Protaras, close to Ayia Napa, on the east coast is an ideal spot to enjoy a villa holiday in Cyprus near the beach. In Cyprus, many villas also have pools to make the most of the Mediterranean sunshine. You'll want to fly into Larnaca to enjoy villa holidays in Protaras.
Skiathos, Greece
Explore the stunning island of Skiathos with Jet2Villas holidays and enjoy the perfect villa holiday in the sun. Make sure you also take the included car hire to go out and explore the island, including the incredible beaches and seaside towns.
Lanzarote, Spain
With sunshine year round, it's easy to see why Lanzarote is a top spot for a family villa holiday. Areas like Puerto Del Carmen and Playa Blanca are popular with both families and couples looking to enjoy a self catering holiday in the sun. Plus with car hire included in package holidays with Jet2, it's easy to get around and explore the island in your own time.
Cannes, France
Situated in the stunning south of France, Cannes is well known as a mecca for the rich and famous, but there are some affordable villas to rent here for your next holiday too. Often working with James Villas, Jet2's villa selection ranges from 3-7 bedrooms and most have swimming pools.
Dubrovnik, Croatia
Beautiful villas in the Dubrovnik area of Croatia, all with private pools and several with incredible views of the surrounding region, offer the best of a villa holiday in the sun, combined with the ability to discover a city break in Dubrovnik. Free car hire will also allow you to discover the wider Dalmatiam Coast.

Jet2Villas Offers
For the best Jet2Villas holiday offers, you'll need to go to them direct. From last minute late deals to discount and promo codes, you'll be able to find the best price on the Jet2Villas website. You can also login to the Manage My Booking section on the website to see details of your package holiday, flights, car hire and any extras you may want to add.

Jet2Villas Car Hire
Free car hire is automatically included within the cost of your Jet2Villa holiday. They are usually standard cars which can fit a family of four plus luggage comfortably. When you go to book, and once you have filled in the traveller details, you have the option to change your car hire, giving you the opportunity to upgrade or even downgrade your selected car.
Having a car will allow you to discover local villages, hidden coves and so much more, as well as allowing you to stay in less built up areas. Islands like Majorca, Malta, Sicily, Sardinia and Fuerteventura are ideal for exploring if you have a car.

Jet2Villas With No Car Required
While car hire is included in packaged villa holidays with Jet2, you may not want the worry of driving, especially driving abroad, instead booking a Jet2 Villa with no car required. If this is the case, you should look for more built up holiday destinations like Palma (Majorca), Costa Adeje (Tenerife), Vilamoura (Portugal), Benidorm (Costa Blanca), and Malaga (Costa Del Sol).
By choosing destinations like these, you can take local buses, a taxi from or prebooked transfers from the airport, and be able to walk to many destinations within the area, albeit your holiday villa may be located on the outskirts of town.

Important Things To Know About Jet2Villas
There are a couple of important things to know about your Jet2Villas holiday before you book which may be useful. Check out times for Jet2Villas are usually 10am, while check-in times are often 4pm. This can vary from villa to villa but details will be in the accommodation guide when you book.
While most villas have private pools, most don't have a gated pool, which is worth bearing in mind when on holiday with young children. Some villas also have heated pools and this will be visible when you search through the villas.
Many villas will have at least two bedrooms. If you are looking for villa holidays for couples, these smaller villas may be better. The larger the villa, the higher the cost per person. When using the search, make sure you select the relevant number of people to get the accurate price per person.
Promotional codes and discount codes may be available for Jet2Villas. Search online for these, or Jet2holidays may already give the promo code during the booking process. Jet2holidays free child places may also be available on selected villa holidays to help keep the cost down.
Villas, especially family villas can often cost more and get booked up quickly during peak seasons like Easter and the summer school holidays. Booking outside of school holidays can help you keep the cost down so this can be ideal for a couple or a few friends looking for a cheap villa holiday.
Top Jet2Villa Destinations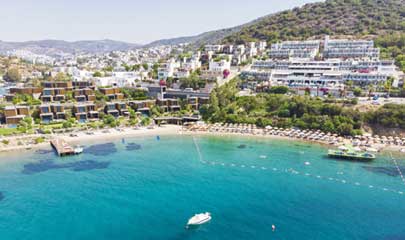 Turkey
You can get a lot more for your money on a Jet2Villas Turkey holiday. Large individual family villas with private pool in and around the Dalaman, Antalya and Bodrum areas are perfect for large groups looking for a holiday in the sunshine.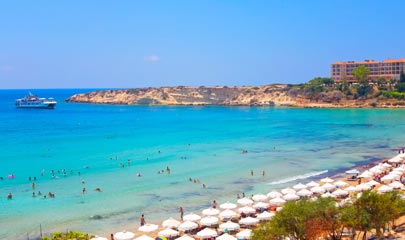 Cyprus
Fly into Paphos or Larnaca with Jet2 for a villa holiday in Cyprus and explore fantastic scenery, beautiful villas and crystal clear waters. Take a look at areas like Coral Bay, Paphos, Aphrodite Hills and Protaras for lots of choice.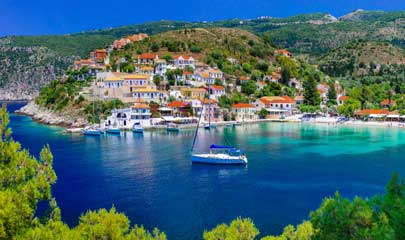 Greece
With plenty of areas and islands to choose from including Santorini, Skiathos, Rhodes and Kefalonia, Jet2Villas offers hundreds of Greek villas for your next holiday. Many are near the beach and all are available with just a £60 deposit per person.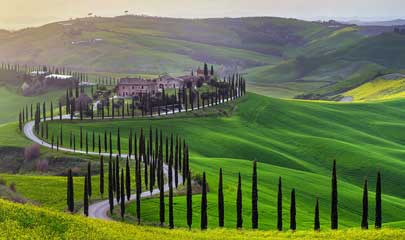 Italy
Italy is famous for its incredible scenery of rolling hills, and Jet2 Villas in Tuscany enjoy exactly this, offering you the perfect opportunity to discover nearby beaches, or towns in the local area to enjoy some delicious Italian gelato.
Other Villa Holiday Brands
Jet2Villas aren't the only brand offering villa holidays, however, they are growing in popularity as the Jet2holidays brand continues to grow. Other ATOL and ABTA protected villa tour operators include James Villas, Villa Plus, TUI Villas and Solmar Villas, each offering a range of beach villas, family families and many others, from Almeria and Andalucia to Vilamoura and Zante. Some villa owners will use just one provider, whilst others will use several to make sure they have holidaymakers renting their villas, so it's always worth shopping around. It's worth noting that James Villas and Solmar Villas both provide villa availability to the Jet2Villas brand.
Jet2holidays also has a number of themes or brands internally, including Jet2CityBreaks, and Indulgent Escapes for those looking for a more upmarket and exclusive holiday.
Jet2 Villas Reviews
As part of the Jet2holidays group, Jet2Villas reviews in 2023 are generally very positive with many comments around the customer service when problems arise. One or two negative reviews have commented on the cleanliness of one or two of the villas, but this isn't very often. No matter where to go, whether it's Madeira, Menorca, Barcelona or Gran Canaria, you can be sure to expect a high level of service and standard.
Jet2 Villas Cancellation Policy
The cancellation policy for Jet2Villas should be checked in detail before booking your holiday, and before cancelling your holiday. Cancelling your villa holiday is possible with Jet2, however, there will be cancellation fees associated so be sure to check the terms and conditions. Customers can book a Jet2Villa holiday with a low deposit from as little as £60pp and cancellation charges will vary from losing this deposit, to losing 100% of the cost of your holiday.
Book your holiday
In partnership with

Jet2Villas Manage My Booking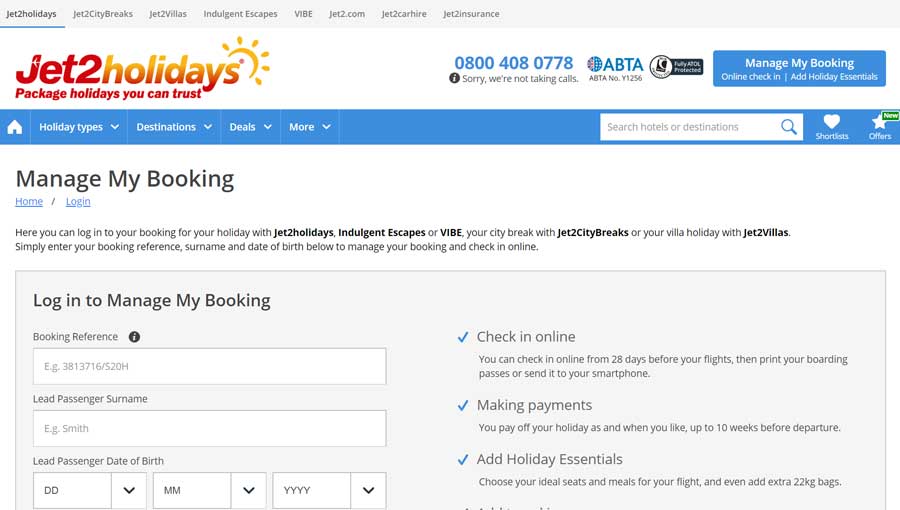 Customers can log in to their Jet2Villas booking by going through the Manage My Booking section of the Jet2 website. Here, you are able to add onboard seats and meals, as well as view the details of your booking and accommodation. If you have paid a deposit, you can also sign in to pay money towards your balance, or pay the cost of your holiday off in full. You can also find more details including Jet2Villas' contact number and email address too.
If you're a travel agent, you can also use the agent login on Jet2.com to view your customers' booking and make changes where necessary. Brochures are also available.
Jet2Villas Frequently Asked Questions
Hair dryers may be available in villas, however this varies from property to property, so you should check before booking.
If booking a package villa holiday with Jet2Villas, car hire is included for the duration of your stay, which you pick up from the airport. You also have the option to upgrade your car during the booking process.
Popular Holiday Destinations