Our Complete Guide To Villa Holidays In Spain In 2023 / 2024
You deserve it. Give yourself some time to let go of your worries, turn off your phone and make the most of your time away from home, and escape on one of thousands of villa holidays in Spain in 2023/2024. Bed down in a comfortable home with all your creature comforts provided for you, some with private pools and beautiful views, before heading out to explore the many sandy beaches, bar and restaurant culture or historical sites that are characteristic of Spain's rich cultural heritage. And when night-time comes around gather everyone up at your Spanish style holiday villa for dinner together before heading off into the local town or city for a taste of the local nightlife.
Amazing Villas You'll Love

What's Included
What's included on your Spanish villa holiday completely depends on which travel company you book with. You can get some fantastic deals when booking a package that includes flights, accommodation and car hire, although this will vary from provider to provider. Brands like Jet2Villas may include things like a hire car automatically, while others such as James Villa Holidays may just provide the accommodation only element.
You'll probably also get the option to add on extras such as a welcome basket so that you don't have to rush to the supermarket when you arrive. Be careful of added fees which aren't always incorporated into the "from" price, such as the cost of heating a pool if a private pool is available at your accommodation.

Best Spanish Villa Locations
Majorca
Finding a holiday villa in Majorca to suit your needs is pretty easy. In fact, all of the Balearic Islands have great options. The range is vast - but what you're searching for really depends on what you are looking for on this stunning Spanish island. A trip here should not be limited to a passing weekend in a hotel resort. Instead, settle into a spacious, homely holiday villa and uncover the incredible culture and vibrancy of Mallorca. In addition to soft, sandy beaches and busy nightlife, there's a world of culture, history, cuisine and diverse landscape waiting to be explored.
Fuerteventura
Located in the Canary Islands, Fuerteventura enjoys warm weather throughout the year, making it the ideal place for enjoying some winter sun. There are some great places to stay here too, with sea views, heated pools and being close to the beach. Check out areas like Corralejo and Caleta de Fuste as some of the most popular areas. Cheaper villa rentals will be more inland, but if you get car hire with your booking, spending a few hours down at the beach is easy.
Costa Brava
Dotted around this part of north eastern Spain, you'll find some excellent apartments and villas for rent (and sale), allowing you to choose the best area for you depending on how close or far away from the busier parts of Catalunya. Places like Lloret de Mar and Blanes are much busier, where holiday apartments might be a better option, otherwise you'll find a range of different options from budget friendly to luxury villas dotted throughout the area.
Costa Blanca
Famous for sun loving Brits, the Costa Blanca offers a little bit for everyone and while first thoughts may be of towering hotels in Benidorm or Torrevieja, you'll find some beautiful modern and Spanish style villas in and around the area including Calpe and Denia. Both Murcia and Alicante airports serve this part of Spain, but choose wisely or you might end up with a long airport transfer or drive to your accommodation depending on where you are staying.

Spain Villa Offers
There are plenty of cheap deals and offers available in Spain, especially when you package up your flights and car hire with your accommodation. If you don't mind where you go in Spain, last minute deals can be a great option for keeping the cost down too. Plus things like shared pools (and no pool), terraced homes and being further away from the main resorts can often help reduce the cost too.
Booking your accommodation separately like via friends and family or with Airbnb can also mean you find some incredible prices, but be aware of challenges around flexibility and cancellations should you not be able to travel, or providing financial protection on your booking. This can be overcome by booking through an ATOL and ABTA protected provider.
Free child places aren't usually available with villas in Spain as it's more of a package price, but you may be able to find discount codes to help bring down the cost.

Near The Beach
Whether you've chosen a villa without a private pool, or you just like to have the option of enjoying time on the sand, booking a holiday villa in Spain near the beach can be a great idea, especially if you're wanting to be within walking distance of the Spanish shores. Hiring a car can make this even easier giving you the freedom to expand your choice of local beaches to explore.
Throughout the islands and mainland coastline, you'll find a wealth of self catering accommodation close to beaches, from Estepona in the south all the way up to Barcelona in the north. In the Canary Islands and the Balearic Islands, accommodation is often cheaper the more inland you go, but that can also be great for having access to outdoor activities like hiking trails around a local national park, or enjoying stunning scenery. When looking at holiday homes, take a look at the map too so you can see just how far it is from the nearest beach, as well as what the road and path conditions are like. Certain routes to the soft, golden sand beaches might be less accessible than others.

Spanish Villa Holidays With No Car Required
Many of the cheapest villas in Spain are located a bit further away from shops, bars and restaurants, however you can still find some fantastic deals, even if you don't want to hire a car. Provided you don't mind a little bit of walking, areas like Golf del Sur in Tenerife, Nerja in the Costa del Sol and Cala'n Forcat in Menorca are ideal for those who like to be closer to resorts with no car required. Always take a look at the map to see the property's location in relation to nearby resorts and amenities.
Top Villa Destinations In Spain
Costa Del Sol
The Costa del Sol is such a popular destination in mainland Spain. Often focused on big resorts and hotels, there are actually some wonderful holiday apartments and villas available throughout this part of Andalucia.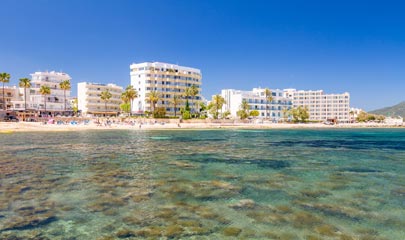 Majorca
There are lots of accommodation options to choose from on Majorca and villas are the number one choice for many families looking to escape and enjoy the space and freedom that this sort of self catering holiday provides.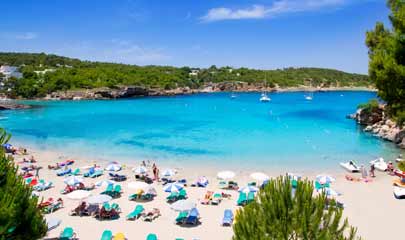 Ibiza
Well known as a party island, villas in Ibiza can often be luxurious and top spec, but they don't all have to break the bank. There are plenty of options available for those looking for a holiday home rental on this stunning island.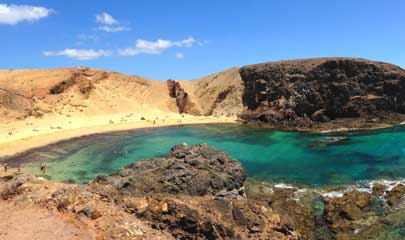 Lanzarote
For year round sunshine, Lanzarote is an ideal destination in Spain for villas. Whether you're a group of friends looking for a cheap deal, or a family looking to spend some quality time together, there are plenty of options available.
Villa Holiday Brands
There are some fantastic brands offering Spain holidays with villas including Jet2Villas, TUI, Villa Plus, James Villa Holidays and Solmar Villas, all offering ABTA and ATOL financial protection. Some will include flights, some you can add them in during booking and others you'll need to book separately, however, we do recommend booking your flights and accommodation together for better protection.
Villa Reviews
You may have a favourite brand, destination or particular villa in Spain that you love, if not, be sure to check out the latest reviews on TripAdvisor, Feefo and Trust Pilot, particularly off the back of the Covid-19 pandemic and how customers have been treated. Jet2holidays have also been a Which? recommended provider which can also help make your decision on who to book with.
Book your holiday
In partnership with

Villa Cancellation Policies
In light of the Covid-19 pandemic, it's more important than ever to check the terms and conditions of your travel plans. As such you should check the cancellation and change policies associated with booking your holiday home, particularly if you get Coronavirus before or during your trip, meaning you'll need to postpone, cancel or stay longer in resort as a result. Buy appropriate and comprehensive travel insurance and always check the latest travel advice for Spain with the Foreign & Commonwealth Development Office.
Frequently Asked Questions
Hair dryers may be available in villas, however this varies from property to property, so you should check before booking.
Car hire may be included depending on who you book with. Certain brands may automatically include a hire car while others won't, so always check what is included when booking with your travel agent or tour operator.
Free child places aren't often included with villa holidays as you are booking the villa as a whole, however, there may sometimes be offers which mean a child goes free on the flight, or something similar.
Popular Holidays