Corralejo Holidays 2023/2024
Find Your Ideal Holiday With
Cheap Holidays to Corralejo
Corralejo is a popular spot for holidaymakers after some sun in the Canary Islands. This popular resort in the north of Fuerteventura sits close to the stunning Playa del Moro beach with its vast sand dunes leading to clear, turquoise waters. Holidays to Corralejo don't have to break the bank either, with a variety of airlines flying from the UK.
Popular Hotels In Corralejo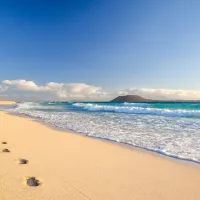 Corralejo Holidays Guide
Situated in the north of Fuerteventura, Corralejo is a bustling holiday resort about 35-40 minutes' drive from Fuerteventura airport (or longer if using a shared transfer coach).
Its bars and restaurants are popular with Brits heading to Spain on holiday for sunshine and nightlife, and all within easy reach, so you don't necessarily have to spend money on a taxi to get home after a night out. Self catering apartments, and villas if you are a larger group, are a great way to keep the cost of your Corralejo holiday down, as there are plenty of supermarkets in the area, as well as restaurants for when you want to try some fabulous Spanish tapas dishes.
It's close proximity to some of Fuerteventura's most stunning beaches means low cost accommodation doesn't have to include a swimming pool, as you can easily head to the golden sand beaches to cool off. There are lots of small beaches here dotted along the coast, including Playa de la Barreta, Playa de los Verilitos and Playa Corralejo. Jumping in a taxi or hiring a car to head down to the sand dunes can also be fun. Playa del Pozo is closest but Playa Larga is one of the more popular areas to visit for sand dunes.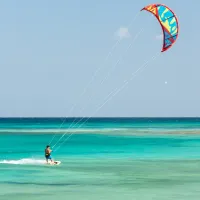 Things to do in Corralejo
There is a wide variety of things to do in Corralejo, whether you love relaxing, doing something sporty, or exploring somewhere new. Here are a couple of our favourites:
Acua Water Park
A favourite for most families while on holiday and another great day out if your apartment doesn't have pool access is Fuerteventura's Acua Water Park. There are a number of slides and rides for all ages and fear factors as well as a dedicated childrens club and area with mini slides and games.
Lobos Island
A short boat ride from Corralejo and you reach the island of Lobos, an island with crystal clear waters and a wide variety of flora and fauna. Day trips to the island are a fun day out. Make sure to visit the beautiful Playa de la Concha. Other boat trips are also available, like dolphin watching and scuba diving trips.
Parque Natural de Corralejo
For those in need of some exploration, the Parque Natural de Corralejo (Corralejo Natural Park) stretches south from Corralejo town towards Parque Hollands, running right down the coast. The rolling sand dunes within this nature reserve are fun to explore as they roll to the stunning turquoise waters of Grandes Playa de Corralejo and Playa del Moro. And the turquoise water? Well that's just waiting to be Instagrammed.
Hire A Car
You might choose to stay in Corralejo because of its location and convenient amenities, but Fuerteventura is such a beautiful island that it would be a shame to miss out. There are a number of car hire companies in Corralejo town which can offer you a car for a day, so that you can head out and explore the beaches and national parks.
Water Sports
The quality of water sports in Fuerteventura is excellent, whether you like the adrenaline fueled kite surfing, windsurfing or jetskiing, or you prefer something a little calmer like paddleboarding or snorkeling. Most beaches in the area have some sort of watersports facility, or you can also book a lesson online too.
Where to stay in Corralejo
Staying in Corralejo, you have a range of things on your doorstep, and the town centre is very easy to walk around with the small port in the very north of the town. For a luxury holiday, try the Gran Hotel Atlantis Bahia Real near the Fuerteventura Kite Beach, while the Hisperia Bristol Playa Hotel offers good quality accommodation close to Corralejo port.
North Corralejo & The Marina
There are a few holiday complexes towards the north of town near the harbour and Corralejo Old Town. It's also quite residential with lots of private homes and schools, so it can be a good option if you want to be relatively close to things going on but don't want to be in the thick of it.
Bajo Negro
If you prefer to relax with great views, for a quieter stay, try the Hotel Riu Palace Tres Islas which sits just outside of Corralejo on the road to the airport and between Corralejo Gran Beach and El Bajo Negro. You'll also find the Riu Oliva Beach Resort here. These two hotels are right out of the way so don't expect to be able to walk to any shops, bars or restaurants nearby.
Geafond
Another quiet area is Geafond, just to the south of Corralejo town. Here you'll find plenty of self catering apartments and holiday villas, like the Bahiazul Resort, but you've also got a Lidl and Mercadona supermarket, so self catering holidays are a relatively easy option here.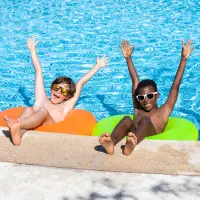 Holiday types in Corralejo
All Inclusive
There are plenty of all inclusive resorts in Fuerteventura just waiting to be discovered, and they can be a great option if you're keen to watch your Euros and not spend much while you're away. All inclusive hotels in Corralejo include the H10 Ocean Suites and the adults only Secrets Bahia Real Resort & Spa.
Villa Holidays
Whether you rent privately through companies like Airbnb or Booking.com, or you book a flight and accommodation package holiday through an ABTA or ATOL protected tour operator like TUI or Jet2 Holidays, renting a villa in Corralejo gives you space and freedom, and helps you feel a little like a Canary Islands local. The villas at Bahiazul are a little out of the way, but have private pools.
Adults Only
There are two adults only hotels in Corralejo, which are the Secrets Bahia Real hotel and the H10 Ocean Dreams Boutique Hotel. The 4-star Alua Suites Fuerteventura also has an adults only area, including a couple of pools which are reserved for adults.
Family Friendly
If you're escaping with the family, there are a couple of hotels like the Alua Suites and H10 Ocean Suites which are great for kids. Having your own private pool at a villa can also be such a fun way to spend a family holiday. Free child places are often available in Corralejo so keep an eye out when you're searching for those holiday deals and offers.
Last Minute
With lots of accommodation options available, and being the main town on the island, if you're looking for a late deal, last minute holidays to Corralejo could be worth looking at, especially for year round sunshine. Escaping the British cold weather for some winter sun can be a welcome relief, and with flights from across the UK, including regional airports like Manchester, Glasgow, Belfast and Newcastle, you've got more chance of snapping up a last minute deal. Check for flight only offers with low cost airlines like easyJet and Ryanair, and compare package holiday prices with brands like Love Holidays and On The Beach, before you go ahead and book anything.
More Great Holidays