Find Your Ideal Holiday With
Cheap Holidays To Costa Teguise
Welcome to Costa Teguise, the ultimate holiday destination where sunshine, beaches, and adventure seamlessly come together. With its stunning landscapes, golden sands, and vibrant atmosphere, Costa Teguise offers the perfect blend of relaxation and excitement for travelers of all ages and interests. Nestled on the east coast of Lanzarote, this charming resort town boasts a delightful mix of natural beauty, water sports, and cultural attractions. Spend your days basking in the warm Canary Island sun on the pristine beaches, trying your hand at windsurfing or diving in the crystal-clear waters, or exploring the unique volcanic landscape that surrounds the area. For the adventure seekers, Costa Teguise offers a wide range of thrilling activities, from exploring the underwater world of the Atlantic Ocean to hiking through volcanic trails. Immerse yourself in the local culture with a visit to the Pueblo Marinero, a traditional Canarian village square filled with shops, restaurants, and live music. Whether you're looking to unwind on the beach or embark on an unforgettable adventure, Costa Teguise has something for everyone. So pack your bags, soak up the sun, and get ready to experience the perfect holiday in this captivating paradise.
Popular Hotels In The Costa Teguise
Getting to, from and around Costa Teguise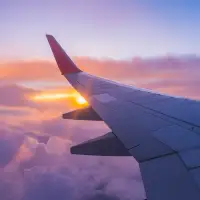 To get to the Costa Teguise, you'll be flying into Lanzarote airport which has lots of year round flights from across the UK, including regional airports like Belfast, Newcastle and Edinburgh. You can book a flight and hotel package holiday with ABTA and ATOL protected tour operators like TUI, Jet2holidays and easyJet holidays.
Getting Around
Once you've arrived, one of the best ways to get to your hotel is by a prebooked airport transfer which may already be included within the cost of your holiday. Walking is a great way to explore Costa Teguise, but there are a few bus options to local areas. Day trips and excursions are another great way to see more of the island.
Car Hire
You can can organise car hire before you travel, picking up your car at Lanzarote airport, or once you arrive, with a number of options in Costa Teguise. Hiring a car is a lovely way to explore more of this impressive Canary Island.
Public Transport
Like the other Canary Islands, Lanzarote has a fairly decent public bus service, however, services are limited on Sundays, so always check before you travel whether taking a taxi is better.
Things to do in Costa Teguise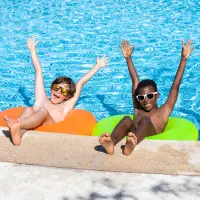 Local Attractions
While the beaches and water sports are the main attractions in Costa Teguise, there are also several popular tourist spots worth exploring. One of the must-visit places is the César Manrique Foundation, a unique architectural marvel created by the famous Lanzarote-born artist. Explore the underground rooms, beautiful gardens, and art installations that blend harmoniously with the natural surroundings.
For a cultural experience, visit the Teguise Market, held every Sunday in the nearby town of Teguise. This bustling market offers a wide range of local products, artisan crafts, and traditional Canarian food. Stroll through the colorful stalls, soak in the lively atmosphere, and pick up some souvenirs to take home.
Beaches
Costa Teguise is renowned for its breathtaking beaches that attract sun-seekers from all over the world. Playa de las Cucharas, the main beach in Costa Teguise, offers a long stretch of golden sand where you can relax, soak up the sun, and enjoy the gentle sea breeze. The beach is also perfect for water sports enthusiasts, with excellent conditions for windsurfing and kitesurfing.
Just a short distance away, you'll find Playa del Jablillo, a smaller beach with calm waters that are ideal for swimming and snorkeling. This secluded cove is surrounded by natural rock formations, adding to its charm and beauty. For those looking for a more peaceful beach experience, Playa de Bastián offers tranquility and stunning views of the Atlantic Ocean.
Watersports
If you're seeking adventure, Costa Teguise won't disappoint. The warm waters and consistent winds make it an ideal destination for water sports enthusiasts. Try your hand at windsurfing or kitesurfing, or take a paddleboarding lesson to explore the coastline from a different perspective.
For those who prefer to explore beneath the surface, Costa Teguise offers excellent diving opportunities. Dive into the crystal-clear waters and discover a vibrant underwater world teeming with marine life and stunning coral reefs. Whether you're a beginner or an experienced diver, there are diving centers in Costa Teguise that cater to all levels.
Where to stay in Costa Teguise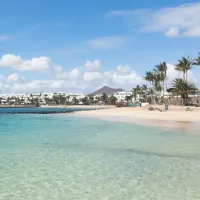 Costa Teguise offers a variety of accommodation options to suit every budget and preference. From luxury resorts to self-catering apartments and cozy boutique hotels, there's something for everyone. Many of the accommodations are located within walking distance of the beach, offering stunning views and easy access to all the attractions.
If you're traveling with family or a group of friends, consider renting a villa with a private pool. This allows you to enjoy your own space and create lasting memories while surrounded by the beautiful landscapes of Costa Teguise.
Weather In The Costa Teguise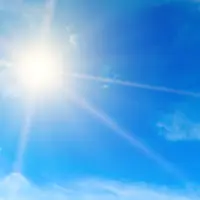 Like the rest of Lanzarote and the Canary Islands, the Costa Teguise enjoys year round sunshine with the highest temperatures in July and August, however, being the school holidays, you should expect higher prices. In the winter, December and January can be ideal times to escape the British cold weather and enjoy some winter sun.
Both spring and autumn are also great times to visit, with good weather and cheaper holiday prices. You should expect temperatures around the early 20s.
More Great Holidays